Naples International Art & Antique Fair

Name: 2nd Annual Naples International Art & Antique Fair
Date: February 24-28, 2012 with preview on Thursday evening, February 23rd.
Hours: Not yet posted.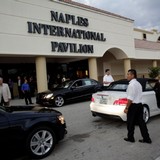 Place: This event takes place in the Naples International Pavilion, which is located at 4835 Immokalee Road in North Naples. The Pavilion is a refurbished and retrofitted 55,000 square-foot facility that was previously occupied by defunct grocery store chain Albertsons. To support this and other shows, the organizers transformed the stripped-down strip mall that failed to support a grocery store and a gas station into a mecca of high-end art and couture jewelry.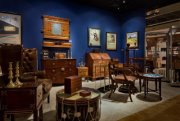 Inside, visitors find min-can lights glowing from a black-canopied ceiling which creates a starlight effect. The stark concrete interior has been dressed up with dove gray walls, and beige carpeted floors muffle sound into a dignified whisper. Signage is restricted to 12 to 15 inch lettering, and a burbling fountain and mounds of foliage transport visitors into a sort of pop-up New York gallery district.

"Naples International Pavilion is consistent in size with our original International Pavilion in Palm Beach ,where we began our Palm Beach International Art & Antique Fair in 1997," states organizer David Lester with pride.
Description. This fair is different from most others in that the show's participants are fine art, antique and jewelry dealers rather than artists and artisans. This fair not only attracts the casual art lover, it caters to the serious collector who is looking for artworks rarely seen outside of museums and elite art galleries. In 2011, more than 15,000 people attended the fair over the  course of its five day run.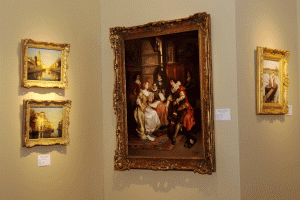 NIAA showcases 60 to 70 carefully selected, prestigious art, antique, and jewelry dealers of the highest caliber from around the world. Collectively, these dealers offer old master and impressionist paintings, drawings and etchings, modern and contemporary art and sculpture, porcelain and ceramics, furniture, decorative arts, silver, ancient arts, Asian art, haute couture and period jewelry, and rare books. Last year, exhibitors came from most major U.S. cities (including New York, Los Angeles, San Francisco, New Orleans, Atlanta, Washington and Greenwich, Connecticut) as well as London, Paris, Milano, Ankara and Jerusalem.
As a cultural adjunct to the exhibition is a full schedule of informative lectures from respected museum curators and art experts, as well as collector panel discussions. In 2011, there were even lectures giving buyers' tips on what to look for when purchasing art and antiques.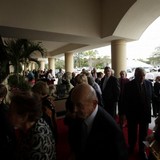 Cost. The cost of admission into this fair is as follows:
One-day pass: $10 in advance, $15 at the door
One-day pass with catalog: $35
Multi-day pass: $15 in advance, $20 at the door
Multi-day pass with catalog: $45
Tickets to the opening night preview gala are $125 each ($85 of which is tax deductible). That price includes unlimited admission to all four days of the fair as well as one day free admission to the Jay & Patty Baker Naples Museum of Art.
Parking. Valet parking is available, but limited for the preview gala. Free parking is available for the event in the center's public parking lot.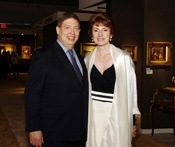 Organizers: David and Lee Ann Lester (right) are the organizers of this event. They are also founders of International Fine Art Expositions (IFAE), which sponsors and runs a prestigious roster of fairs that includes the Miami International Art Fair (MIA), Art Palm Beach (APB), American International Fine Art Fair (AIFAF), The London International Fine Art Fair (LIFAF), and SeaFair – the Megayacht Venue. IFAE fairs are of the highest international caliber. Its American International Fine Art Fair is the only art and antique event in the United States recognized as a 5-star fair by the prestigious Art Newspaper. David and Lee Ann Lester have been the pioneers of the Florida art fair market, establishing Art Miami in January, 1991, The Palm Beach International Art & Antique Fair (now AIFAF) in 1997, and Art Palm Beach in 1998. During their 20-year tenure in the art fair industry, they have organized more than 70 international art fairs in art capitals around the world, including New York, Los Angeles, Beverly Hills, Chicago, Dallas, Hong Kong and London.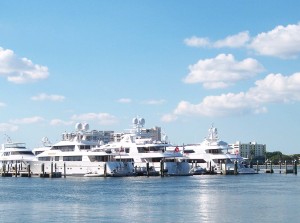 SeaFair is the world's first mobile mega-yacht venue and one of the largest private yachts in the United States. Groundbreaking in scale, ingenuity and style, the innovative exhibition facility – which remains dockside during each event – pairs international fine art, jewelry and collectables with harbor view dining and special events in cities along the eastern seaboard.
Website: http://www.niaaf.com.
Facebook: http://www.facebook.com/NIAAF1
Related Festivals. David and Lee Ann Lester and the International Fine Art Expositions also conducts Art Naples Contemporary Art Fair on March 23-26, 2012.
Quotes from Participants.
"New York has the Winter Antiques Show, Palm Beach has the American International Fine Art Fair, and now Naples has its own fair of equivalent quality and stature," said collector Thomas Davidson following the 2011 show.
Local art dealer Bill Meek of Harmon-Meek Gallery in Naples says, "People are always asking me how a community art and culture scene grows…. [I]t happens in stages. When something significant happens, such as Harmon Foster opening the first gallery in Naples in 1964, then when Naples saw a flush of galleries open in the '80s followed by the Patty and Jay Baker Naples Museum of Art in the '90s. These two fairs [Naples International and Art Naples] are the next stage of growth. Seeing this caliber of fair in Naples, the kind you would only expect to see in New York or Hong Kong, it's quite exceptional."
Fast Facts.
At the 2011 Naples International Art & Antique Fair, participant dealer M.S. Rau Antiques out of New Orleans sold an original 1927 Norman Rockwell painting (Saturday Evening Post cover Two Men Reading Detective Stories) for $2.7 million and an 1889 Jean-Leon Gerome painting (In the Harem Bath) for $1.4 million.
M.S. Rau also brought to the fair more than $30 million of 19th century treasures including an 1884 van Gogh still life worth $5.9 million and a Claude Monet landscape valued at $3.8 million.
Among the distinguished jewelry exhibitors at the 2011 NIAAF were Graff Diamonds, London (UK); Sabbadini, Milan (Italy); Yvel, Jerusalem (Israel); Michael Haber, Wynnewood (USA); J.S. Fearnley, Atlanta (USA); Jewels by Viggi, Greenwich (USA); and Scavia, Milan (Italy).
Graff Diamonds has long been considered one of the most prestigious jewelers in the world. It is known around the globe for the unsurpassed quality, rarity, beauty, and excellence of their gemstones. At last year's fair, they brought a collection of more than $500 million worth of gemstone quality diamonds, rubies, emeralds, and the world's finest colored diamonds. They even built a booth for the fair that resembled their Bond Street store.
The 2011 Naples International Art & Antique Fair also attracted some of the most esteemed antique dealers in the world. Together, they exhibited furniture, sculpture, textile, lighting, porcelain and paintings from the 19th and 20th century masters. Among them were 19th Century Shop, Stevenson (USA);Toulouse Antique Gallery, Manhattan Beach (USA); Harmon-Meek Gallery, Naples (USA); A.B. Levy Antiques, Palm Beach (USA); The Silver Fund, London (UK); Michael James Fine Art, London (UK); and Gallery Afrodit, Ankara (Turkey).
The 19th Centruy Shop brought an historically significant portrait of President Abraham Lincoln to the 2011 NIAAF. This portrait was the first presidential portrait of Lincoln, which he autographed and inscribed to Fanny Speed, the wife of his most intimate friend, Joshua Speed.  This portrait, still in its original gilt frame,  is considered one of the most valuable Lincoln photos in existence (priced at $700,000).
Also featured at last year's NIAAF were some 20 paintings, pastels and drawings rendered by Pierre-Auguste Renoir between 1885 and 1912. Brought by Hammer Galleries of New York, this cache of impressionist works came with a $50 million value.
The Naples Philharmonic Center for the Arts joined NIAAF in 2011 as the sponsoring beneficiary of the festive Vernissage, which opened the inaugural fair on February 24, 2011. The non-profit Center, founded by Chairman and CEO Myra Janco Daniels in the mid-1980s, is a cultural destination in Southwest Florida and home to the Naples Philharmonic Orchestra, performing arts shows and the Patty and Jay Baker Naples Museum of Art. The Museum of Art conducted special tours in conjunction with NIAAF.
Related Articles About Art Naples and Naples International.
Articles About other IFAE Fairs and Festivals
(11-08-12)
(02-23-12)
Note to Collectors.
If you are interested in collecting art, art fairs like Art Naples are an excellent place to begin your art education. In a short period of time, you can see a wide range of works and hear informative lectures that will cue you into the hows and why of starting or expanding a private art collection. Only the top galleries and dealers can afford the high cost of participating in art fairs like this one (where booth fees range between $7,000 and $50,000 depending on size and location). In addition, art fair organizers like IFAE  are selective as to whom they invite and allow to participate, so you can expect to see  quality artwork presented by reputable art dealers.
If possible, attend the art fair's opening night preview. This is where you'll find the best selection and have the first opportunity to purchase artwork before the fair opens to the general public. Opening nights are frequently gala events, supporting one or more nonprofit art organizations. They're usually very enjoyable, you can buy art, socialize with the art community, and have a good time.