Art Naples Contemporary Art Fair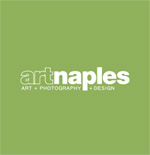 Name: Art Naples Contemporary Art Fair
Date: March 24-March 26, 2012, with preview taking place on Thursday night, March 23rd
Hours: 11:oo a.m. to 7:00 p.m. on March 24 & 25; 11:00 a.m. to 6:00 p.m. on March 26.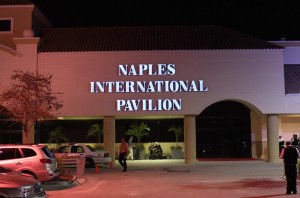 Place: This event takes place in the Naples International Pavilion, which is located at 4835 Immokalee Road in North Naples. The Pavilion is a refurbished and retrofitted 55,000 square-foot facility that was previously occupied by defunct grocery store chain Albertsons. To support this and other shows, the organizers transformed the stripped-down space into a mecca of high-end art and couture jewelry.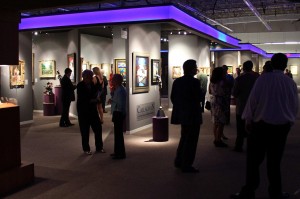 Inside, visitors find min-can lights glowing from a black-canopied ceiling which creates a starlight effect. The stark concrete interior has been dressed up with dove gray walls, and beige carpeted floors muffle sound into a dignified whisper. Signage is restricted to 12 to 15 inch lettering, and a burbling fountain and mounds of foliage transport visitors into a sort of pop-up New York gallery district.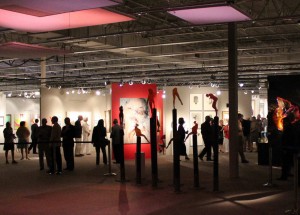 "Naples International Pavilion is consistent in size with our original International Pavilion in Palm Beach, where we began our Palm Beach International Art & Antique Fair in 1997," states organizer David Lester with pride.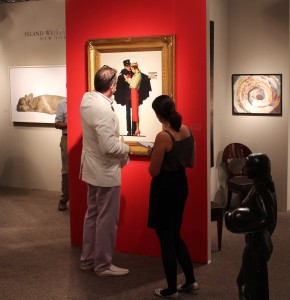 Description: At Art Naples is a godsend for the busy art collector who doesn't have the time to drive around southwest Florida never mind across the country trying to find that special piece he or she needs to complete a room or a private collection. Rather than an assemblage of artists featuring dozens of their own artworks, the focus at Art Naples is on prestigious international art galleries from North America, Europe, Central and South America and even the Orient. Together, they bring to the fair more than 1,200 important works of art by over 300 modern and contemporary artists. This affords collectors the unparalleled opportunity to examine exceptional artworks by 20th and 21st century painters, photographers, sculptors and other masters in one venue in a single day or over the course of a long weekend.
Representative Galleries. Some of the galleries who participated in Art Naples 2012 were: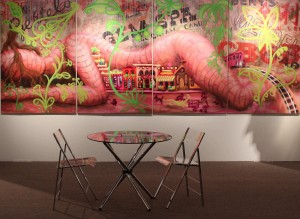 Art Link International, Lake Worth, Florida. Among the works brought by Howard Brassner and Barbara Womelsdorf were paintings by Pablo Picasso, Joan Miro, Salvador Dali, David Burliuk, Peter Max, four works by Mr. Brainwash, and a collection of graffiti art that included Pink Brick Woman Reclining, a quadriptych acrylic on canvas (left) by Lady Pink, the Queen of Graffiti, and a dozen compositions by John "Crash" Matos, including two of the 50 Stratocaster guitars that Fender commissioned him to paint after seeing the one Crash gave Eric Clapton for his 2001 world tour.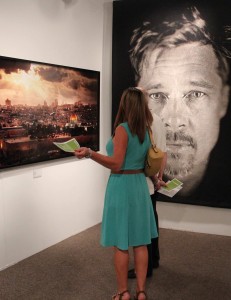 Contessa Gallery, Cleveland, Ohio. Among the works that Contessa's Steven Hartman brought to Art Naples were two Jacquard tapestries by portraitist Chuck Close. But while the subjects of Close's paintings are typically confined to his friends, relatives and fellow artists, the tapestries at Art Naples featured film star Brad Pitt and famous photographer Cindy Sherman. To produce these incredibly-detailed tapestries, Close, Magnolia Editions of Oakland, California and their weavers in Belgium printed grids of repeating groups of eight colors onto 17,800 thin, optically-blended warp and weft threads which were built up into the final images. Viewers are astonished by the true life likenesses, which reflect Close's uncompromising refusal to allow any of his subjects to alter their appearances through the use of artifices such as foundation, rouge or other make-up.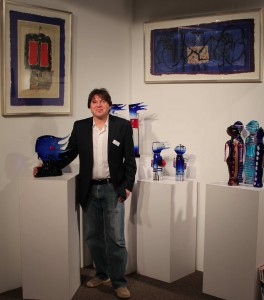 Berengo Studio, Venice, Italy. For 20 years, Berengo Studios has been bringing internationally-acclaimed painters to its Venice studios to teach them how to express themselves with glass as their new medium. It is part of a concerted effort initiated by Adriano Berengo to revive the tradition of Murano glass by crossbreeding it with the global culture of contemporary art. Collaborating with Berengo's Murano master glassblowers, more than 140 world-renowned artists have transformed their two-dimensional paintings and drawings into three-dimensional glass sculptures, including James Coignard, who died two years ago in March. During his 60-year career, the abstract expressionist became associated with works replete with random spots, regular shapes, typefaces and funding materials. In the medium of glass, Coignard was uniquely able to capture light in the world that magically revolves around the relationship between matter, the artist and the hands of the master glassmaker.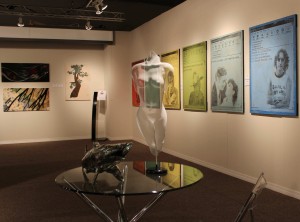 Avant Gallery, Miami, Florida. Dmitry Prut of Miami's Avant Gallery established a big presence at Art Naples with whimsically designed wood-and-ceramic furniture by Chad Jensen and Jordan Smith and the iArt of iPop artist Alejandro Vigilante. "If Warhol were alive today, this is what he'd be doing," claims Prut in relation to Vigilante's work.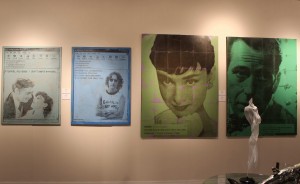 "Just as Pop's founders were catering to popular tastes, my i-Art Movement, an exploration of Internet minutia, satisfies the most modern soul—those voracious junkies of anything that floats across their computer screens," explains Vigilante."This soul could not have been imagined by Pop Art's creators because the internet was just being developed during their time of explosive creativity. It wasn't until 1969 that the first computer whiz 'logged on' to a Stanford Research Institute computer and transferred data from one location to another." Mimicking Pop Art's heroes, Vigilante draws from film, television, comic books and advertisements for his humorous repartee and New Wave Popism, which has intelligence as the underlying principle rather than visual stimulus without meaning.
Local Connections. In 2011, a number of southwest Florida galleries appeared at the inaugural Art Naples, including Certified Jewelers, Galerie du Soleil, Harmon-Meeks, New River Fine Art and Up Art & Design. In 2012, Sweet Art Gallery and Prominent Gallery represented the Naples area: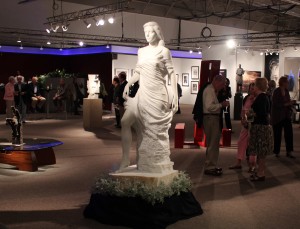 Sweet Art Gallery represents some 40 artists, but it was a classical marble sculpture by Marton Varo that greeted guests at Art Naples' doors and served as focal points in its Quail West VIP lounge. The Evine, California sculptor became a local celebrity of mythic proportions during the three years he toiled at Ava Maria carving a 35 foot tall by 31 foot wide sculpture of the Virgin Mary with the archangel Gabriel out of 15 blocks of Carrara marble weighing more than 70 tons at the outset and 54 tons when finally were hoisted into place on the facade of the University's oratory.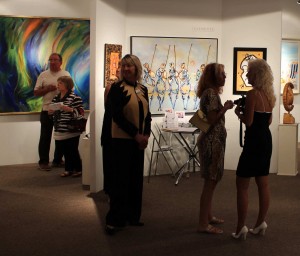 It was paintings by Clemente and musical icon Bobby Goldsboro, and wall and 3-D sculptures by former Foreigner drummer Dennis Elliott that Dede Sweet and Stacy Bolesky featured inside Sweet Art's booth at Art Naples. This was the second year running that Sweet Art participated in Art Naples, and the gallery expanded its local exposure and client base both years.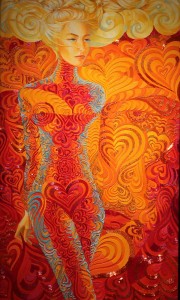 Prominent Gallery. Prominent Gallery's Anthony Jensen showcased art by 22-year-old Alina Eydel. Called mosaics on canvas, her shimmering mixed media acrylics incorporate glass beads, Swarovsky crystals, fresh-water pearls, corals, turquoise and even butterfly wings to create arresting figurative works that stopped Art Naples visitors in their tracks. The delightfully surprising materials and textures that Eydel uses in her paintings transform the works into painted pieces of jewelry, prompting Eydel to refer to her pieces as jewelry for walls. This duality corresponds to her iconography, in which a dress or a hand or torso is not just what it is, but also a metaphor for treasure that suggests a body is a priceless vessel that demands to be cherished and protected.
Special Exhibitions and Lectures. Art Naples also features special exhibitions and daily lectures which frequently including panels of museum experts, art dealers and artists. For example, Art Naples 2012 touted the following special exhibits:
Life: Capturing 75 Years of History: Original Life magazine photographs from the 1936 cover issue to the D-Day invasion of Normandy, with pop-culture icons in between, capture the essence behind the first generation of photojournalism at critical moments in history. Presented by Contessa Gallery, Cleveland.
Albert Paley's 2013 Park Avenue Installation Preview: Models of Paley's monumental sculpture installation are revealed a year before its opening on Park Avenue in New York. Presented by Ruth Lawrence Gallery, Rochester.
Ceramic Infusion:  Designs by Chad Jensen & Jordan Smith: Award winning Naples furniture designer Chad Jensen, and ceramicist Jordan Smith, collaborate on multi-faceted collection that strikes the ultimate balance between fine art and design. Presented by Avant Gallery, Miami.
When Vintage Meets Contemporary:  Functional Art With an Edge: Designer and craftsman, Phil Stapleton, has revolutionized the appearance of functional art for over 35 years by transforming the traditional quality of vintage found objects, into futuristic design masterpieces.  Presented by Stapleton Designs, Coral Gables.
Who's Behind the Studio Glass Movement? Works by world renowned artists from Italy, Japan, Australia, Czech Republic and Sweden that directly influenced many of America's most predominant studio glass artists, curated and sponsored by Habatat Gallery, Royal Oak, and designed to coincide with their related Evolution/Revolution: 50 Years of American Studio Glass exhibition on view at the Patty & Jay Baker Naples Museum of Art.
In 2011, Diane Camber, former Director of the Bass Museum, gave an overview of the history of art collecting from the past to the present, emphasizing trends in collecting today. In addition, she identified the significant art collectors of the past and discussed what motivated them and what their contributions have been to the development of museums, scholarship, and education. That lecture was followed the next day by a live interview of well-known Naples contemporary art collector Robert Edwards, who revealed how he began collecting and what he looks for in prospective additions to his collection. Other lectures included presentations on the history fine art glass and how it became an important medium throughout the world; the New York abstract expressionists, then and now; architectural design; and developing trends in contemporary photography and the panel's experiences being artists in the field.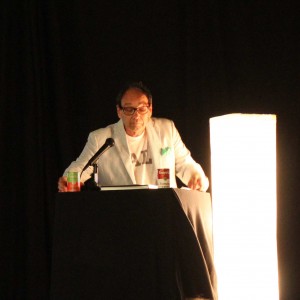 Art Naples 2012 followed up with exciting lectures on Albert Paley: Modernist Sculptor and Vanguard Artist by Jennifer Laemiein, Director of Albert Paley Studios; Photographs that Changed the World: The 75th Anniversary of Life Magazine, given by Steven Hartman, director of Contessa Gallery; and The Legacy of Andy Warhol, by Editor of Art Economist, art critic, author and collector, Bruce Helander (left).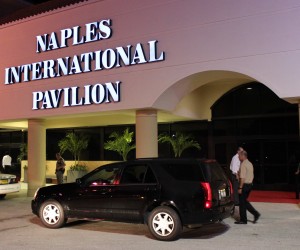 Cost. The cost of admission into this fair is as follows:
One-day pass: $10 in advance, $15 at the door
One-day pass with catalog: $35
Multi-day pass: $15 in advance, $20 at the door
Multi-day pass with catalog: $45
Tickets to the opening night preview gala are $125 each ($85 of which is tax deductible).
Parking. Valet parking is available, but limited for the preview gala. Free parking is available for the event in the center's public parking lot.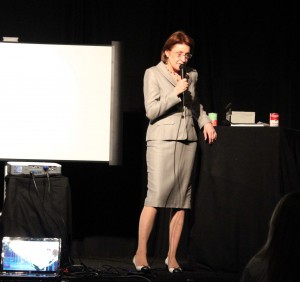 Organizers: David and Lee Ann Lester (left) are the organizers of this event. They are also founders of International Fine Art Expositions (IFAE), which sponsors and runs a roster of prestigious art fairs that includes the Miami International Art Fair (MIA), ArtPalmBeach (APB), American International Fine Art Fair (AIFAF), The London International Fine Art Fair (LIFAF), and SeaFair – the Megayacht Venue. IFAE fairs are of the highest international caliber. Its American International Fine Art Fair is the only art and antique event in the United States recognized as a 5-star fair by the prestigious Art Newspaper. David and Lee Ann Lester have been the pioneers in the Florida art fair market, establishing Art Miami in January, 1991, The Palm Beach International Art & Antique Fair (now AIFAF) in 1997, and ArtPalmBeach in 1998. During their 20-year tenure in the art fair industry, they have organized more than 70 international art fairs in art capitals around the world, including New York, Los Angeles, Beverly Hills, Chicago, Dallas, Hong Kong and London.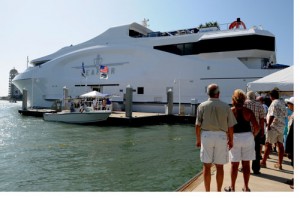 SeaFair is the world's first mobile mega-yacht venue and one of the largest private yachts in the United States. Groundbreaking in scale, ingenuity and style, the innovative exhibition facility – which remains dockside during each event – pairs international fine art, jewelry and collectables with harbor view dining and special events in cities along the eastern seaboard.
Website: http//:www.artfairnaples.com.
Facebook: http://www.facebook.com/ArtNaples?sk=info.
Related Southwest Florida Art Festivals. David and Lee Ann Lester and the International Fine Art Expositions also conducts Naples International Art & Antique Fair on February 24-28, 2012.
Fast Facts.
The 2011 Art Naples Contemporary Art Fair featured works from modern and contemporary icons including Andy Warhol, Roy Lichtenstein, Robert Rauschenberg, Robert Indiana, Helen Frankenthaler, Fernando Botero (right), Frank Stella, Chuck Close, Carlos Cruz-Diez, Robert Motherwell, Tom Wesselmann, Jim Dine, and James Rosenquist; sculptors John Chamberlin, Lynn Chadwick, Albert Paley, Howard Ben Tre, Hanneke Beaumont , Fernando Botero and Javier Marin; and fine art glass artists Chihuly, Daniel Clayman, Davide Salvadore, Ann Wolff, Dan Dailey, John Kuhn, Tim Tate and Toots Zynsky.
Photography lovers had a large selection of artists to enjoy and to collect, including vintage works by renowned photographers Avedon, Ansel Adams, Henri Cartier-Besson, Alfred Einsenstaedt, Edward Weston; National Geographic international photojournalist Steve McCurry and the iconic works of Hollywood stars Marilyn Monroe, Elizabeth Taylor by photographers Lawrence Schiller and Frank Worth.
At Art Naples 2011, Habatat Galleries (Royal Oak) exhibited an outstanding installation by world-renowned metal sculptor, Albert Paley.  The exhibition featured mixed media sculptures done in bronze and glass, in addition to more functional pieces such as decorative lampstand tables.
At Art Napels 2012, it was Rochester, New York's Ruth Lawrence Fine Art that featured works by Albert Paley along with photographic renditions and cardboard maquettes for his latest project, which involves the installation of not one, but 13 separate monumental sculptures at various sites along Park Avenue in Manhattan. All new work, each new piece's scale, proportion, color and composition will reflect the specific site on Park Avenue for which it is intended.
Paley's style is dominated by nature; always portraying a sense of the organic, similar to the flowing lines of the Art Nouveau. One museum has described Paley's use of steel "as industrial poetry."
Paley's works  can be found in the permanent collections of major museums such as the Metropolitan Museum of Art in New York, the Museum of Fine Arts in Boston, the Museum of Fine Arts in Houston, and the Victoria and Albert Museum in London.
In addition, the internationally-acclaimed sculptor has several works in southwest Florida, including Paley's 30-foot tall archisculpture, Naiad, which stands at the entry to the St. Tropez Condominium Complex in the Fort Myers River District; the 16 x 10′ steel, bronze and stainless steel gates at the entrance to the Patty & Jay Baker Napels Museum of Art; and the bronze ribbon handles on the doors to the lobby of the Naples Philharmonic Center for the Arts.
Related Articles About Art Naples and Naples International.
Articles About other IFAE Fairs and Festivals
Note to Collectors.
If you are interested in collecting art, art fairs like Art Naples are an excellent place to begin your art education. In a short period of time, you can see a wide range of works and hear informative lectures that will cue you into the hows and why of starting or expanding a private art collection. Only the top galleries and dealers can afford the high cost of participating in art fairs like this one (where booth fees range between $7,000 and $50,000 depending on size and location). In addition, art fair organizers like IFAE  are selective as to whom they invite and allow to participate, so you can expect to see  quality artwork presented by reputable art dealers.
If possible, attend the art fair's opening night preview. This is where you'll find the best selection and have the first opportunity to purchase artwork before the fair opens to the general public. Opening nights are frequently gala events, supporting one or more nonprofit art organizations. They're usually very enjoyable, you can buy art, socialize with the art community, and have a good time.