Naples Downtown Art Show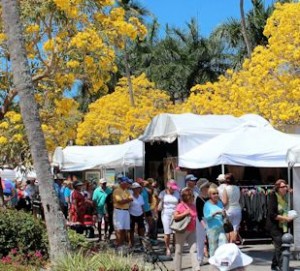 Name: 33rd Naples Downtown Art Show
Date: Saturday and Sunday, March 19 & 20, 2022
Time: Saturday 10:00 a.m. to 5:00 p.m.; Sunday, 10:00 a.m. to 5:00 p.m.
Place: Like the annual Naples New Year's Art Show, this festival takes place in the street. That allows thousands of art-savvy festival goers to mill about the 250 booths and tents that participating artists set up under the canopy of oak boughs and golden trumpet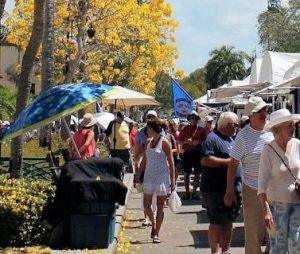 trees that shade flower-lined Fifth Avenue South from southwest Florida's brilliant springtime sunshine from State Road 41 west to Second Street, just one block from the gulf.
The setting is definitely a big part of the allure associated with this end-of-season art festival, where artist tents and booths are nestled between rows of Mediterranean-accented buildings housing banks, stock and real estate brokerages, European-style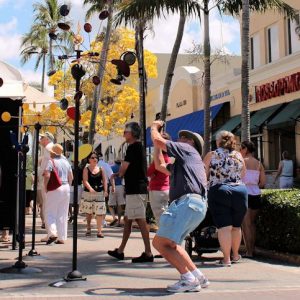 boutiques, high-end jewelry stores, prestigious art galleries and some of the finest ristorantes, bistros and outdoor cafes in all of southwest Florida. Old-fashioned city clocks, public art sculptures and a bevy of bubbling fountains add to Fifth Avenue's aesthetic appeal and ambiance.
Fifth Avenue is also known worldwide for its landscaping, which includes sidewalks lined by bougainvillea, birds of paradise, zinnia and scores of other colorful flowers. But the star of the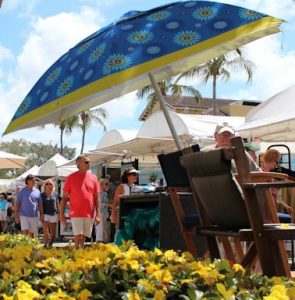 spring show are the dozens of golden trumpet trees that line the avenue. Depending on temperature and rainfall totals, clusters of lemon yellow trumpet-shaped flowers burst in clusters from every twig and branch of these gorgeous trees. With a height of 25 feet and a spread of 35 feet more, the bright yellow blooms dominated the cerulean skies at the 2012 Festival of the Arts, providing rich contrast for the deep green palm fronds above and the sundrenched, snow white canvas artists' tents below.
The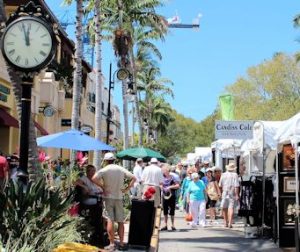 trees are a treat for winter residents and visitors since the species is only found in southern Florida, northern Mexico and  south to northern Argentina, as well as the Caribbean islands of the Dominican Republic, Haiti, Jamaica and Cuba. The blooms have five ruffled-edge lobes, possess the texture of tissue paper and add to the bright, cheery street bazaar feel of the show, an effect the organizers amplify by interspersing lemonade stands and carnival-style food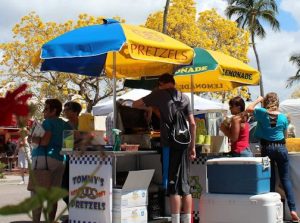 vendors throughout the artists' tents and booths.
National Ranking: Sunshine Artist Magazine has ranked this art festival as high as the #9 art festival in the country and South Florida's highest ranked show. It was #24 in 2019.
Description. Because of its national ranking and the beautiful weather in southwest Florida during this time of year,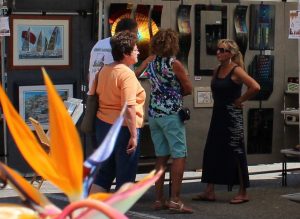 Naples National draws some of the finest artists in the country. Last year, 250 artists from around the country were selected for their artistry and craftsmanship to exhibit in this show. Together, they brought an extensive variety of artworks ranging from original oils and acrylics on canvas, panel and galvanized aluminum to watercolors on paper, 2D and 3D mixed media collages, limited edition prints,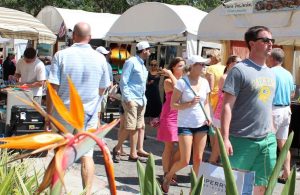 photography, digital art, metal sculpture, wood carvings, ceramics, hand-crafted jewelry and fashion accessories, leather works, fine furniture and home decor items, and numerous great gift ideas.
One of the factors that makes this show popular with both artists and art lovers is that it represents one of the last opportunities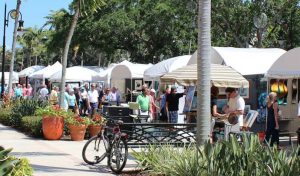 to own a magnificent original work by the talented national artists who travel throughout sunny Florida during the winter to show and sell their work. Last year, more an estimated 17,000 turned out during this 2-day event, further evidencing why Naples was named "The #1 Small Art Town in America" by author John Villani in his book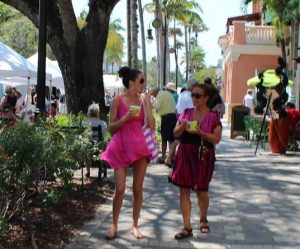 The 100 Best Art Towns in America.
Cost: Admission is free.
Parking: Parking is not a problem. There is free parking along the streets adjoining Fifth Avenue South.
Organizer: Naples Art Association. The festival is a fundraiser for Naples Art, which applies donations and application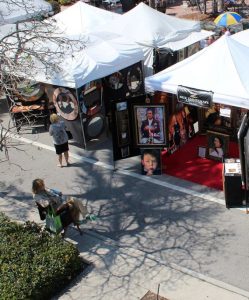 and booth fees to help underwrite its programming and exhibitions.
Event Director: Maureen Roberts serves as Outdoor Shows Manager at the Naples Art Association. As such, Ms. Roberts is responsible for organizing, managing, advertising, and conducting NAA's three large annual outdoor art festivals. His duties include working with the city officials, police and fire departments, county officials, and the business district in setting up the shows, which average 260 fine art exhibitors, which involves shutting down Fifth Avenue South, road closures and using partner relationships to successfully execute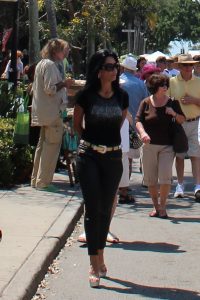 the show.
Website: You can access more information about this art festival by visiting http://www.naplesart.org/content/downtown-naples-festival-arts-1. The Naples Art Association will post a list of the names of exhibiting arts once they are empaneled by the jury.
Facebook: Stay tuned.
Related Art Fairs and Festivals. Besides the Downtown Naples Festival of the Arts, the Naples Art Association organizes the following art fairs and festivals
Fast Facts:
Several hundred artists from around the country vie for 250 coveted spots at this prestigious art festival. Artists are selected by independent jurors to ensure the best quality artworks for festival guests to enjoy and purchase.
Revised September 8, 2021.