Mercato Fine Art Festival
THIS FESTIVAL HAS BEEN CANCELLED AND IS NOT LIKELY TO BE REINSTATED. Information about the show is provided below for those who have attended the fair in the past.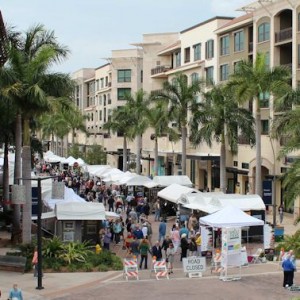 Name: Mercato Fine Art Festival
Date: Typically the first weekend in March
Time: 10 a.m. – 5 p.m.
Place: As the name indicates, the festival was held at the Mercato Shopping District, a high-end shopping center and condominium complex located at the corner of U.S. 41 and Vanderbilt Beach Road in North Naples. Festival goers liked this venue as it enabled them to take advantage of a variety of stores while browsing fine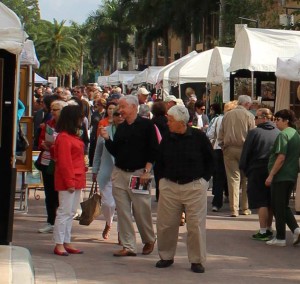 art (such as Bobby Chan, a high-end apparel shop for lifestyle-minded men; Vogue Couture, an exclusive, designer clothier for women; Sportalm Fashion, featuring European-designed clothing and shoes for both men and women; Z Gallerie, a chic high-quality home decor spot; Books-A-Million, the third largest book retailer nationwide; and Whole Foods Market).
National Ranking: This was the #73 art festival in the entire nation in 2012 according to Sunshine Artist Magazine.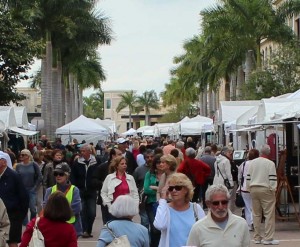 Description: Some 125 national artists were typically juried into this show. Works on display included all types of fine art, including paintings done with oil, watercolor, acrylic and mixed media, one-of-a-kind jewelry, hand-crafted fashion accessories, leather works, conventional and large scale photography, cutting edge digital art, fiber arts, sculptures, and functional ceramics and pottery. In its final year, the festival drew upwards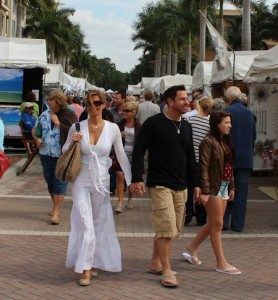 of 10,000 guests. Said artist and blogger Nancy Grimsley of the inaugural 2010 show: " [A]s far as sales, this was our best show of the season in Florida.  At the end of the show we had big empty spots where large pieces had hung.  A customer came back on Sunday for a specific piece and commented to her daughters….'it's all gone….look at all that's gone!' We are taking next weekend off to build up our stock…Then we will be back down for the final three shows of our Florida season.  I can only hope that the shows will be run as competently as the Mercato and I can only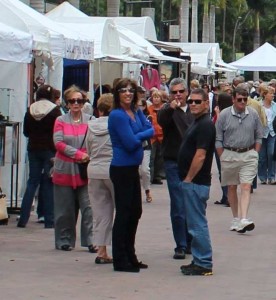 dream of the sales we had at the Mercato.  Thank you beautiful Naples for this lovely weekend!"
Organizer: Naples Art Association had organized this show.
Related Art Fairs and Festivals. The Naples Art Association continues to organize the following art fairs and festivals
Fast Facts.
2010 was the inaugural year for this festival.
That notwithstanding, the festival achieved a #75 national ranking.
The show maintained this spot in years 2 and 3.
The show continued to grow, and the vast majority of the artists who participated in it were disappointed when they learned that the show has been indefinitely if not permanently cancelled.
Articles