Naples New Year's Art Show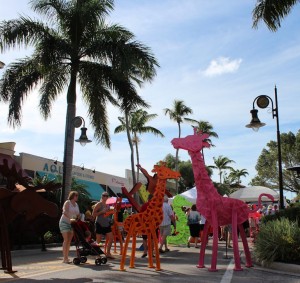 Name: 26th Naples New Year's Art Show
Date: Saturday, January 8 and Sunday, January 9, 2022
Time: 10:00 a.m. to 5:00 p.m.
Place: The City of Naples police cordon off historic Fifth Avenue South to vehicular traffic for this vibrant downtown Naples outdoor art bazaar which drew 15,000 art lovers over two days last year.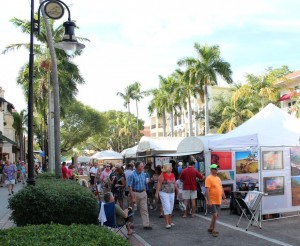 Besides a new year and new opportunities, part of the attraction to festival goers is their ability to casually amble through booths and tents set up under the tall oaks that shade this flower-adorned thoroughfare that's framed by Mediterranean-style buildings housing banks, real estate and stock brokerages, European-style boutiques, high-end jewelry stores, prestigious art galleries and some of the finest ristorantes, bistros and outdoor cafes in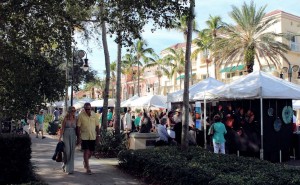 all of southwest Florida.
National Ranking: Ranked the #15 Fine Art and Design Show by Sunshine Artist Magazine 2019 and a "Blue Chip 100" Fine Art Event by ArtFairSourceBook.com 2019.
Description: This art festival offers residents and
visitors with an alternative to football and a place to walk off calories from holiday overeating. Because of its national ranking and the beautiful weather in southwest Florida during this time of year, Naples National draws some of the finest artists in the country. Last year, 250 national and local artists displayed artworks valued collectively at nearly $15 million in categories ranging from original oils and acrylics on canvas, panel and galvanized aluminum to watercolors on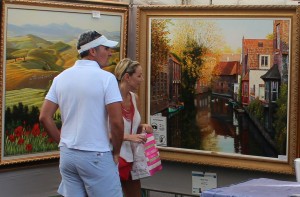 paper, 2D and 3D mixed media, limited edition prints, photography, digital art, metal sculpture, wood carvings, ceramics, hand-crafted jewelry, leather works and more. There's lots of art for every taste and pocketbook, so bring your credit card or checkbook.
In addition to Fifth Avenue's world-renowned
bistros and restaurants, there will be plenty of carnival-style food kiosks to sustain hungry patrons.
Augmenting the number of participating artists, available art and ambiance of the event on Saturday is Art in the Park, an art fair held on Park Street by Naples Art Association members on the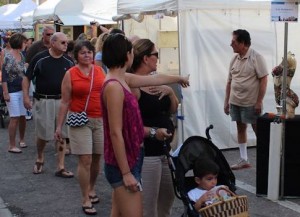 first Saturday of each month between November and April.
Unlike a gallery or museum, a fine art festival such as this one offers savvy art enthusiasts the unique opportunity to meet the artists in person; commission a specific piece; ask questions about techniques; learn the sources of their inspiration and purchase fine works of art directly from the
artists.
Cost: Admission is free.
Parking: Parking is not a problem as there is plenty of free parking abutting Cambier Park and along the streets adjacent to  Fifth Avenue South.
Organizer: Naples Art Association, a 501(c)(3) organization founded in 1954 and whose mission is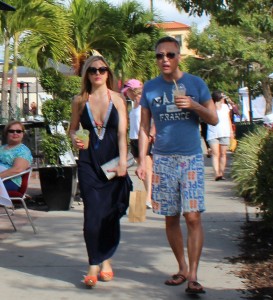 to promote and advance interest and participation in the visual arts.
Event Director: Maureen Roberts serves as Outdoor Festival Director at the Naples Art Association. As such, Ms. Roberts is responsible for organizing, managing, advertising, and conducting NAA's three large annual outdoor art festivals. His duties include working with the city officials, police and fire departments, county officials, and the business district in setting up the shows, which average 260 fine art exhibitors, which involves shutting down Fifth Avenue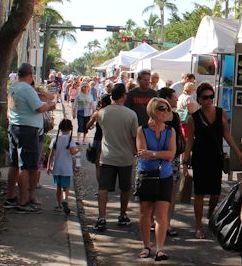 South, road closures and using partner relationships to successfully execute the show.
Website: http://www.naplesart.org/content/downtown-naples-new-years-weekend-art-fair-0
Facebook: None at present.
Related Art Fairs and Festivals. Besides the Downtown Naples New Year's Art Festival, the Naples Art Association organizes the following art fairs and festivals
Fast Facts:
Several hundred artists from around the country vie for 200 coveted spots at this prestigious art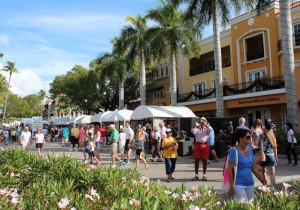 festival. Artists are selected by independent jurors to ensure the best quality artworks for festival guests to enjoy and purchase.

Revised September 8, 2021.