Talkin trash with '#SLUT' writer Sophia Watson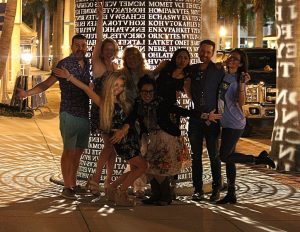 #SLUT took Audience Favorite honors at this year's Fort Myers Film Festival. Exploring the central themes of cyberbullying, slut shaming and sexual predation, the film resonated with the Millennial/Gen X cineastes who saw the film. That's not surprising when you discover that the film's writer is just 18 and has been constrained to contend with bullying first hand as a high school junior and senior.
'In the film,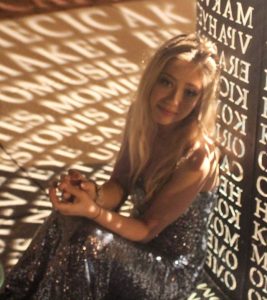 there's a scene where a mean girl tweets #SLUT when my character [Grace] walks by," Watson said on opening night of the Fort Myers Film Festival on April 10. "That actually happened to one of my very best friends. As soon as I heard about that, I knew I had to put that into a film. I hadn't yet started writing the script for #SLUT, but that tweet affected her so much and I knew it would affect just about anyone that happened to."
Fortunately, Sophia's bestie handled the slur okay.
But that's not to say it didn't bother her. It did.
"Any time someone is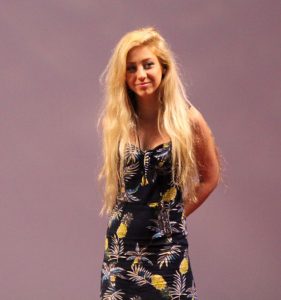 put down by people they go to school with and who they thought were their friends, it hurts," Sophia elaborated. "If people repeat it enough, it works on your mental state and self-esteem. It starts a domino effect, with one thing leading to so many others."
Sophia's astute observation is also the central theme of Max Frisch's timeless drama Andorra being performed a few blocks away at the Laboratory Theater of Florida. While Andorra is primarily an indictment of anti-Semitism, prejudice and bigotry, it also reveals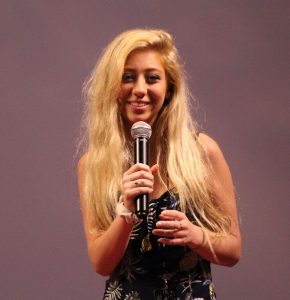 another truth: people adopt the stereotypical characteristics we ascribe to them and live down to the expectations we, as a community, place on them.
In Andorra, that community consisted of an entire country. In #SLUT, the community is a high school.
But the dynamic operates the same in both environments.
"So many people are bullied in high school," Sophia goes on. "School can be so overwhelmingly negative some times.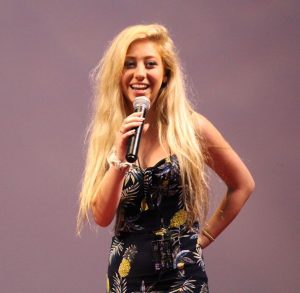 There's this hierarchy and [the kids at the bottom] can so easily think badly about themselves because of the negative things other people are saying. But in reality, it has nothing to do with them, but rather about the person who's saying it."
While Sophia's is a sage realization, that quantum of self-confidence is impossible to achieve when you're the target of relentless and pervasive cyber-bullying.
"In my senior year,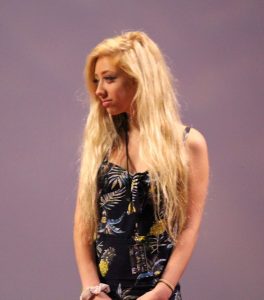 someone in our class committed suicide just weeks before graduation," Sophia notes sadly, her golden locks rippling about her neck as she gently nodded from side to side. "True, mental illness played a role, but bullying was also involved and it makes a bigger difference than you might think. So be nice to people and watch what you say because you never what someone is going through outside of that."
But there's another, even more sinister component to #SLUT. A teacher sees what's happening to Grace and uses her vulnerability to get close to her and take advantage of her sexually,  implicating the #MeToo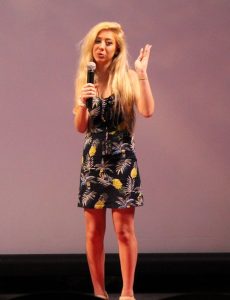 and #Time's Up movements and excoriating the unfair advantage taken all too often by people in positions of power, including, in this instance, a teacher.
The inspiration for this plotline actually comes from a song by L.A.-based dream-pop-meets-R&B group LANY. Band mates Paul Klein, Jake Goss and Les Priest intended "youarefire" to capture that halcyon feeling of young love, perhaps even s0-called puppy love or, in the words of Atwood Mag reviewer Maggie McHale "the kind that had once made you feel like nothing else in the world mattered." But what if the track had featured an older guy,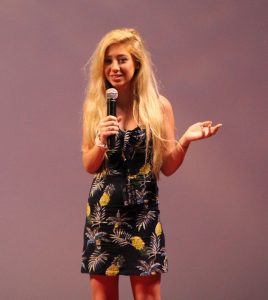 maybe even a teacher, singing about a student in a push-up bra "a little over five feet tall" and "too young for love"? What would cause a girl in that situation to steal away "round the corner and down the hall … running around and fooling around … [for] "smokey seats and kissing necks"? What if LANY's sultry lyrics were being sung by a teacher or prof or someone else in a position of authority?
"I was curious about what would cause a girl to do that and what I came up with was that to do that, you kind of have to have something going on otherwise in your life."
In her construct,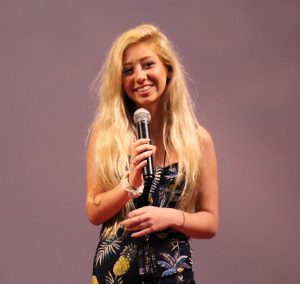 the pejorative #SLUT causes the vulnerability that leads to the affair, rather than the affair with the teacher leading to her classmates labelling her a slut. It's a highly imaginative and clever twist, but it's not the only one … it's not even the major one … that Watson wove into her multi-tiered script.
And there's another layer to the film that bears mentioning.
"The title is #SLUT because she's being called that and she's being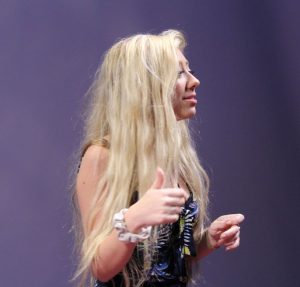 harassing on social media," Sophia points out. "It's such a big insult [even in today's hook-up culture] that I decided to make it the film's title to kind of take the word back and use it in an empowering way. The movie is about bringing [the use of the word by cyber and other bullies] to light and taking the word back for anyone who's ever been called that. To take the power away from those who are using the term derogatorily."
Of course, it's necessary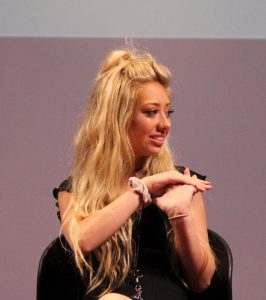 to actually see the short to glean that message. Ironically, the parents of some of the kids who'd been cast as extras pulled them out of the movie when they discovered that the name of the short was going to be #SLUT.
Another irony also pertains to the film.
Whereas many features evolve from short films, in the case of #SLUT, Watson wrote the feature first and then cut the script to create the short.
"Cutting the script from 90 to just under 10 pages was so difficult," acknowledges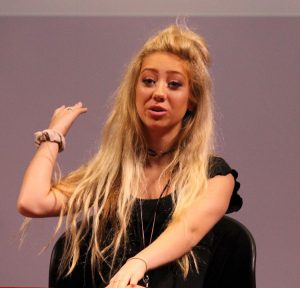 Sophia, who did most of the excising sitting on her bed at 3:00 a.m.
"It required me to pick the main points I wanted to convey and then condense, condense, condense. But each of the characters and scenes were like my babies and I didn't want to take them out of the script. I think the way it kind of evolved and some of the changes I had to make contributed to it being such an amazing product in the end, and I'm so proud of it and of my cast and production team."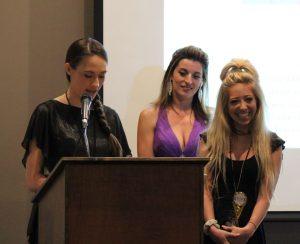 And who knows, Sophia may be able to resurrect some of her lost characters and scenes yet. That's because Watson and her team have plans to shop #SLUT to several TV platforms.
For now, though, Sophia and her team are enjoying the success the short is having on the film festival circuit. #SLUT is the 2019 NYLA International Film Festival (LA) Best Student Film winner, 2019 Papaya Films Bursary winner, D Lacy Jr.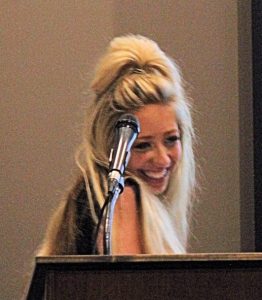 Social Justice Award winner at the 2018 Studio City Int'l Film Festival, and is a nominee for Best Drama at the 19th Annual FirstGlance Film Festival in Los Angeles.
Jenna Kanell received Best Director at the 15 Minutes of Fame Film Festival in Cocoa Beach earlier this year, with Sophia Watson receiving nominations for Breakout Performance and Best Young Actor at FirstGlance as well.
And now #SLUT is the Audience Favorite at the 9th Annual Fort Myers Film Festival.
April 23, 2019.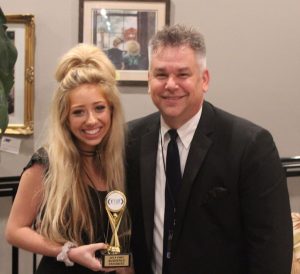 RELATED POSTS.