Actors, artists, filmmakers and events in the news April 22-30, 2020
Grouped under headings that include art openings, film, outdoor art fairs and festivals and theater are advances, announcements and articles about the actors, artists, filmmakers and events making news in Southwest Florida this week:
1     ART & ARTISTS
Due to the COVID-19 outbreak, all of Southwest Florida's museums, galleries and art centers are closed to the public. Notwithstanding, some of these organizations have produced virtual shows and you can also read here about some of the artists who would have been featured but for stay-at-home orders and recommendations issued by the White House, Centers for Disease Control & Prevention and Governor Ron DeSantis.
Photographer Steve Conley on a Camera USA roll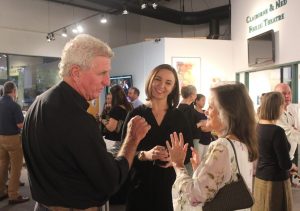 Fort Myers fine art photographer Steve Conley is on a Camera USA roll. He's been informed that his photo Monroe Café has been juried into the Naples Art Association's Camera USA 2020 National Photography Exhibition and Competition. It's the fifth time in six years, and the last four years in a row that he's had work accepted into the prestigious Naples Art photography show!
Conley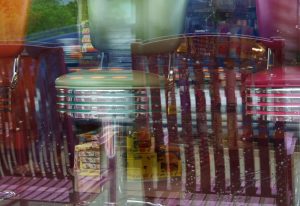 took Monroe Cafe last April in Georgia. He and Ingela were returning from Blue Ridge, taking back roads. "We stopped in this quaint little town for a rainy afternoon lunch," Steve explains. "I took a short walk as the food was being prepared and noticed this window scene. I was intrigued by the many layers of reflection both inside and outside the double-paned glass. The moment of capture was determined by the passing of a UPS truck."
Go here for the rest of this story.
_______________________________________________
Centers for the Arts Bonita introduces virtual art exhibition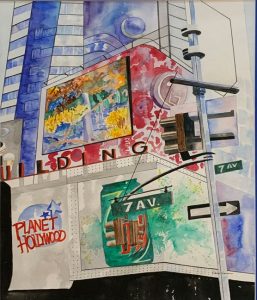 The Center for the Arts Bonita's virtual art exhibition is now live and can be viewed here. Viewers have the option of viewing a 6:15 minute virtual tour of the the works hanging in the gallery or examining each work individually. The exhibition consists of 54 works in various genres and media by 34 individual artists, as well as six untitled works by "artist unknown."
For more information or to purchase an artwork, you may contact the Center at 239-495-8989.
________________________________________________________
Alliance/Lee Arts Educators' 'Future of Art: Student Exhibit' go virtual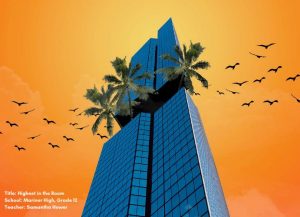 The Alliance for the Arts' The Future of Art: Student Exhibit will be on display in a virtual gallery at ArtInLee.org  beginning May 1. The Alliance for the Arts and Lee Arts Educators Association decided that a virtual viewing room was necessary to protect the health and wellbeing of exhibitors, Alliance staff and the viewing public in light of the ongoing risks posed by the COVID-19 pandemic.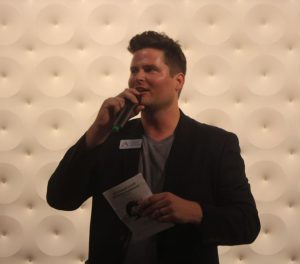 "Now more than ever is a critical time to support young artists," says gallery director Ehren Gerhard. "When we encourage young artists, we're encouraging them to have confidence in their ideas. The work of our local students is powerful, cutting edge and risk taking!  As a community, it is vital we foster creative thought in young minds.  They are the future and the future demands it!"
The arts are more important than ever. The arts can heal, process complicated emotions and communicate love and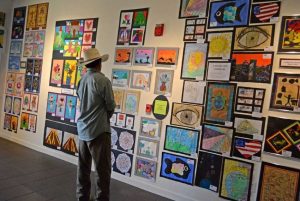 compassion to others.  With the school year cut short and students losing the many opportunities to exhibit their work and celebrate their artistic accomplishments, the Alliance for the Arts wanted more than ever to support the young artists of our community.
This is the 28th year the Alliance has partnered with Lee Arts Educators Association (LAEA)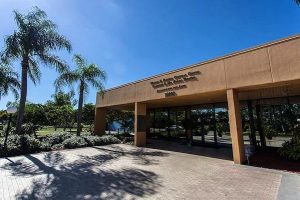 and the show features artwork from thirteen area schools and hundreds of works in a variety of mediums.  This year's Judges are Dana Roes, Sorsha, Mike Kiniry, Stephen Hayford and Ehren Gerhard.
Winners will be selected in several categories including painting,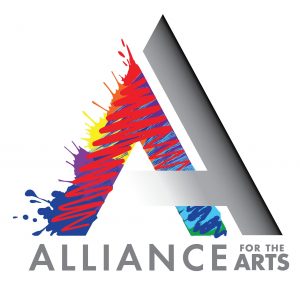 drawing, photography, computer graphics, mixed media, sculpture and functional ceramics. Best in Show will be awarded a four year art major scholarship to Florida Southwestern State College.
Join the Alliance and LAEA on Friday, May 1 at 6:00 p.m. for the awards presentation on the Alliance for the Arts Facebook page.
This exhibit is sponsored by Florida SouthWestern State College.
For more information, call 239-939-2787 or visit ArtInLee.org/FutureOfArt.
___________________________________________
Twelve artists juried into Alliance's Art Lives Here 2.0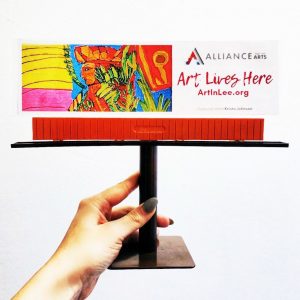 The Alliance for the Arts has revealed the artists who have been chosen to participate in Art Lives Here 2.0. From the works submitted, the  Art Lives Here committee juried in 12 local artists: Tania Begg, Donna Chase, Stephen Hayford, Bruce MacKechnie, Nance Marsden, Leila Mesdaghi, Eric Riemenschneider, Whit Robbins, Myra Roberts, Carolyn Steele, Alyssa Stoff, and Barbara Weems. Each will have their composition displayed on a billboard somewhere within the borders of Lee County.
"Our vision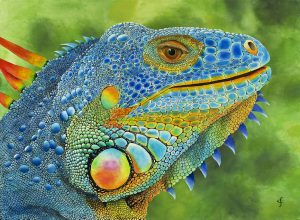 is to bring artwork outside of the traditional context of museum and gallery walls, while bringing attention to emerging local artists' work," says gallery director Ehren Gerhard.
Last year, the Alliance named 9 artists to its inaugural Art Lives Here billboard campaign: Marne Adler, David Acevedo, Vicki Baker, Pat Collins, Cheryl Fausel, Leo Johnson, Charlotte McClatchey, Richard Stanton and Toni Ferrell Sutton.
For more information call 239-939-2787 or visit ArtInLee.org/ArtLivesHere.
____________________________________
Spotlight on Tania Begg's 'Where the Heart Is'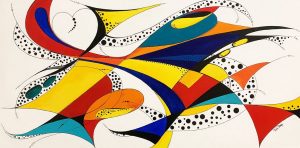 The Alliance for the Arts has revealed the artists who've been chosen to participate in Art Lives Here 2.0. One of the terrific 12 is Tania Begg's Where the Heart Is, a 48 x 24 inch acrylic painting. "With music playing in the background, my black ink pen dances across the canvas," says Tania of the composition,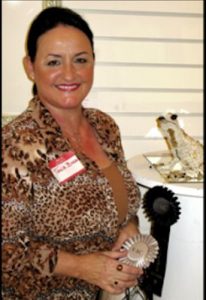 "the movement creating line, and shapes … that interconnect … bright colors define each area and perform a Symphony. And within this Symphony … is my heart."
Where the Heart Is represents something of a departure for Begg from her normal body of work, which she refers to as Lizzart, beaded wire sculptures that combine her love of three-dimensional art with texture and festive colors that are informed by years of cruising the Caribbean with her family on their 30' sailboat Brittany. As her art has become increasingly recognized over the past several years, her work has appeared in local galleries ranging from the Hirdie Girdie Art Gallery on Sanibel and Sea Grape Art Gallery in Punta Gorda to Arts For Act in Fort Myers, Harbour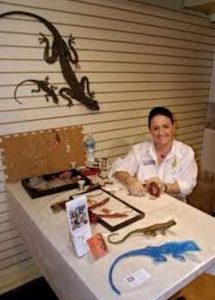 View Art Gallery in Cape Coral and Coconut Point Art Gallery in Bonita Springs.
"I am so honored that my painting Where the Heart Is has been chosen for the Art Lives Here campaign by the Alliance for the Arts," says Tania.
The new Art Lives Here billboard works will be featured on electronic billboards first as the compositions rendered by the 2019 Art Lives Here artists that presently appear on physical billboards located throughout Lee County are phased out in the coming months. Check social media from time to time for locations and updates.
____________________________
Spotlight on Donna Chase's 'Touch'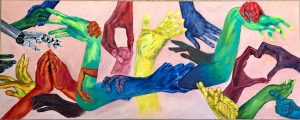 The Alliance for the Arts has revealed the artists who've been chosen to participate in Art Lives Here 2.0. One of the terrific 12 is Donna Chase. Her 16 x 40 inch acrylic painting is called Touch. "A simple touch can calm a tortured soul, convey emotions … even heal,"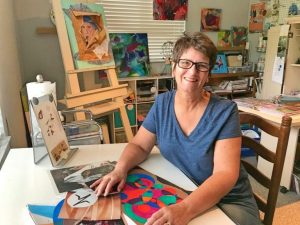 Donna shares. "Our hands are an extension of our humanity, regardless of color, age, strength or ethnicity.  In our new world of social distancing, we long for a real hug, a kiss or a simple handshake.  Touch is part of the basic human experience."
And soon it will become part of our Lee County aesthetic landscape, a work that will be featured in the Alliance's museum without walls.
__________________________________________________________________
Spotlight on Stephen Hayford's painting You Never Know What You're Going to Get'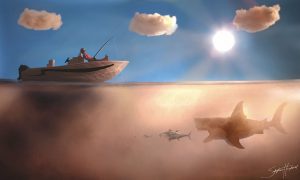 The Alliance for the Arts has revealed the artists who've been chosen to participate in Art Lives Here 2.0. One of the terrific 12 is Stephen Hayford, whose photographed diorama You Never Know What You're Going to Get will soon grace a Lee County billboard.
New to the term diorama? It refers to a model representing a scene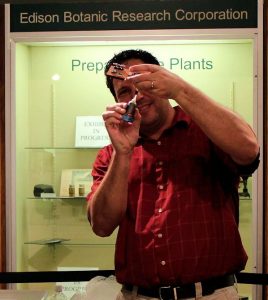 with three-dimensional figures either in miniature or as a large-scale museum exhibit. Tracing its origins to 19th Century mobile theatre, dioramas today are common in museums like the Smithsonian. Locally, IMAG History & Science Center features a diorama of the February 20, 1865 Battle of Fort Myers. The Edison & Ford Winter Estates features a diorama of Thomas Edison's botanical laboratory that Hayford created several years ago.
Go here for the rest of this review.
_________________________________________
Spotlight on Bruce MacKechnie's 'Jazz Dreamscape'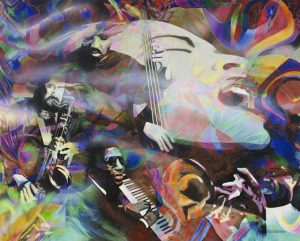 The Alliance for the Arts has revealed the artists who've been chosen to participate in Art Lives Here 2.0. One of the terrific 12 is Bruce MacKechnie, whose 20 x 16 inch acrylic painting Jazz Dreamscape will appear soon on a billboard near you. "Going to jazz clubs and listening to recordings of various greats like Billy Holiday, Thelonious Monk, and many others, I wanted to create an image that captured the dreamy rhythms,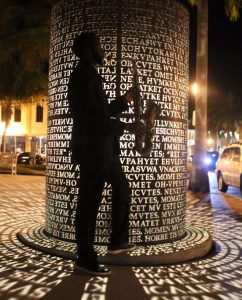 the varied and colorful abstract quality of the musical notes, and the range of feelings the music and the artists inspire. My composition is sort of a dream team of jazz greats who have given me, and millions of others, hours of pleasure and entertainment over the years."
Jazz exerts a strong presence in Fort Myers. For example, legendary jazz trumpeter Leroy Jones opened last year's Fort Myers Film Festival and David Black's monumental sculpture Fire Dance was inspired by a jazz concert in Centennial Park.
Alliance art lovers will remember MacKechnie from two 2019 group shows. He participated last July in Uncontained: Juried Exhibit and was one of 60 artists selected from a field of 664 entries to have work in the 33rd Annual All Florida Juried Exhibition.
_______________________________________
Spotlight on Nance Marsden's 'Summer Practice'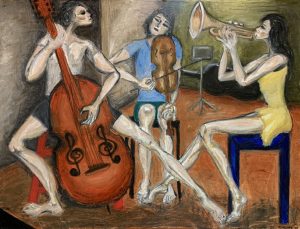 The Alliance for the Arts has revealed the artists who've been chosen to participate in Art Lives Here 2.0. One of the terrific 12 is Nance Marsden, whose Summer Practice will soon appear on a billboard near you. "Some of my fondest memories of when I was young are of playing instruments and singing with my friends," says Marsden of her oil and pastel painting. "It took practice to make beautiful music together. And now, it still takes a lot of practice to make beautiful music together, whatever kind of music we are making."
____________________________________________________
Mesdaghi's 'What Color Is Your Sky' being made into billboard art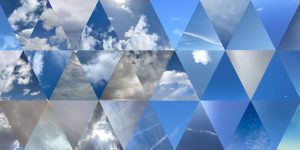 The Alliance for the Arts has revealed the artists who've been chosen to participate in Art Lives Here 2.0. One of the terrific 12 is Leila Mesdaghi. Her digital collage, What Color is Your Sky, will be appearing on a billboard somewhere in Lee County in 2020.
Mesdaghi is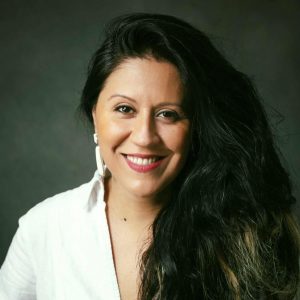 known for combining emotional experiences with social responsibilities in both her visual and performance art, which uniquely enables her to connect with viewers in a visceral, evocative manner.
"I asked my friends around the world to look up at the sky, capture it, and send it to me," says Leila of What Color Is Your Sky.  "There is a Persian proverb that says: wherever you go the sky is the same color! Through these photos I am able to see what they see, and by sharing it in an art form, others can see it too."
Go here for the rest of this story.
__________________________________________________
Riemenschneider's 'No Snitches' coming to a billboard near you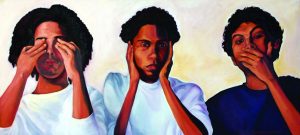 The Alliance for the Arts has revealed the artists who've been chosen to participate in Art Lives Here 2.0. One of the terrific 12 is Eric Riemenschneider, whose contribution to the Art Lives Here! Billboard campaign is No Snitches.
"As an Art & Design teacher,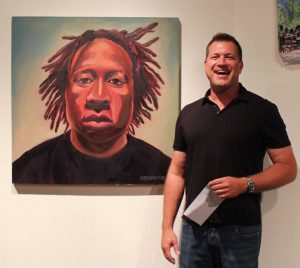 every day I attempt to open my students' senses to new experiences and challenge their way of thinking. These three young men are former students that challenged me quite a bit as a new instructor. Their pose represents the potential obstacles in communication but also celebrates the breakthrough and permanent bond of teacher and student."
You can find the rest of this post here.
_____________________________________________________
Spotlight on Whit Robbins' 'Greening of Florida' billboard artwork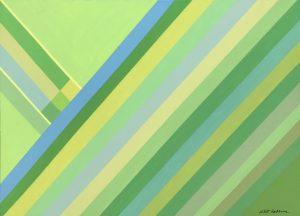 The Alliance for the Arts has revealed the artists who've been chosen to participate in Art Lives Here 2.0. One of the terrific 12 is Whit Robbins, whose Greening of Florida is a 30 x 40 inch acrylic painting. "When I put my brush to the canvas to paint for this project about Florida, what came to mind was GREEN!  Having grown up in snow-belt areas, that's what I hungered for during the long winters. Now, here I 
am in Florida which is a non-stop green paradise. Thank you Florida!"
Robbins' work has been juried into the Alliance for the Arts' 34th Annual All Florida Exhibition and the United Arts Council of Collier County's Art of the Holocene at Rookery Bay (where he exhibited with Linda Fay Braun, Megan Kissinger and Deborah Martin) and he has work in My Florida and Wild Things at Southwest Florida International Airport.
____________________________
Spotlight on Myra Roberts' 'Dive In'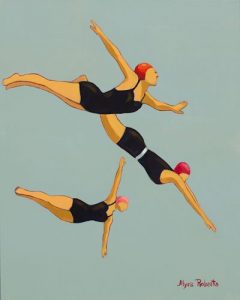 The Alliance for the Arts has revealed the artists who've been chosen to participate in Art Lives Here 2.0. One of the terrific 12 is Myra Roberts, whose Dive In will soon appear on a billboard near you.
"Dive In was painted at a challenging transition time in my life.  The diver represents that inner strength to take the leap of faith when life feels uncertain."
The Sanibel-based artist specializes in meticulously-researched vintage Florida-style art of the 1920s-1950s, as well as World War II era and Holocaust-themed compositions. Her "Faces of Anne Frank" collection received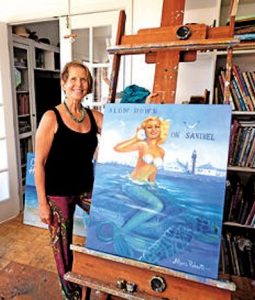 letters of endorsement from both Hillary Rodham Clinton and the Jane Goodall Institute.
In 2016 and in partnership with the Southwest Florida Community Foundation and the Women's Fund of Southwest Florida, WGCU chose Roberts as one of five "Makers: Women Who Make Southwest Florida." Nominated by the public, Roberts' selection recognized her impact in the arts and on social justice in Southwest Florida.
Her work has been the subject of three books, The Retro Art of Myra Roberts, Retro Images from the Florida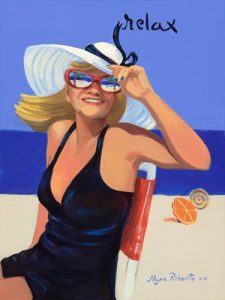 Coast and Project Tolerance: The Faces of Anne Frank.
She has a B.A. in art education from Arizona State University and an M.F.A. in printmaking and illustration from Northern Illinois University. Roberts taught painting, drawing and art history for 25 years in the Illinois public school system.
Roberts' paintings are in public and private collections across the United States and Europe. Two Islands Gallery on Captiva and Lily's, Trader's Café Store and Suncatcher's Dream on Sanibel all represent, exhibit and sell her work.
________________________________
Spotlight on Carolyn Steele's 'Bejeweled'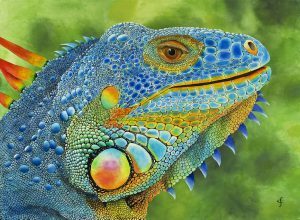 The Alliance for the Arts has revealed the artists who've been chosen to participate in Art Lives Here 2.0. One of the terrific 12 is Carolyn Steele, whose work is a 30 x 22 inch acrylic titled Bejeweled.
Carolyn's body of work is informed by her extensive travels throughout the Caribbean and her experiences snorkeling its magical underwater reefs.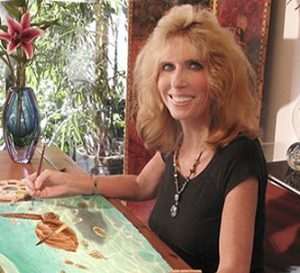 "I started my paintings of the Caribbean in 1992 as a way to extend the afterglow of my visits to the West Indies," says Carolyn on her website.
"The combination of fascinating detail, texture, and color are what inspired me to paint this iguana portrait. I was especially intrigued by the beauty of the large sub tympanic shield on his lower jowl that reminded me of an Ethiopian opal, my favorite gemstone."
Steele has a background in graphic design, which aids
 the sense of composition expressed by her paintings. Her works can be grouped into three main categories or series : Underwater Scenes, Islands Scenes and Tropical Cats.  Carolyn views her paintings as love letters to the tropics, and donates a portion of the profits she realizes from the sale of her artworks to wildlife and reef preservation projects.
"I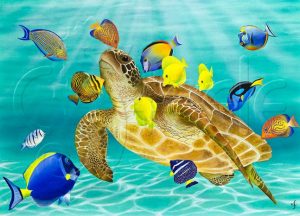 hope that my artwork will both decorate and promote an appreciation of the amazing variety and fragility of the biosystems I paint," Carolyn adds. "The majority of species represented here are indigenous to the West Indies, many of them endangered."
__________________________________
Spotlight on Alyssa Stoff's Water and Stone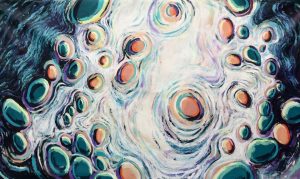 The Alliance for the Arts has revealed the artists who've been chosen to participate in Art Lives Here 2.0. One of the terrific 12 is Alyssa Stoff, whose 72 x 42 inch acrylic on canvas titled Water and Stone will soon appear on a billboard by you. "The inspiration for this painting comes from having artist's block. At the time, I didn't like anything I was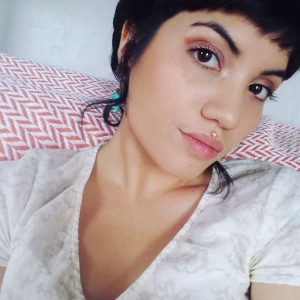 making and really needed to do something fresh. It actually started out very different and I wasn't enjoying the process. Once I stopped overthinking it and just focused on my movements and feelings it really came forward on its own. For me, it's nice to know that even when I get stuck I can still find my way back. I think this painting represents that realization."
Born in Toledo, Ohio in 1993, Stoff and her family relocated to Florida in 2001, where she was influenced by our beautiful tropical landscape. But it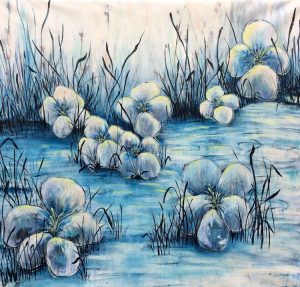 was her grandmother's love of art that inspired her from a very young age, helping to shape and grow her interest in a multitude of mediums. Alyssa spent many summers at her grandmother's home in Chicago painting, practicing origami, taking pictures in the garden, and exploring the city.
Stoff has a BA from Florida Gulf Coast University. Since her 2015 graduation, she has been showing her artwork in local galleries and continues to  create paintings and sculptures that reflect the influences of her family and love of nature.
____________________________________
Spotlight on Barbara Weems' 'Orient Express'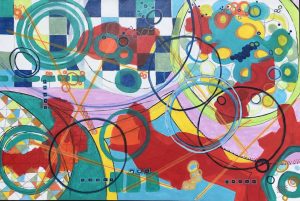 The Alliance for the Arts has revealed the artists who've been chosen to participate in Art Lives Here 2.0. One of the terrific 12 is Barbara Weems. Her mixed media work, Orient Express, will soon be appearing on a billboard near you. "This abstract painting began with mark making and my ubiquitous circles. I noticed what looked like olives and eggs on a plate and then followed tablecloths and the thought of luxurious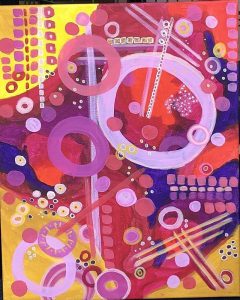 dining on the Orient Express."
Weems took painting classes in school and college and one at the Art Institute in Chicago. Barbara has lived in Florida most of her life, and here in Southwest Florida since 1992. She currently she lives on a small horse farm with her husband and many dogs. A master gardener, she had a weekend radio show about gardening for three years on WINK talk radio.
She has exhibited at Coco Gallery in Estero, among others.
____________________________________________________________________
FGCU Digital Media Design students creating visual identity for Naples Design District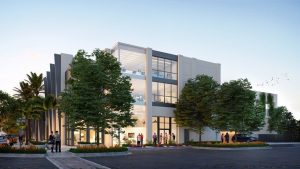 The newly formed Naples Design District has tasked FGCU's Digital Media Design students with a design challenge. Select students will create a visual identity for the new district that will be expressed in the form of on-street lamp post banners advertising the area to visitors in Naples. The winning design will be chosen by a selection committee this summer.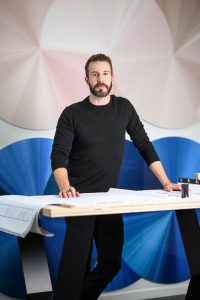 Once a design is selected, the banners will go up in the district celebrating the diverse range of businesses, galleries and creative communities comprising the Naples Design District.
The students competing in the challenge are Skyanna Billman (junior, DMD), Kaitlin Connor (senior, DMD), Aracelly Peralta (senior, DMD), Alyx Gonzalez (junior, DMD) and Jazmin Gonzalez Vera (junior, DMD). They and their professor, Mike Salmond (Art), met with Chad Jensen, director of Method and Concept gallery, in late February to tour the district and get a sense of what the committee is looking for in making a visual statement for the new district.
The project is similar to last year's design challenge, in which students created a visual identity for the multi-million dollar centerpiece of the Naples Design District, The Collective building.
_______________________________________________
Arsenault Studio presenting virtual exhibition titled Water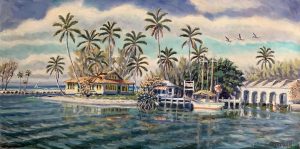 In response to the pandemic, the Arsenault Studio and Banyan Arts Gallery is presenting a virtual exhibition titled Water which features gallery artists, honors Earth Day, and supports Audubon of the Western Everglades (www.audubonwe.org). The exhibition began on April 7, coinciding with the 130th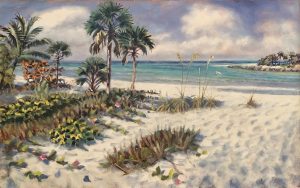 birthday of Marjory Stoneman Douglas, champion of the Everglades, and showcases water-oriented paintings by Paul Arsenault, Stephen Estrada, Amy Moglia Heuerman, James P. Kerr, Mary Parkman, Reisha Perlmutter, and reclaimed surfboard carvings by Jake Jones. Each week, works pertaining to water are being featured via the gallery's newsletter and social media outlets.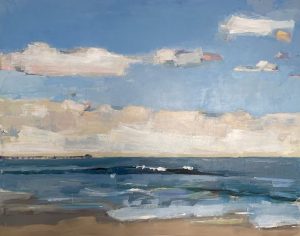 Recognizing that local non-profits are also heavily impacted during this time, the artists and the gallery have agreed to donate 22% of any sales to Audubon of the Western Everglades for 50 days—commemorating the 50th anniversary of Earth Day.
For more information please contact the gallery at: info@arsenaultgallery.com or 239-263-1214.
______________________________________________________
Spotlight on Arsenault Studio's 'Water' exhibitor Reisha Perlmutter
One of the artists being featured by Arsenault Studio and Banyan Arts Gallery in its virtual exhibition, Water, is Reisha Perlmutter.
Although she now lives and works in New York City, Reisha has ties to Naples, Florida, where she was born in 1990. She received her BFA from the School of the Art Institute of Chicago in 2012. Between her undergraduate and graduate degrees, she attended residencies in Italy and France, focusing on traditional atelier studies. She completed her MFA from the New York Academy of Art with a concentration in figurative and anatomical painting.
Her work is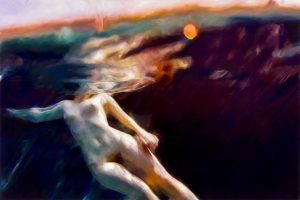 best known for representational imagery of women and water, where she explores the relationship between body and environment as well as perceptions of beauty. Her work is collected and shown internationally. She has participated in museum shows both in the United States and Europe, and her work has been auctioned off several times at Sotheby's. (You can view her CV here.)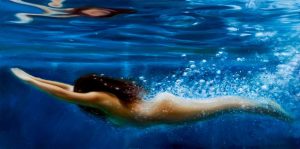 Among the paintings that Arsenault Studio & Banyan Arts Gallery are featuring are Europa, from Perlmutter's 2019 Lunar Series, and Delphinium, a 2018 72 x 36 inch oil on canvas.
She continues to live and work in New York City and you can visit her website here.
________________________________________________________
Spotlight on Arsenault Studio 'Water' exhibitor Amy Moglia Heuerman
Arsenault Gallery had planned a pop up show of new work by Amy Moglia Heuerman when the COVID-19 pandemic struck. So instead, it has included Amy's work in its virtual exhibition, Water.
"Amy's new work gives us hope and reminds us that better days are just beyond the horizon," states Paul Arsenault. "We hope you enjoy her new paintings, share them with friends, and continue to support the arts.
You may view Amy's work on the gallery's website.
Please call the gallery at 239-263-1214 if you are interested in any of Amy's work.
Spotlight on Arsenault Studio 'Water' exhibitor Jake Jones

One of the artists being featured by Arsenault Studio and Banyan Arts Gallery in its virtual exhibition, Water, is Jake Jones. Born in California, the onetime newspaper graphics artist is now an award-winning visual artist based in Naples. His love of "all things ocean" shines through in his artworks of sea life on unique canvases – reclaimed surfboards that once carved waves themselves. The sculptures require weeks of cutting, scraping and sanding, but what emerges at the end of Jone's process are unique bas-relief ocean life portraits cutting through sea grass or waves in a longboard frame. [Go here to read Jake's 2019 interview with Harriet Howard Heithaus for the Naples Daily News.]
_____________________________
2.        Public Art
'Water the Source of Life' mural being installed in Fort Myers' Viva Court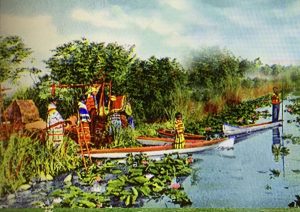 The Fort Myers Mural Society is launching a new mural project this week. Called "Water, the Source of Life," it is being painted by local muralist Erik Schlake in Viva Court in downtown Fort Myers.
In its press release announcing the project, the Fort Myers Mural Society states that the mural will draw attention to the Seminole Nation's desire to preserve and share their culture while reminding all of us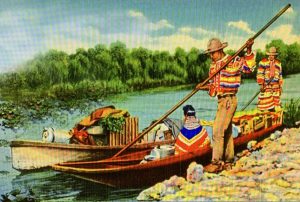 of the importance of clean water.
Traditional Seminole cultural, religious, commercial and recreational activities depend on clean water, which is inextricably linked to a healthy Everglades ecosystem. In fact, the Tribe's identity is so closely linked to the land that Tribal members believe that if the land dies, so will the Tribe. Consequently,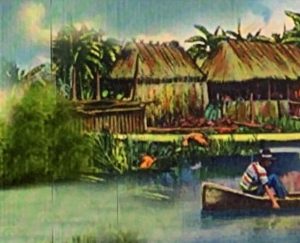 when the Everglades went into decline, The Tribe recognized that they had to act to protect and preserve the endangered natural ecosystem. So the Tribe formulated an ambitious $65 million multi-year program designed to mitigate the impacts of development on the environment and, more specifically, improve water quality, increase water storage capacity, enhance hydroperiods and remove phosphorus and other pollutants from water leaving the Reservation

and flowing through Big Cypress National Preserve into Mullet Slough to the Everglades Protection Area. Because of its importance, the Seminole Everglades Restoration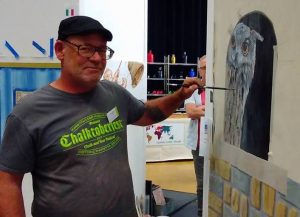 Initiative has been included in the Governor's Commission for a Sustainable South Florida's report on the projects needed for Everglades restoration.
The Seminole Tribe occupies a prominent place within the history and culture of Southwest Florida, particularly Fort Myers. The fort from which our town takes its name was constructed to serve as a base of operations for locating, rounding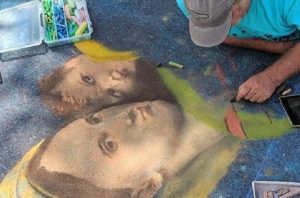 up and deporting the Seminoles living in the Big Cypress and Everglades in 1850. When the federal government could not persuade Chief Billy Bowlegs and his people to voluntarily relocated to Indian territory in present day Oklahoma, they instigated a war that ended in the Spring of 1858 with the surrender and deportation of Bowlegs and 123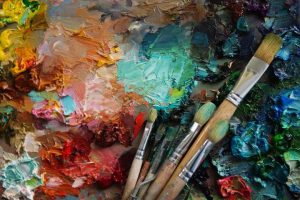 of his tribe. But roughly 300 Seminoles refused to leave, including 108-year-old Sam Jones, the former leader of the once mighty Mikasukis. They were the undefeated, the unconquered. But they did not possess an acre they could call their own until the State of Florida set aside 100,000 acres of swamp, sawgrass and wilderness as a reservation which exists to this day.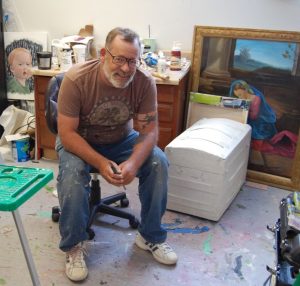 "Historians and anthropologists share with us the Seminole contribution to southwest Florida's cultural legacy," the Fort Myers Mural Society amplifies. "Already a vulnerable population, the Tribe depends heavily on its natural resources for economic and sacred cultural identity. This is especially true when climate change alters the landscape and ecosystems on native lands. When hunting, fishing, and traditional gathering sites shift, and plants, animals, and aquatic species disappear, the Tribe will be unable to protect an ancient way of life."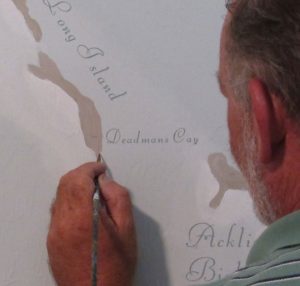 Muralist Erik Schlake started his art career in St. Louis at the age of 23. After studying fine art, he felt unsettled until discovering various forms of decorative arts.  Becoming fascinated with the work of European decorative painters, the New York native quickly moved his work in that direction. Erik has worked with numerous private and commercial clients, developing one-of-a-kind murals and a multitude of decorative arts in both residences and businesses locations that also bear the influence of contemporary street art and his participation in 2017, 2018 and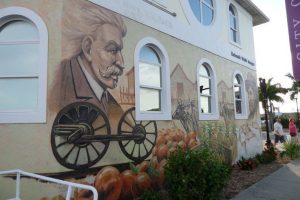 2019 in Salon, a world-wide gathering of artist from different countries that exhibit their work, teach master classes and discuss old and new techniques.
Pre-COVID-19, the Fort Myers Mural Society shared and celebrated the mural painting process with the community through an event it has affectionately called an "Art Stumble." However, in response to the pandemic and the ban on public events, the Society is inviting everyone to participate in the process instead via:
https://www.facebook.com/fortmyersmuralsociety/,
https://www.fortmyers-sanibel.com/ and
https://www.facebook.com/erikschlakedesign.
For more information, please contact fortmyersmuralsociety@gmail.com or telephone Shari Shifrin at 239-461-7245.
_______________________________
Observing International Sculpture Day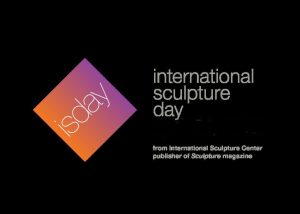 Saturday, April 25 is International Sculpture Day or ISDay. Established by the International Sculpture Center, IS Day encourages everyone around the world to come together virtually to share images and celebrate sculpture. Through its Public Art Committee, the City of Fort Myers is participating in the social media event. The City's public art collection contains 41 outdoor sculptures dating back to August 17, 1913.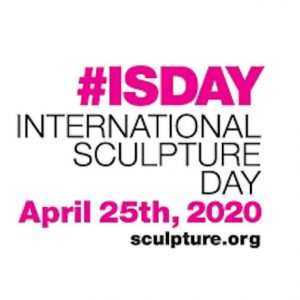 In addition to including images and descriptions of each artwork on its website, the City has entered its collection on two online public art registries, culturenow.org and the Public Art Archive and has subscribed to a free mobile phone app that contains audio descriptions for several pieces recorded by the artists who made them or other art professionals and historians who possess special knowledge of the artworks and the stories they tell.
The International Sculpture Center (ISC) is a member-supported,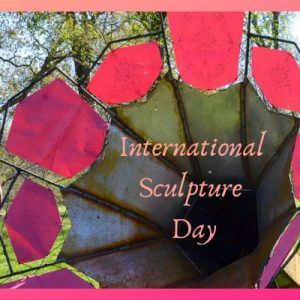 nonprofit organization founded in 1960 to champion the creation and understanding of sculpture and its unique, vital contribution to society. Members include sculptors, collectors, patrons, architects, developers, journalists, curators, historians, critics, educators, foundries, galleries, and museums—anyone with an interest in and commitment to the field of sculpture.
The vital contribution sculpture brings to society has never been more important!
_____________________________________________________
City of Fort Myers' website now contains table of exterior artworks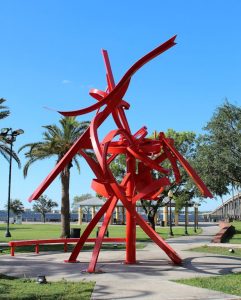 The City of Fort Myers' website now contains a table listing each of the outdoor artworks that comprise the City's public art collection, together with the artist who made the piece, the date it was installed and its location. Links are provided for some of the pieces that will take visitors to pages that furnish photographs and stories about their history, what they represent and the artists who created them.
"With the first official piece of Fort Myers public art dating back to August 17, 1913, we are fortunate to enjoy a long history of supporting the acquisition of additional installations," states the intro to the table. Go here to view this page on the City's website.
_____________________________
Celebrating 'Lorelei' on International Sculpture Day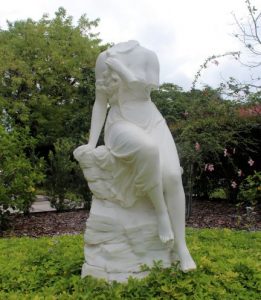 Meet Lorelei. Although not Fort Myers' first public artwork, she is our eldest … dating back to 1880. She also has the distinction of having been carved by a female sculptor – at a time when women were dissuaded from pursuing the discipline. In fact, Boston-born Emma Elisabeth Phinney was one of the first women to ever receive a degree from the Royal Academy of Fine Arts in Rome. You can hear more about this sculpture on Otocast, a free mobile phone app that you can download in your app store – or read about Lorelei and Ms. Phinney on the City of Fort Myers' website. #ISDay
____________________________________________________________
Celebrating Don Wilkins' 'Florida Panthers' on International Sculpture Day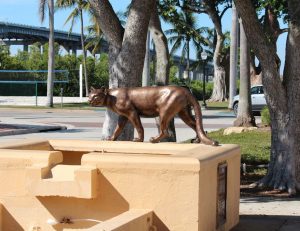 In 1988, North Fort Myers sculptor Don "D.J." Wilkins created a sculptural installation that pays homage to our state animal, the Florida panther. At the time, the Florida panther was on a "countdown to extinction." Sadly, not much has changed since then. The Florida Fish and Wildlife Conservation Commission told Florida Weekly in January of 2017 that based on radio collars, hired trackers and other information, there remain as few as 100 and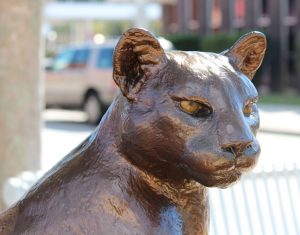 no more than 180 Florida Panthers in the wild. Sculptor Don "D.J." Wilkins was "discovered" by the Fort Myers Beautification Advisory Board in 1983, when they engaged him to reassemble the Tootie McGregor Fountain at its current location in the parking lot of the Fort Myers Country Club. In the ensuing two decades, the Beautification Advisory Board and other benefactors commissioned him to create 23 original sculptural installations throughout the city of Fort Myers, including The Florida Panthers. For more, go here.
____________________________________________
Celebrating 'Fire Dance' on International Sculpture Day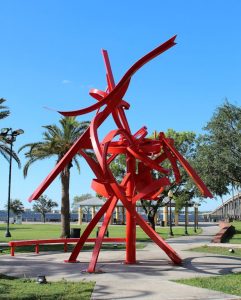 In the virtual realm, Fire Dance is the most visited of Fort Myers' outdoor sculptures – at least according to the folks who operate Otocast, the free phone app where you can learn all about Fort Myers' public artworks. The 25-foot-tall Dupont red sculpture does make quite the statement. But what is it saying? Well, the sculptor, David Black, was inspired to create it by an outdoor concert he and his wife stumbled upon one night several years ago. "Fire Dance incorporates the sounds of the music and the noise of the crowd. Circles within circles; it's active, open, airy and rhythmic, just like jazz." Black designed Fire Dance to be interactive. The sculpture is open so that people can walk through it,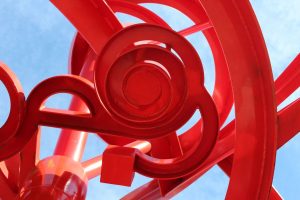 look up and freely interact with the sculpture from every conceivable vantage. "Inside the piece are four hidden spirals that create a story for your imagination." David Black is a monumental artist whose career in sculpture dates back to 1980. He was a professor emeritus in art at Ohio State University for 30 years before leaving the university to pursue proto-architectural sculpture full-time.
___________________________________________________
Celebrating 'What Dreams We Have and How They Fly' on IS Day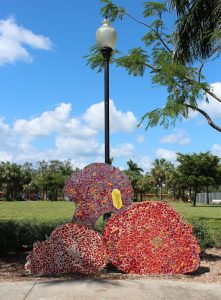 Located on the southern perimeter of Roberto Clemente Park within view of motorists passing by on Dr. Martin Luther King, Jr. Boulevard is a steel-and-mosaic sculpture that celebrates the collective dreams, aspirations and disappointments of the Dunbar community. Installed by multi-media artist Cheryl Foster in 2015, the sculpture takes its name from the first line of a poem by renowned black author, playwright and poet Paul Laurence Dunbar, who has served as inspiration for the Dunbar community of Fort Myers for more than 90 years. Foster was selected in 2014 by the City of Fort Myers Public Art Committee for the Dunbar project from a national field of 67 applicants. To read more about this sculpture and its artist, visit the City's website here.
___________________________________________________
Celebrating Albert Paley's 'Naiad' on International Sculpture Day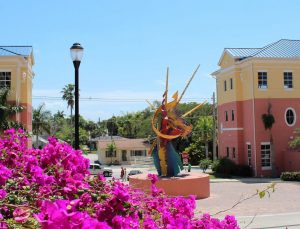 Rochester monumental sculptor Albert Paley is one of the most renowned artists in the world, and Southwest Florida is home to no less than four of his works. One is located at the entry to the Riviera-St. Tropez Condominiums. Titled Naiad, the colorful freestanding polychromed steel sculpture takes her name from the types of nymphs in Greek mythology that sprang from fresh water like the Caloosahatchee River. Although Naiad was commissioned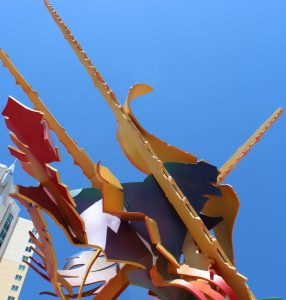 and installed pursuant to Fort Myers' public art ordinance, it actually belongs not to the City, but to the condominiums' HOA. You can listen to Albert Paley tell you about his sculpture on Otocast, the mobile app that you can download for free in your app store. You can also read about Naiad and its sculptor on the City's website.
_____________________________
3.       Outdoor Art Fairs and Festivals
During the pendency of the COVID-19 outbreak, all outdoor art fairs and festivals, including Fort Myers Art Walk, have been cancelled.
_______________________
4.      FILM
No film festivals were scheduled in Southwest Florida for the week of April 15-21, 2020.
Sarasota Film Festival going virtual in response to pandemic

This just in: The Sarasota Film Festival is going virtual this year. SFF will hosts its first-ever online viewing experience Monday, April 27 through Sunday, May 3 with a smaller line-up of documentaries, shorts, kids films and more than they would have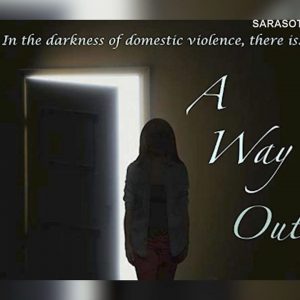 otherwise shown. Some of the films include A Way Out, American Trail and Born to Be.
"This first cache of films is going to be composed of 20 feature films and 40 shorts, so we're showing 60 films," SFF President Mark Famiglio reports. "And a component of that is going to Florida-based films," including Kathryn Parks' Her Place.
Live Q & A's with some actors will also take place throughout the week as well, and more films may be added to the platform over time.
Tickets will go on sale on the first day of the festival. For more information on tickets and the line-up, you can visit SFF's website.
_________________________________________________________
'Her Place' garners awards and praise as 'one of best short films in years'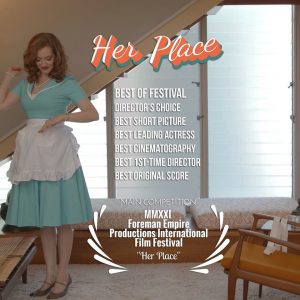 Last year, Kathryn Parks and Mark Palmer brought 50 Words to Southwest Florida. The 28-minute film was an official selection of the Fort Myers Beach International Film Festival and was selected by the Bonita Springs International Film Festival as Best Florida Film in the Adult Category. This year Parks returns with another indie film that's already garnering all kinds of awards.
Her Place turns the idea of a 1950s instructional video (which taught how to throw the perfect party or cook the perfect Thanksgiving Day turkey) on its head and explores the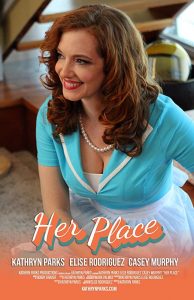 irony in 1950's nostalgia compared to today's modern world.
"I wanted to address how far women have come since the 1950s when there were many expectations to be the perfect wife/woman/mother," explains Parks, who wrote, directed and co-produced the 5:12 short. "Her Place brings a female voice into discussions that are often dominated by men and aims to redefine traditional roles in society and in the home."
Joining Parks in the project is Elise Rodriguez, who served as co-producer, assistant director and co-star.
Go here for the rest of this  story.
_______________________________________
Spotlight on 'Her Place' filmmaker Kathryn Parks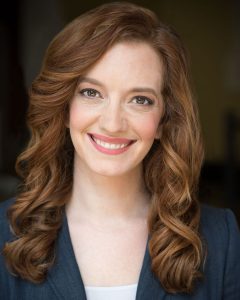 Kathryn Parks has established herself as one of Sarasota's most recognizable leading ladies. A singer, actor and dancer, she is a regular in the region's musical theater scene. She has starred in productions My Fair Lady, Carousel and The King and I, receiving acclaim for her portrayal of Eliza Doolittle, Julie Jordan, and Anna Leonowens respectively. She has appeared on numerous stages including the Florida Studio Theatre, American Stage, the Players Theatre, Venice Theatre, Manatee Performing Arts Center, Asolo Rep and with the St. Petersburg Opera Company.
Go here for the rest of this profile.
_____________________________________________
Kathryn Parks making lemonade from COVID-19 lemons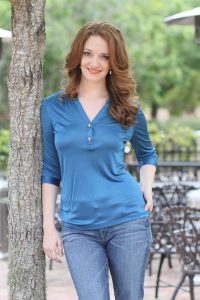 Kathryn Parks prides herself on being indefatigable. She spent the final two months of 2019 filming, editing, producing and submitting Her Place to film festivals around the country.
2020 saw her in another run of When X Meets Y at Florida Studio Theatre Improv, playing the part of Lola in Damn Yankees at Manatee Performing Arts Center, promoting the musical on ABC7's Suncoast View, and playing an ex-beauty queen and mother in Southwest Florida Films' Kung Fu Pink (Cynthia Mallick directing).
She was in her second week of rehearsals for a new musical for a premiere West Coast theatre company when the COVID-19 pandemic struck.
__________________________________
Elise Rodriguez right at home at 'Her Place'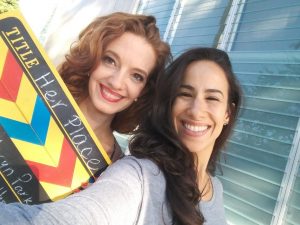 When the Fort Myers Beach International Film Festival finally takes place, one of the short films it will be screening is filmmaker Kathryn Parks' Her Place. It's a film that turns the idea of a 1950s instructional video (the kind that taught "homemakers" how to throw the perfect party or cook the perfect Thanksgiving Day turkey) on its head and explores the irony in 1950's nostalgia compared to today's modern world.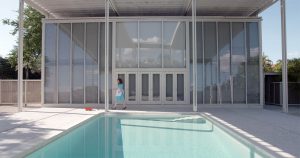 Cuban-American performer, teaching artist and creative professional Elise Rodriguez not only co-stars in the film with Parks, she served as Assistant Director and Co-Producer.
Go here for the rest of this story.
__________________________________________________
Postponement of Fort Myers Beach International Film Festival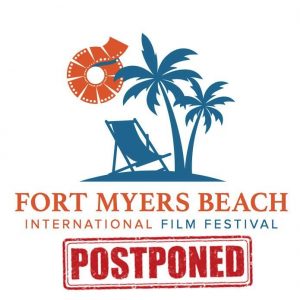 The Fort Myers Beach International Film Festival was scheduled to take place April 21-26, 2020. However, the Fort Myers Beach Town Council has passed emergency orders (1) recommending that everyone remain at home and on their property unless they need to access essential services and then adhere to social distancing and (2) instructing all hotels, motels, timeshares and other public lodging establishments (as defined in section 509.013(4)(a) of the Florida Statutes) to cancel all existing reservations, not extend existing stays and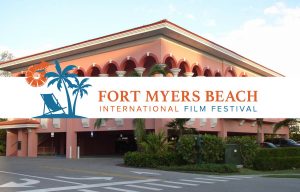 not accept new guests or reservations for the next 90 days (through June 29, 2020). In light of this action and following the recommendations from the Governor's office and Florida Department of Health, The Fort Myers Beach International Film Festival has announced its postponement until a July or September date, "which will be announced shortly."
_________________________________
Postponement of Fort Myers Film Festival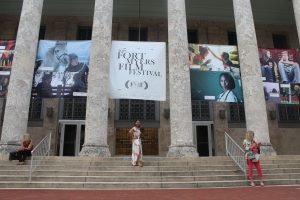 Similarly, the Fort Myers Film Festival scheduled for May 6-10 has been postponed. FMff Executive Director Eric Raddatz has announced that the film festival will be rescheduled when it is safe.
Check back for future announcements.
_________________________________
5.      THEATER
Due to the COVID-19 outbreak, all of Southwest Florida's theaters are closed. But the need to create and perform goes on. Read here about the efforts being made by area theater companies and thespians to reach out and entertain virtually and stay hooked into our local theater community.
BroadwayWorld holding online musical theatre singing contest for students

BroadwayWorld announced on April 28 the launch of BROADWAY'S NEXT ON STAGE – a new, online musical theatre singing competition for student performers sponsored by Broadway Records. Inspired by your favorite network TV singing contests, the site is inviting high school and college aged students to submit videos of themselves performing a song from the musical theatre canon to enter the competition.
Entries for college students aged 18 to 22 (including recent graduates) are currently open and can be submitted at broadwayworld.com/nextonstage. Submissions are open through midnight on May 8. Entries for high school students aged 14-17 will open next.
Those moving on to the next round each week will have Friday through Monday to record and submit a new song for the next round of the competition.
As contestants move down to the top 10, Broadway World will feature weekly live shows on Facebook with Broadway judges who will provide feedback and have the opportunity to move one of the contestants on to the next round by unanimous decision.
Both the college and high school winner will receive a Broadway prize pack with merchandise from the BroadwayWorld Theatre Shop, CDs from Broadway Records, and $1,000 to a charity of their choosing, and both first-place winners will also have the opportunity to record a single, to be released by Broadway Records, with the profits from the recording being donated to The Actors Fund.
"Students across the country missing out on their long-awaited performance opportunities, we felt it was our responsibility to step in and help in any way we could." said Robert Diamond, Editor in Chief of BroadwayWorld. "We had immense success with our virtual showcase which allowed for college students to audition for agents, managers, and casting directors in place of the traditional annual NYC showcase most schools organize. We've had everyone from major Broadway and national tours, to feature film and network television casting reach out for contact information. We're thrilled to be able to continue to shine a light on the students who are the future of the American musical theatre."
BroadwayWorld is the largest platform covering Broadway, the West End and beyond to 100 US cities, and 45 countries worldwide on digital screens of all types and sizes. BroadwayWorld delivers complete up-to-the-minute Broadway, Off-Broadway, and regional theatre news, in-depth interviews, extraordinary photo coverage, entertaining video features, lively message boards, ticket discounts, reviews, merch and more.
Broadway Records (Van Dean, President) is the Grammy® winning record label dedicated to preserving musical theatre and theatre vocalists.
_________________________________________________
Free viewing of Phantom sequel 'Love Never Dies' April 24-26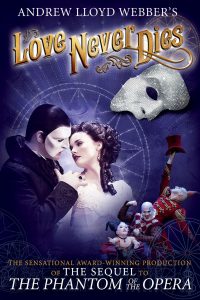 Thanks to Andrew Lloyd Webber's The Shows Must Go On!, you can watch Love Never Dies free of charge for 48 hours beginning today at 2:00 p.m. Directed by Simon Phillips, with set and costume designs by Gabriela Tylesova and choreography by Graeme Murphy, Love Never Dies stars Ben Lewis, Anna O'Byrne, and Simon Gleeson.
The year is 1907. It is 10 years after his disappearance from the Paris Opera House and the Phantom has escaped to a new life in New York where he lives amongst the screaming joy rides and freak-shows of Coney Island. In this new electrically-charged world, he has finally found a place for his music to soar. All that is missing is his love – Christine Daaé.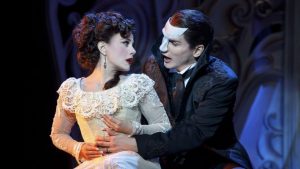 Now one of the world's finest sopranos, Christine is struggling in an ailing marriage to Raoul. So, it is with excitement she accepts an invitation to travel to New York and perform at a renowned opera house. In a final bid to win back her love, the Phantom lures Christine, her husband, and their young son Gustave from Manhattan,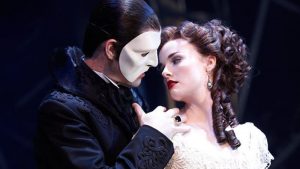 to the glittering and glorious world of Coney Island, not knowing what is in store for them.
_______________________________________________
Join Florida Rep for new virtual series on Friday afternoons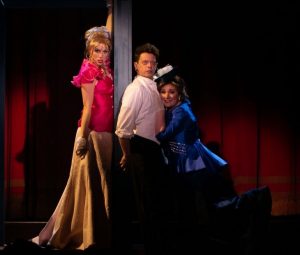 Florida Rep has launched a free virtual series titled FloridaRepStage@Home. Join Florida Rep at 3:30 p.m. on April 24 for a discussion with the design and creative team behind this season's hit musical, A Gentleman's Guide to Love and Murder. The discussion will bring together set designer David Arsenault, Costume Designer Charlene Gross, Lighting Designer Tyler M. Perry, Projection Designer Rob Siler, and Sound Designer Katie Lowe for an in-depth talk about how the hit musical came to the Arcade Stage!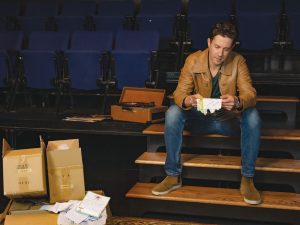 FloridaRepStage@Home then returns May 1 wotj Michael Satow and Eleanor Holdridge, the director and actor behind Every Brilliant Thing. The groundbreaking one-person-show played in the ArtStage Studio Theatre for three weeks before closing early due to COVID-19. A story of hope and healing and the importance of mental health awareness, the production marked the beginning of an unprecedented partnership with Lee Health and Kids' Minds Matter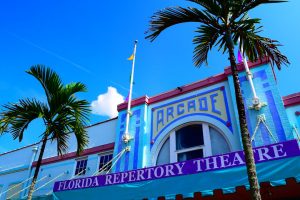 to bring over 1,000 high school students to the theatre to see the play. This Stage@Home talkback brings the show's director and actor together with Paul Simeone, Vice President of Mental & Behavioral Health for Lee Health to talk about the play, the process, and the newfound partnership.
_______________________________________________________________
Kiana Raine Pinder leading 'West Side Story' virtual masterclass tomorrow at 4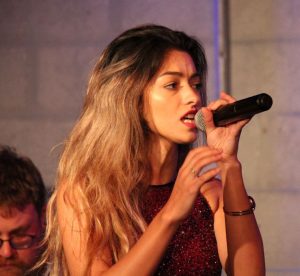 In the wake of canceling the remainder of its 2019-2020 season, Florida Repertory Theatre is pioneering new ways to engage with patrons virtually. In addition to its weekly talk back series, Stage@Home, hosted live on Zoom and streamed to Facebook each week, Florida Rep's Education department is also offering weekly virtual classes for students of all ages. Tomorrow (Thursday, April 30), the extremely talented Kiana Raine Pinder leads "West Side Story" Dance Masterclass Part 2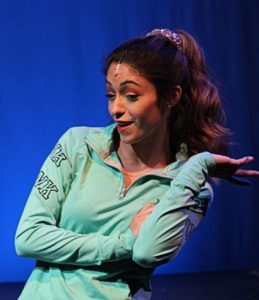 for ages 14-20 beginning at 4:00 p.m. This class is designed for both the beginner and advanced dancer. Get moving with a physical warm-up and then learn some signature Jerome Robbins choreography to some of your favorite songs from the show. (New material will be taught during this session, so you did not have to participate in Part 1 to attend.)
In addition to her duties at Florida Rep, Kiana Raine Pinder is one of those rare triple threats when it comes to musical theater, excelling as an actor, singer and dancer in this exacting genre. Her stage credits include Nina Zarechnaya in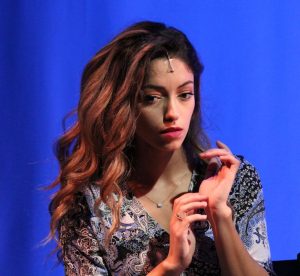 Anton Chekhov's The Seagull for FSW Theatre Program, I Love You, You're Perfect, Now Change, (in which she portrayed seven different characters (FSW Theatre Program)), Tilly in She Kills Monsters (FSW Theatre Program), the Assistant Choreographer Lara in A Chorus Line (Florida Rep Conservancy) and Claire in This Random World (FSW Theatre Program). She was also a shadow dancer in Florida Rep's Spring Awakening.
Kiana served as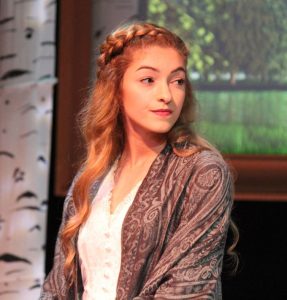 teaching artist for Annie, Aladdin, Anything Goes and The Wizard of Oz at Florida Rep and stage manager for FSW's production of Wellesley Girl.
Get the Zoom Link by following Florida Rep Education on Facebook.
The theatre also urges patrons to sign up for email updates in order to get the most up to date information. For the most up-to-date information follow the theatre on the following platforms:
Both Florida Rep and Florida Rep's education department are making programming announcements on their Facebook, Instagram, and Twitter accounts, so audiences and students are urged to 'follow' and 'like' the theatre and the education department on all of their social media platforms.
__________________________________________________
April 22nd's Tiny_Theatre features two Michelle Brooks works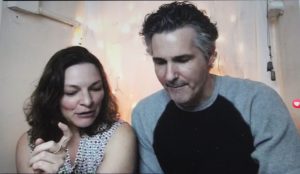 Tiny_Theatre resumes tonight, a/k/a "Fun Friday," with a virtual reading by Rachel Burttram and Brendan Powers. It's more than just a 30-minute theater fix for those of us going through performing arts withdrawal. (Yes, that's a thing, my virtual psychiatrist assures me.) It's also an unparalleled opportunity to hear work from some of the hottest playwrights
 in the nation.
Like Michelle Kholos Brooks.
We got to hear samples from two of Brooks' plays on Wednesday night, War Words and Cab.
War Words consists of true stories based on interviews with combat veterans and active duty military personnel who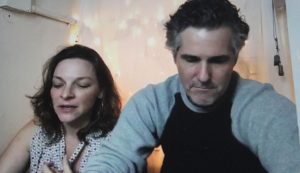 have served in Iraq and Afghanistan. Brooks converted the interviews into monologues for the stage – or in Tiny_Theatre's case, Burttram & Powers' back bedroom closet.
Go here for the rest of this story.
__________________________________________________________
Burttram & Powers' Tiny Theatre giving voice to playwrights near and far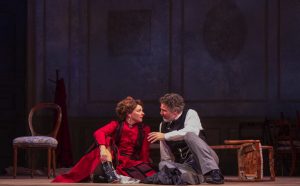 Rachel Burttram is a performing artist. When the pandemic struck, she and husband Brendan Powers were all set to spend the next three and a half weeks of their lives performing A Doll's House Part 2 to 14 rows of live audience. They'd put in an enormous amount of work mastering an impossibly difficult script. Now suddenly finding themselves cut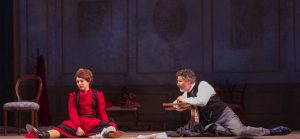 adrift by the COVID-19 outbreak, they decided to create a tiny theater in a back bedroom not only to provide themselves something to do, but give playwrights a voice during this unprecedented time when theaters across the globe are eerily dark.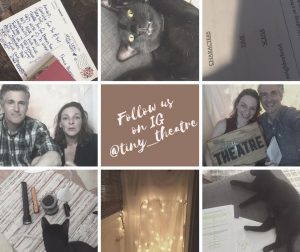 "I know myself well enough that if I don't have a project to work on, I get pretty blue," Rachel explains. "So instead of giving in to a broken heart, I downshifted into a project that gives [Bren and I] a sense of purpose and creates a forum for playwrights to hear their words and others to watch and enjoy."
Go here for the rest of this story.
___________________________________
Spotlight on Tiny Theatre's Rachel Burttram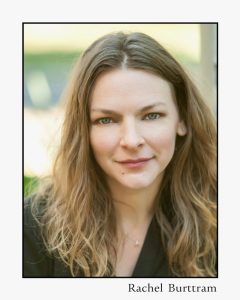 Rachel Burttram is one of Southwest Florida's best actors. Whether comedic or dramatic, theater, film or television, she has the chops to handle any role that comes her way.
Rachel has been working in regional theater for more than 20 years. She has shared the boards with the legendary Carol Lawrence and Tony-nominated Daniel Sunjata. Her stage work has been seen across the country – in venues ranging from the Actors' Theatre of Louisville in Kentucky, Penobscot Theatre Company in Bangor, Maine (where she received rave reviews for her fierce, feisty, angry and determined portrayal of a shattered Afghan war vet in Ugly Lies the Bone), Kitchen Theatre in Ithaca,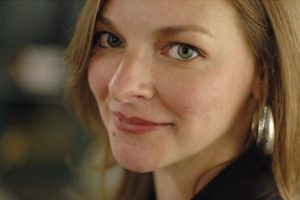 New York (where she appeared in Mark St. Germaine's romantic comedy Dancing Lessons), The Hippodrome Theatre in Gainesville, Florida, Riverside Theatre in Vero Beach, Florida, Gloucester Stage in Massachusetts, Barnstormers' Theatre in New Hampshire, City Equity in Alabama, Geva Theatre, and various stages in New York City, including the prestigious Actors' Studio.
You will find the rest of Rachel's profile here.
___________________________________
Spotlight on Tiny Theatre's Brendan Powers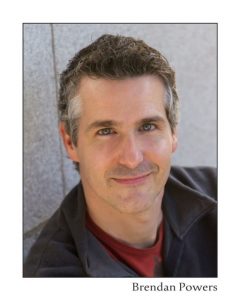 Brendan Powers is a professional Equity Actor who resides in Fort Myers. He performs frequently at Florida Repertory and other area community theater companies.
As a Florda Rep ensemble member, Powers has been a mainstay at Florida Rep. over the past nine seasons. Select Florida Rep credits over this timeframe include Outside Mullingar, How the Other Half Loves, The 25th Annual Putnam County Spelling Bee, The House of Blue Leaves, The Mousetrap, The Cocktail Hour, A Christmas Story, The Unexpected Guest, Dividing the Estate, Around the World in 80 Days, The Fantasticks, Doubt, Opus, Boeing-Boeing, and The Glass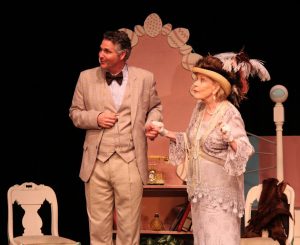 Menagerie.
Theatre Conspiracy at the Alliance for the Arts audiences are still talking about his performance as Torvald Helmer in Henrik Ibsen's A Doll's House and in New Play Contest winner, Repossessed, in which he starred opposite his real-life wife, Rachel Burttram.
Go here for the rest of Brendan's profile.
________________________________________________________
For gregarious Gerri Benzing, life post-COVID-19 is a world of solitude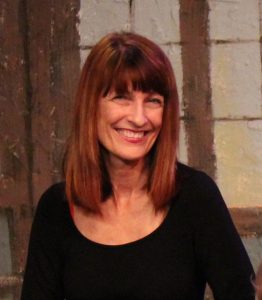 Slipping her key into the stage door, Gerri Benzing gives a short, silent sigh before slipping inside. The back of the theater is as quiet as a tomb. She scurries across the stage and begins the lonely walk up the stage right aisle, her only companion being the ghost light keeping vigil center stage.
It's not that Florida Rep is haunted. But theatrical superstition holds that every theater has a ghost. Locally, Lab Theater is reputed to have at least one. Just ask ghost hunter Lee Ehrlich, who found a lot of paranormal activity in certain spots of the nearly 100-year-old theater during a visit last May. On Broadway, the Palace Theatre supposedly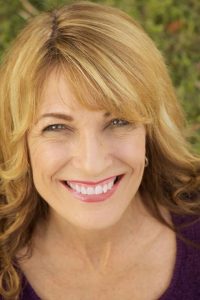 houses more than 100 ghosts, including a white-gowned cellist, an ill-fated acrobat and even Judy Garland. And the New Amsterdam is said to be inhabited by former Ziegfeld showgirl Olive Thomas.
So over time, theaters around the world have evolved traditions to appease and please their supernatural residents. For example, London's Palace Theatre keeps two seats bolted open in the balcony to provide seating for the theater's ghosts. New Amsterdam posts pictures of Olive Thomas at every entrance and exit.
You'll find the rest of Gerri's interview here.
_____________________________________________________________________
Post 'Full Monty,' actor Kristen Wilson finds new purpose sewing COVID-19 face masks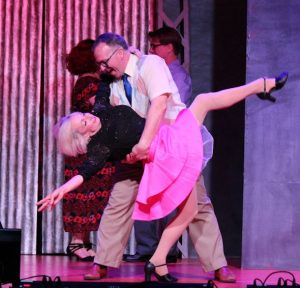 Kristen Wilson was performing in Terrence McNally's The Full Monty when the pandemic forced the early closure of the New Phoenix show.
"We literally found out that our show was closing early about an hour before the start of our 3:00 p.m. matinee."
That was on Sunday, March 14.
"We all gathered on stage and kind of cried it out. We called and let our family and friends know Full Monty was closing so that they could come. It was a special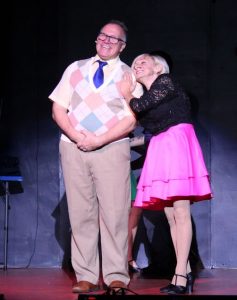 show."
To a person, the cast knew it was the right call. It would have been irresponsible, even unconscionable, to expose themselves and audiences to exposure – and all the people they would have gone on to unknowingly infect.
But that knowledge didn't blunt the heartbreak associated with being deprived of the opportunity to share McNally's uplifting story with four more enthusiastic, fun-loving audiences, to speak his words, sing David Yazbek's score, perform Brenda Kensler's carefully-wrought choreography.
You will find the rest of this interview here.
_________________________________________________________
Reacting to the loss of cherished American playwright Terrence McNally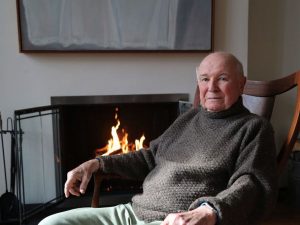 The Coronavirus has dealt a double blow to the cast of New Phoenix Theatre's production of The Full Monty. First, the theatre was constrained by the pandemic to cut the production short, eliminating the show's final four performances. Then COVID-19 claimed the life of 81-year-old Full Monty playwright Terrence McNally. A lung cancer survivor living with chronic COPD, the cherished American playwright died on Tuesday, March 24, at Sarasota Memorial Hospital.
Go here for the remainder of this story.
_______________________________________
Release of 'In the Heights' postponed indefinitely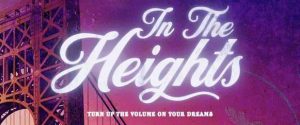 The film adaptation of In the Heights was scheduled to be released on June 26. But Warner Bros. has decided to postpone the release indefinitely.
The film was written by Quiara Alegría Hudes. Jon M. Chu (Crazy Rich Asians)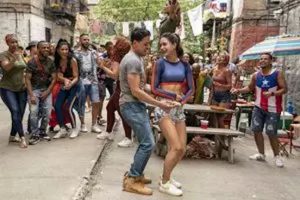 directed the movie-musical. Anthony Bregman, Mara Jacobs and Scott Sanders produced. The film stars Anthony Ramos as Usnavi, Melissa Barrera as Vanessa, Corey Hawkins as Benny, Leslie Grace as Nina, Olga Merediz as Abuela Claudia, Jimmy Smits as Kevin Rosario, Stephanie Beatriz as Carla, Dascha Polanco as Cuca, Marc Anthony as Sonny's Father, Noah Catala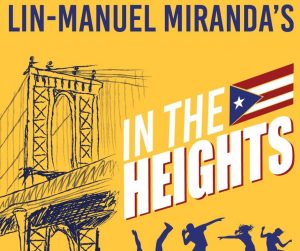 as Graffiti Pete, and Lin-Manuel Miranda as Piraguero.
With music & lyrics by Lin-Manuel Miranda and book by Quiara Alegría Hudes, the stage show on which the film is based opened on Broadway in March of 2008 and was nominated for 13 Tony Awards, winning four: Best Musical, Best Original Score, Best Choreography and Best Orchestrations. It won a Grammy Award for Best Musical Show Album and was also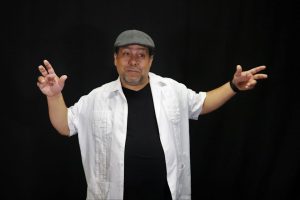 nominated for the 2009 Pulitzer Prize for Drama.
The musical was due to open at Lab Theater on March 27. Under the superb direction of Carmen Crussard and with choreography by the incomparable Lauren Perry, the cast featured Miguel Cintron as the Piragua Guy, Adrien Bermudez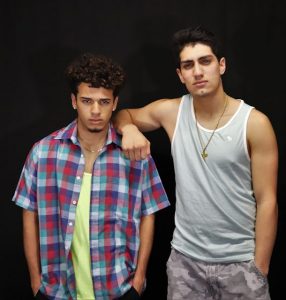 as Graffiti Pete, Gian Hernandez as Sonny, Chris Lewis as Usnavi, Ruthgena Augustin as Vanessa, Sam Bostic as Benny, Nydia Brown as Carla, Sharon Isern as Camila Rosario, Rebecca Cintron Justice as Abuella Claudia, Gil Perez as Kevin Rosario, Nilda Tojanci as Daniela, and an ensemble that includes Kathryn Book Emory Ambrosia, Brittani Chandler, William Nelson and Samantha Pudlin.
It remains to be seen whether Lab can negotiate the rights to produce the show at a later date, how many or the original cast will be able to participate in the rescheduled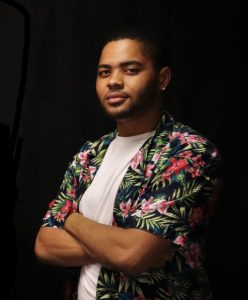 show, if any, or whether the local live musical can be brought to the stage before Warner Bros. releases the movie.
"We had the best summer of our lives filming #InTheHeightsMovie last year," said Lin-Manuel Miranda on Twitter following the announcement. "We couldn't wait to share it with you. But we're going to have to wait a little longer. With the uncertainty in our world right now, the release of In The Heights is being postponed."
Each of the members of Carmen Crussard's cast share this sentiment.
Check back for further developments.