April 22nd's Tiny_Theatre features two Michelle Brooks works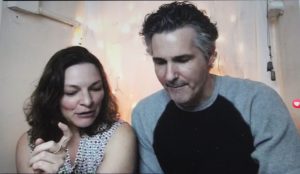 Tiny_Theatre resumes tonight, a/k/a "Fun Friday," with a virtual reading by Rachel Burttram and Brendan Powers. It's more than just a 30-minute theater fix for those of us going through performing arts withdrawal. (Yes, that's a thing, my virtual psychiatrist assures me.) It's also an unparalleled opportunity to hear work from some of the hottest playwrights
in the nation.
Like Michelle Kholos Brooks.
We got to hear samples from two of Brooks' plays on Wednesday night, War Words and Cab.
War Words consists of true stories based on interviews with combat veterans and active duty military personnel who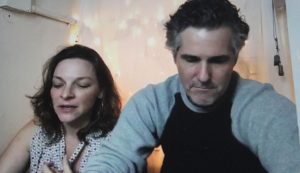 have served in Iraq and Afghanistan. Brooks converted the interviews into monologues for the stage – or in Tiny_Theatre's case, Burttram & Powers' back bedroom closet.
The goal of Brooks' project is to give the general public a more intimate glimpse into the experience of the men and women who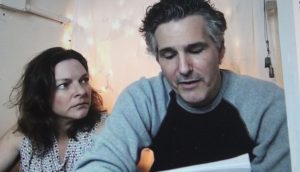 serve and therefore have a more personal investment into how and when our military people are sent off to fight for our interests.
"War Words gives us the opportunity to hear why these men and women join up, their particular experiences overseas,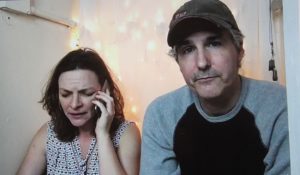 their returns home and, perhaps most importantly, what they understand and want to translate to the rest of us who sit at home and say, 'We support our troops,' with incredible ease but without truly understanding what that means," states Brooks on her website.
It's an initiative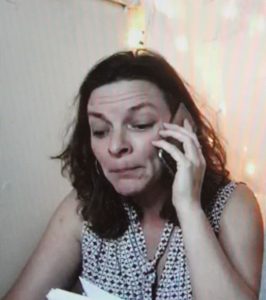 as ambitious, enlightening and laudatory as Lab Theater's 2017 undertaking, the Rauchenberg Project Plays. Thanks to a grant from the Rauschenberg Foundation, the Laboratory Theater of Florida collected interviews, stories and poetry from more than 150 local LBGTQ 14 to 24 year-olds. The material was then converted by a team of local playwrights into a fabric of scenes, anecdotes, jokes, song, and monologues for the stage that told stories of what it's like to be LBGTQ right here in Southwest Florida. While some were funny, each was poignant-bordering-on-heartrending like the scene that Rachel and Brendan chose from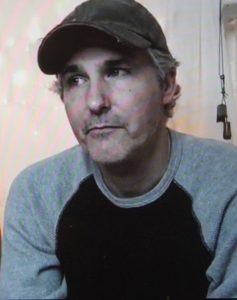 War Words.
That scene introduced us to Danny and Kim, a married couple desperately dealing with a broken neck, vertigo, double vision and migraines that Danny brought home from the Afghanistan War. But as serious as his physical injuries may be, the psychological scars are even worse. "The things I saw don't leave you alone," Danny relates before recounting a story about a young Afghan boy he befriended who had to be taken out by an American sniper one day as he approached the camp wearing a poorly-disguised bomb vest after being conscripted by the Taliban for a suicide mission. "Ever been driving and go to make a lane change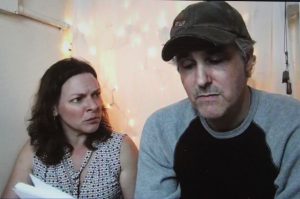 only to discover a car in your blind spot at the last moment?" Danny asks, looking at the audience with haunted eyes. "That Holy Shit, OMG moment is what I experience every minute of every day."
As Brendan said after the reading, "that's some power theater."
The other reading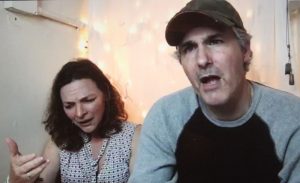 was from a short play titled Cab. It depicts a gruff, high-powered business woman who flags a ride in a New York City taxi driven, ironically, by a man named Cab. "My parents named me Cabot," he explains, "because they thought it sounded sophisticated." Over the course of the ride, Cab breaches cabbie etiquette by posing one penetrating personal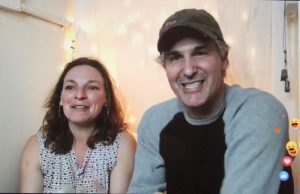 question after another to his uncomfortable and befuddled fare. At first, their interactions take on the aspect of Edward Albee's The Zoo. But the outcome in Brooks' play was benign, with both cabbie and fare commiserating with each other about the estrangement they feel from their respective spouses. "My wife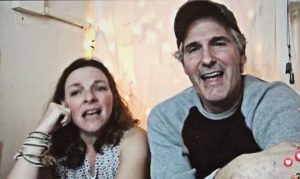 thought she was marrying a ball player," he confides with no small amount of chagrin. "My husband doesn't even notice me," she rejoins, her voice full of self-recrimination. In the end, she tips him enough to take his wife out to dinner and he gives her a valuable tip of his own. "Wear the drum majorette outfit you used to wear in high school.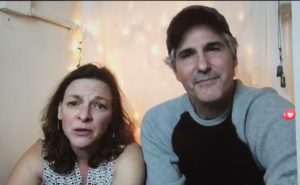 Trust me, your husband will notice you."
It's a lesson about empathy that we can all carry with us not just during the frayed-nerve times we are experiencing at the moment, but into the post-COVID world that awaits on the other side … whenever and whatever that might be.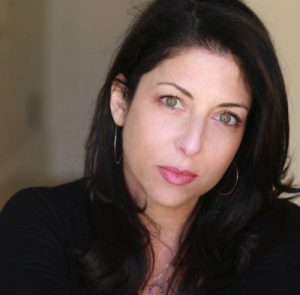 Michelle Kholos Brooks is an award-winning playwright with productions staged internationally. Awards and distinctions include the Susan Glaspell Award for Hitler's Tasters, the Reva Shiner Comedy Award for Kalamazoo, co-written by Kelly Younger. Hitler's Tasters was also named Best of Fringe at the Edinburgh Festival Fringe by Stage Magazine. Hostage was a finalist for the Woodward/Newman Drama Award, The Fratti-Newman Political Play Contest and a Showcase finalist for the National New Play Network. Chair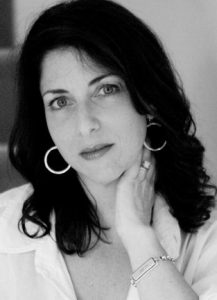 received second place in the Firehouse Theatre Festival of New American Plays.
Brooks' plays have been produced and/or developed at the Skylight Theatre (World Premiere, Hostage) Centenary Stage (World Premiere, Hitler's Tasters), Pacific Resident Theatre, Adirondack Theatre Festival, Bloomington Playwright's Project (Rolling World Premiere, Kalamazoo), The Colony Theatre (World Premiere, Family Planning) Florida Repertory Theatre, Boston Court Theatre, The Road Theatre Company, Wordsmyth Theatre, The Barrow Group, Bay Street Theatre, Venue 9 Theatre, Wings Theatre, Laurel Grove Theatre Company, Drama West, Vox Humana Theatre Ensemble,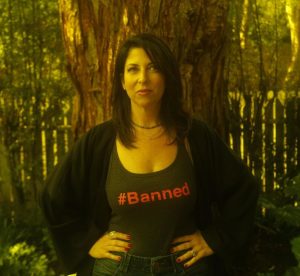 iTheatre Collaborative, New Light Theatre Project, 59E59th St. Theatre, Olive Theatre; Greenside at the Edinburgh Festival Fringe; and the Adobe Rose Theatre.
Publications include Dramatists Play Service, Room literary magazine and The Daily Beast.
Brooks earned a B.A. from Emerson College and an M.F.A. in Fiction from Otis College of Art and Design. She is a member of The Dramatists Guild of America, The Playwright's Center and Pacific Resident Theatre. In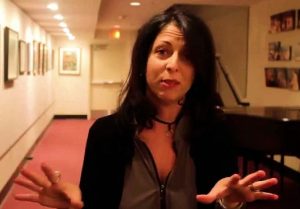 addition, she is a Nonresident Senior Fellow at the Atlantic Council, Scowcroft Center for Strategy and Security.
Tonight's reading(s) starts at 8:55 p.m. on Tiny_Theatre's Facebook Live feed.
April 22, 2020.
RELATED POSTS.