Steve Conley's quest for the sublime results in 'Spherical Moment'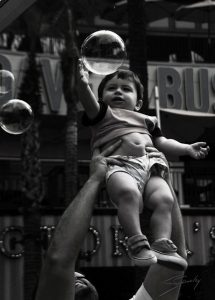 Camera USA 2017 is on view now through August 4, 2017 in the main gallery at the Naples Art Association. One of the images juried into the show is Steve Conley's Spherical Moment.
Spherical Moment was just one of those rare moments in time. Conley was in Hollywood, California last September doing some street photography. As it turned out, President Obama was speaking at a fundraiser half a mile away. The sidewalks were jammed with spectators hoping for a glimpse of the President as the limousine went by. We'll let Steve pick up the story from there.
"So I'm looking for a place to get away from all these people, and I find this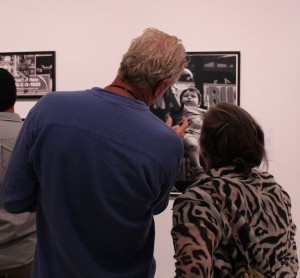 little plaza where there was a water fountain, the kind where the jets of water shoot up from the ground. I thought I might get a shot so I hung out there for a while. I had the ISO at 100 but the shutter speed at 1,000 because I was trying to freeze the water droplets. I just happened to look to my left and saw a girl blowing bubbles. As I was concentrating on the water and the bubbles, the father hoisted his son in the air and I was lucky enough to catch the instant just before the child popped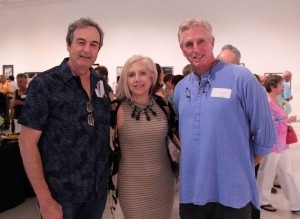 the bubble."
Steve never had the chance to introduce himself to the man with the child. Although it only took a few seconds for him to gather his stuff, by the time he looked up the man and child had disappeared into the crowd.
"I was really disappointed about that because I knew it was a good shot and wanted him to have a copy,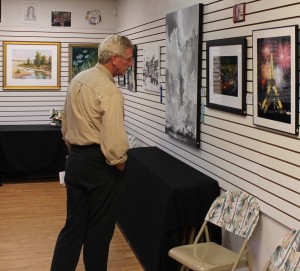 but he was gone that fast," recounts Steve, who notes that while being immersed in nature is always an enticing goal, the quest for that sublime and sometimes abstract element of reality is what truly motivates him.
Conley defies categorization. He is also known for marvelous panoramas of swatches of the New Mexico landscape, imagination-spurring ice formations in Newfoundland and board games on Venice (CA) Beach. But whether Steve finds himself in the 
River District on Bike Night staring at the Super Moon from behind a drum set, in a Printer's Alley in Nashville, staring up at a lighted balcony in New Orleans during the Mardi Gras parade or sitting in a diner having a bite to eat, his keen eye and artistic awareness invest him with that uncanny ability to capture unguarded moments and memorable shots.
Steve regularly shares his images with viewers throughout Southwest Florida. His photographs have been exhibited through the Art Council of Southwest Florida at Coconut Point (Estero), the Cape Coral Art League, Chico's FAS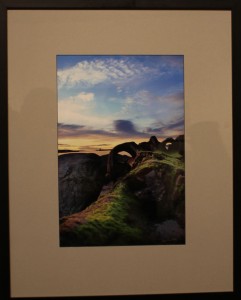 Headquarters here in Fort Myers, the FGCU Bower School of Music and Art, the Lee County Alliance for the Arts, the Naples Art Association, Rookery Bay Reserve, the Sidney & Berne Davis Art Center and the Visual Arts Center in Punta Gorda. His image Maritime Northwest is currently on view at the Alliance. It was one of 46 artworks that has been juried into the Alliance's 31st Annual All Florida Juried Exhibition.
Steve doesn't just create art. He and his wife, Ingela are also avid collectors. But they are as unselfish as they are eclectic in their taste. For example, among the art in their private collection were a number of paintings rendered by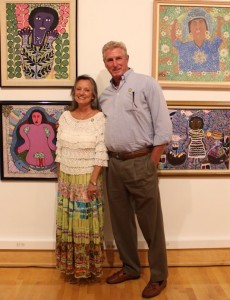 Haitian artists, which they began collecting by accident when they came across a couple of paintings they couldn't live without while visiting a gallery in Charleston, South Carolina.
"We were attracted to the Saint-Soleil style, and then gradually, over twenty-five years, we both added paintings and sold a number as well," relate Steve and Ingela. "With each piece, we became more educated on the artists, all of whom are well recognized." Last August, they donated ten of their remaining Haitian paintings to Florida Gulf Coast University, where they are now available to provide students with an introduction and overview to late 20th century Haitian art styles. For more on this gift, read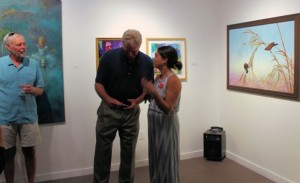 here.
Self-styled cineastes, Steve and Ingela are also Fort Myers Film Festival fans. You'll find them at many of the TGIM screenings inside the Davis Art Center.