Visual prompts yield 3 psychic Tiny_Theatre stories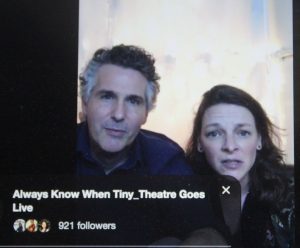 It's time for another LIVE performance from Rachel Burttram and Brendan Powers' house to yours!  In case you don't know, the husband and wife professional actor team have transformed the closet in their spare bedroom into a theater – and they'd like you to come play with them as they perform material from some of America's hottest playwrights in their ongoing effort to keep the arts alive and give playwrights across the nation a voice while we self-isolate.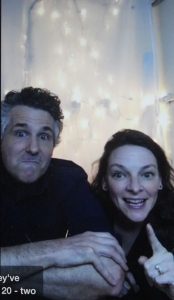 "Our mission is to create a theater community and a way to forge human connection during this difficult time," tout the couple. "Join us in this virtual theater space as the lights go down and we tell you a story or two.  Share conversation via comments.  It's as good as we can get until we can all be in real theaters again together!"
Burttram and Powers call their performance venue Tiny_Theatre, and they read scenes, 10-minute plays and monologues via Facebook Live from 9:00-9:30 p.m. every Monday, Wednesday and Friday.
On Monday (April 20), Tiny_Theatre featured three scenes that were inspired by a couple of photos of a psychic doing a reading and Tarot cards splayed across a tabletop.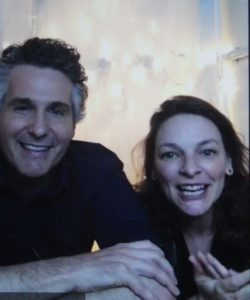 Burttram and Powers sent the visual prompts to a number of playwrights, and Nathan Christopher provided Clairevoyant with Greg Lam offering up a monologue titled Madame Mordella.
"Nathan Christopher wrote A Man Walks Into a Bar, which we did on Tiny_Theatre a couple of weeks ago, and he wrote one for us tonight," Rachel explained at the beginning of Monday's broadcast. "Bren and I did a world premiere for Greg Lam at Theatre Conspiracy at the Alliance for the Arts a couple of years ago called Repossessed, and he sent in a monologue. And then we got a whackadoodle idea, the two of us, for a kind of sketch comedy."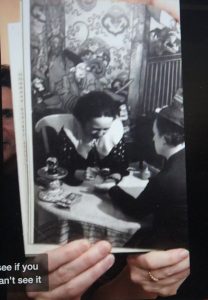 For those of you looking for a simile, the concept is akin to Lab Theater's 24-Hour Playwriting Challenge, where playwrights are given a theme, three lines of dialogue they must include in their script and three props that their actors must use during the performance. Then it's up to them to craft a story from their vivid imaginations between 9:00 that night and 7:00 the following morning.
Nathan Christopher's Clairevoyant was a touching story of desperation in which a man by the name of Brett makes a last ditch effort to save his relationship with Claire (mais oui), who is getting ready to walk out the door and walk out of his life forever. Showing her a picture of her grandmother reading palms or Tarot cards, Brett tries to convince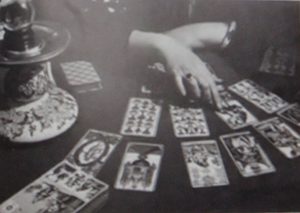 Claire that reading the future is in her blood, in her family line. And he wants her to pick ten, no three, perhaps just a single Tarot card to see if there's any chance that the two of them might have a future together. Claire just wants out and tries to fob off Brett with various excuses, including the fear that there could be bad juju. But Brett is insistent upon connecting with Claire one last time "for closure."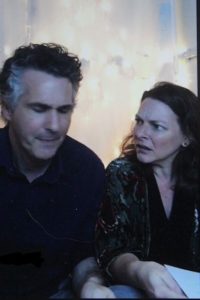 Finally, she capitulates and agrees to pick one card at random and place it face down on the table. "But you can only look at it after I leave." What card did she pick? The Fool (new beginnings)? Death (end of phase, change)? The Moon (deceit)? The Lovers?
Greg Lam's Madame Mordella was a biting monologue in which Rachel, channeling her inner Myrna Loy, is doing a reading for an unseen client via Zoom "things being what they are these days." She chooses three cards, with the past being represented by the Ace of Pinnacles, the present by The Hermit and the future by the Wheel of Fortune. But what do they mean in relation to Madame Mordella's client?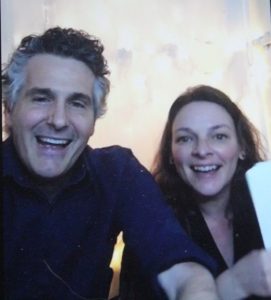 Rachel and Bren's piece, Role Play, featured a couple of actors, Fritz and Margo, who are celebrating their four month anniversary. After all, "all good things come to those who sweat it out." For them, foreplay comes in the form of performing together and watching each other on stage. But the play needn't end when they finally arrive back in their apartment. Seductively, Margo asks Fritz is he's ever role played with a lover. "I think you'll be masterful at it," Fritz tells her. "I was thinking the same about you," says Margo returning the compliment. Ah, the night's young and they have no matinee tomorrow,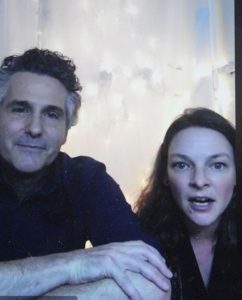 so the couple concoct characters and their backstories – he a chance drifter with amnesia looking for a reading; she the granddaughter of a Russian mystic at the ready with a deck of Uno cards. Let's call her Madame Mordella. No, that's been taken. I know, Madame Rachmaninoff, as venerable a Russian name as you can find and one associated with preludes. But before they get too far, there's a knock at the door? Who could it be?
And, as Brendan and Rachel are fond of saying, that's all your gonna get.
Except to say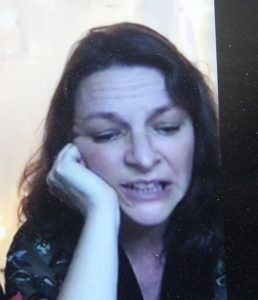 that the only downside of these three segments was that they couldn't be performed in the historic Langford-Kingston Home as was Barry Cavin's Writing Shadows, which centered on a St. Louis housewife by the name of Pearl Curran who began channeling a woman who lived in the 1600s after dabbling with a Ouija board one afternoon in 1913. [Starring local talent Stella Zuri, Writing Shadows was performed by Ghostbird Theatre Company in October of 2017.]
Stories aside, part of the fun of tuning in to Tiny_Theatre is discovering the playwright or playwrights being read each night. For example,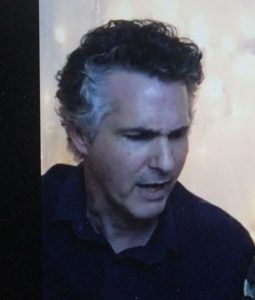 among the playwrights that Burttram and Powers have read so far are Audrey Cefaly (Alabaster), Eric Coble (My Barking Dog, The Velocity of Autumn), Simon Fill and Miranda Jonte.
Nathan Christopher is the author of five plays, Picking Up, To Remain Silent, A Man Walks Into A Bar, Sorry (Not Sorry), and Clairevoyant. Picking Up was a winner in the "Script" category of the 86th annual Writer's Digest Writing Competition in 2017. It was also one of three finalists in the 13th annual New Jersey Playwrights Contest in spring 2016 and a semi-finalist in The Road Theatre Company's 7th Summer Playwrights Festival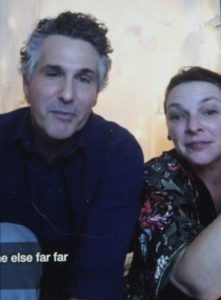 (Hollywood, CA) in summer 2016. Created with lauded singer-songwriter Gregory Douglass, a  musical version of Picking Up made its off-off-Broadway workshop debut to a sold-out, 99-seat house as part of the Emerging Artists Theatre's Fall 2019 New Work Series. It was also featured in Undiscovered Works at Dixon Place's Monthly Storytelling Series (NYC) streamed online in April 2020 during the COVID-19 pandemic.
To Remain Silent was named a Finalist in the "Stageplay" category of the 2017 Moondance International Film Festival and a semi-finalist in the 14th annual New Jersey Playwrights Contest.
In addition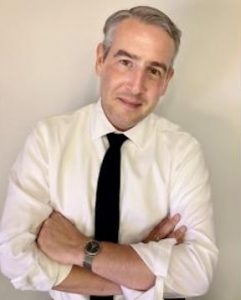 to Tiny_Theatre, A Man Walks Into a Bar was featured in Undiscovered Works at Dixon Place's Monthly Storytelling Series (NYC) during the COVID-19 pandemic in spring 2020, named a Finalist in The Theater Project's 2020 Think Fast Short-Play Festival (Maplewood, NJ), the Hidden River Arts Hidden River Review Short Play Award competition (Philadelphia, PA), and the Phillips' Mill Community Association's Emerging Playwrights Festival (Bucks County, PA), and chosen as a Semi-Finalist in the second annual Stage It! Ten-Minute Play Festival (Bonita Springs, FL).
Christopher is a member of the Dramatists Guild, and has supported the Atlantic Theater Company,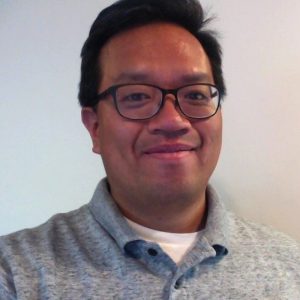 founded by David Mamet and William H. Macy, since 1999.
Greg Lam is a playwright, screenwriter, and board game designer who lives in the Greater Boston area. He is the co-creator of the "Boston Podcast Players" podcast (bostonpodcastplayers.com), Boston's virtual podcast stage for new works by local playwrights. He is the co-founder of the Asian-American Playwright Collective. In 2019, he was named a fellow in the Dramatic Arts by the Mass Cultural Council and the inaugural Pao Fellow of the Company One PlayLab.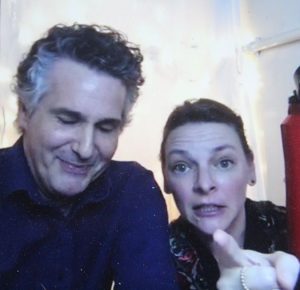 His full-length play Repossessed received its world premiere at Theatre Conspiracy at the Alliance for the Arts after winning Theatre Conspiracy's new play contest in 2017. It also had readings in Boston, Seattle, and Connecticut. His newest play Last Ship to Proxima Centauri received readings by Company One and Fresh Ink Theatre in 2019.
So tune in tonight to find out who Brendan and Rachel will be wearing (lol), who they'll be reading, and which frontline workers they'll be toasting tonight.
April 22, 2020.
RELATED POSTS.