Honor, Country & Heroism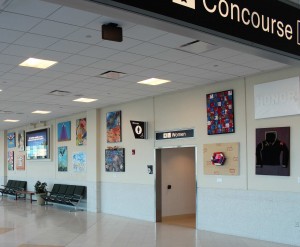 Honor, Country & Heroism is the 10th exhibition showcased by the Lee County Alliance for the Arts at Southwest Florida International Airport in furtherance of its Art in Flight program. A partnership between the Alliance  and the Lee County Port Authority, Art in Flight brings art to public spaces at RSW, one of the busiest airports in the country.
For this exhibit, the Alliance for the Arts worked with 34 local artists, including six military veterans, to bring this patriotic-themed art to RSW. The 32 paintings in Honor, Country & Heroism pay tribute to our veterans and serve as a welcome home for troops returning to Southwest Florida through the airport.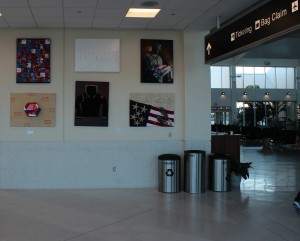 "The goal of the Art in Flight program is to showcase local and regional art in a truly unique setting that can be enjoyed by airport employees, residents and the millions of passengers that travel through the airport each year," said Robert M. Ball, A.A.E., executive director of the Lee County Port Authority. "We are especially proud to feature this exhibit at Southwest Florida International Airport, as it honors the men and women of the United States Armed Forces."
The paintings will be on display at Southwest Florida International Airport through July 2013. The community is welcome to visit the Honor, Country & Heroism exhibition, which is located pre-security along the hallways leading to Concourses B and D. For more information or to see the pieces, please visit the airport's Art in Flight page at http://www.flylcpa.com/artinflight/.
In Concourse B
Works by these 16 artists can be found in Concourse B of the Southwest Florida International Airport:
David Acevedo, Flight of Freedom
Carmine Ballarino, Welcome Home Heroes
Patricia Collins, Hero's Welcome
Martin Freling, The Land I Love
Scott Guelcher, Americana
David Hatchett, American Abstraction
Krista Johnson, James Henry Taylor, Philippines 1945
Leo Johnson Paratrooper, Super Hero
Doug MacGregor, You're Home
Jason McDonald, Kwatakye Atiko (Heroism)
James J.R. Roberts, We Got Your Back
Alicia Schmidt, For Spacious Skies & Waves of Grain & Mountain Majesties
Terry Lynn Spry, Soldier
Anica Sturdivant, Preserving Honor
Gordon Warren, Home Again
Barbara Yeomans, The Return
In Concourse D
Works by these 16 artists can be found in Concourse D of the Southwest Florida International Airport:
Katherine Boren, Red, White & Blued
Toni Ferrell, In Honor of Patriots
Jamie Golob, Celebrate Freedom
Lily Hatchett, YAAY!!
Jennifer Hemstreet, Sara Jonston and Luis Guzman, Hero
Raymond Hernandez, Welcome
Patricia Eng La Vigne, Glitter of Hope
Jeffrey Scott Lewis, Land of the Free
Leoma Lovegrove, Shine On
Kellen Beck Mills, Homecoming
Kevin Mills, De Liberte
Leo Navarro, Shadows Coming Home
Carl Schwartz, Thanks
Ernest Settani, America, The Beautiful
Ellen W. Sheppard, From the Mountains to the Prairies to the Ocean, God Bless America
Peter Zell, Welcome Return
How, What & Why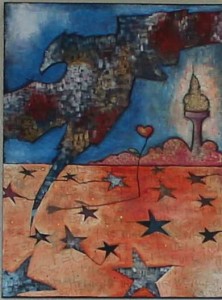 All of the artists who participated in this exhibition are possessed of a deep sense of patriotism and heartfelt gratitude to all those who have and currently serve in our armed forces. "I believe that those who risk their lives to protect their nation deserve every single homage and to be reminded that those who are back home await their return with much gratitude for their sacrifices," Union Artist Studios' David Acevedo espouses. His painting, Flight of Freedom, is an ode to those who've made the ultimate sacrifice, whether in Iraq, Afghanistan or the wars prior to them. "The silhouette of the eagle represents freedom and the series of stars represents those who have departed from this life," with the torch signifying victory.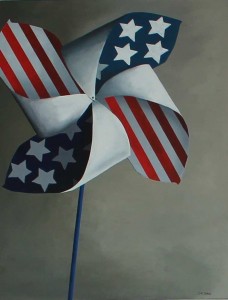 Many of the artists whose work is included in Honor, Country & Heroism have close personal connection to members of our armed services. That's true for artist and Alliance of the Arts instructor Jamie Golob, who has a long history of family members who have served in the military. "I recently lost my uncle, Jerry Samuels, 3rd Squadron, 17th Air Cavalry Silver Spurs. "He made a trip from California to Michigan a week before he passed away [from cancer] to visit my mother and I. I was so impacted by the experience, his stories and dedication to his fellow vets that I felt moved to pay tribute to him in some way." Her piece, Celebrate Freedom, expresses her uncle's tradition of honoring veterans until his final days.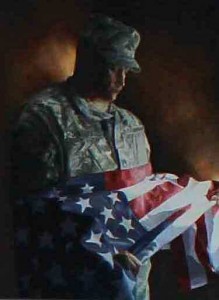 Terry Lynn Spry's connection to the military lies even closer to home. Her husband has served in the National Guard for more than 21 years. "In 2005, his unit in Arcadia, Florida was activated to go to Iraq and one of my happiest memories is him coming home." As a result, Terry Lynn was thankful and honored to be invited to participate in the exhibition. "It means a lot to my family and to me." Her painting, titled Soldier, is as poignant as it is thoughtful.
Florida Gulf Coast University Interim Gallery Director Anica Sturdivant also has family in the military, but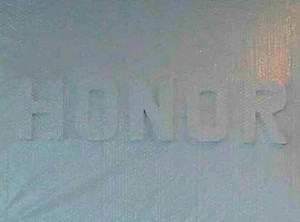 coming up with an appropriate piece to include in a "welcome home" exhibit was a complicated and difficult task because she has witnessed first hand the physical and emotional toll that combat service almost always entails. Devastating injuries, coping with pain and post-traumatic stress disorders are often the souvenirs soldiers bring home with them when they leave tours of duty in places like Iraq and Afghanistan. "The Army recognizes the challenges vets face when returning home, and does its best to acclimate them to civilian life," Anica acknowledges. "But it's important for the rest of us to realize that our soldiers not only deserve respect and honor, they have to feel our respect and honor." In Sturdivant's view, Preserving Honor needs to be a goal on both a national and personal level, although she hastens to caution against efforts to glorify warfare or unduly encourage the "economic draft."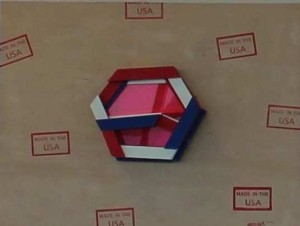 David Hatchett wishes to greet returning troops "with something that they can think about as they prepare for a re-entry into a complex culture." Thus, his painting, American Abstraction (Made in the USA), is a direct reference to businesses that manufacture products here in the USA "providing employment to American workers including returning Vets." Although submissions had to be apolitical to be juried into the exhibition, American Abstraction expresses displeasure by inference with businesses that build factories in developing countries "where labor is cheap by comparison to the developed economy of the United States."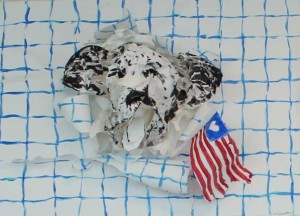 "Dogs have a way of opening hearts and salving ravaged spirits," artist Lily Hatchett has discovered through experience. "Rescued, war-trodden dogs have brought a lot of joy and solace to soldiers." So she offers her flag-waving paper dog as a welcome home, "with a smile." Titled YAAY!!, Hatchett's contribution to Honor, Country & Heroes comes from her Dogs series and the image doesn't really materialize until you step back from the work. But when the image does suddenly materialize, that's when the smiles if not outright laughter suddenly comes. Hatchett hopes that's true for returning service men and women too.
Articles and Links.