Music Walk October 19, 2012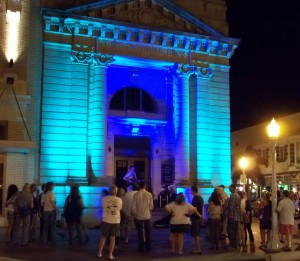 Music Walk returns to downtown Fort Myers on Friday, October 19, 2012. The monthly event features live bands and solo performers at over a dozen River District venues, including bars, restaurants and even some art galleries. Whether you're a fan of pop, rock, rockabilly, indie, reggae, punk, folk, piano or steel drums, you're likely to find it somewhere during Music Walk, with the hunt being part of the allure and fun. While the event officially runs from 7-10 p.m., most bars, clubs and restaurants remain open until the early hours of Saturday morning for your partying pleasure.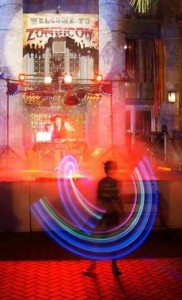 This month's Music Walk kicks off ZombiCon 2012, a 3-day event that will take place in downtown Fort Myers this year on October 19-21. During the day, ZombiCon will feature a full indoor convention at the Harborside Event Center featuring vendors, workshops, dark art, artists, authors, special guests, costume contests, special effects and make-up demonstrations, inter-activities, performances and more. But when night falls, ZombiCon 2012 hits the streets. On Friday night, the conventioneers will participate in Music Walk. And on Saturday night, ZombiCon 2012 features an epic zombie-themed music festival with bands and DJs on four stages, dance music, street food, drink specials and the famous "zombie walk" through the streets of downtown Fort Myers.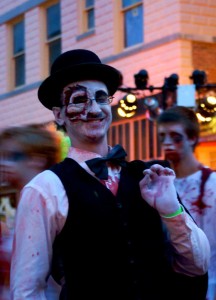 "In just 5 years, the zombie-themed music and art fest has grown from a mere 'shin-dig' into what many say is the single largest gathering of party-goers Downtown Fort Myers has ever seen. Ever," states ZombiCon's website. "Not only does ZombiCon draw a horde of incredible numbers, but it raises an inspiringly diverse one, as well. From infants to elderlies, mo-hawks to John Deere caps, Church-goers to, well, ZOMBIES – this 'bona fide phenomenon' has captured the hearts of fun-lovers, local and tourist alike."
So expect the galleries, bars, lounges, cafes and restaurants to be packed, and whether you're in town for the convention, one of the walking dead or a Music Walk veteran, here's what else is happening in the River District during this Friday's edition of Music Walk:
1. Arts for ACT Gallery & Boutique is featuring four artists in October, Anne McCarty, Terry Lynn Spry, Pam Peterson and Judy Quest.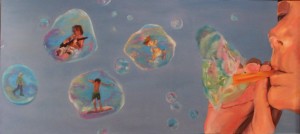 McCarty's paintings grow out of her imagination. Whether based in nature or purely fictional, they are designed to bring to light something that may be overlooked in day-to-day life like a fleeting moment or a transitory feeling that has passed all too soon. "Each of us has our own special voice that needs to be shared with others," says Ann. "This is what makes us unique and our art exciting. Take the risk to share this and we are all enriched." Ann shares her artistic perspective frequently, exhibiting in local, state and national shows that include the Charlotte County Art Guild Biennale, 2D3D at the Alliance for the Arts in Fort Myers, Art League of Bonita Springs and the Von Liebig in Naples. Her work has won awards at all of these shows and her work has garnered many favorable reviews in area art publications.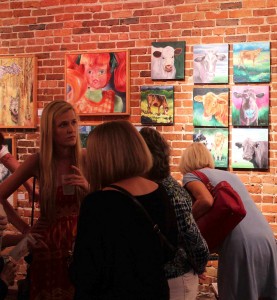 For Terry Lynn Spry, it's zippers and cows. The latter have enjoyed a prominent place in the heart of wildlife artists for more than 20,000 years. Back then, palaeolithic painters decorated the chambers in the caves at Lascaux with more than 1,000 images, many of which were large scale red cows and bulls. Spry's cows are more compact, but no less enjoyable. And the Art Walk crowd that had first view of them was equally captivated by Terry Lynn's paintings containing open zippers that often serve as a portal to a scene or landscape beyond. But regardless of motif, Spry's eclectic oils have been the subject of numerous national and local juried art exhibitions, and her work can be found in private collections all over the country. Terry Lynn characterizes her style as "creative with a bite" and she unabashedly considers painting to be "better than chocolate and kind of like breathing; you just don't want to stop."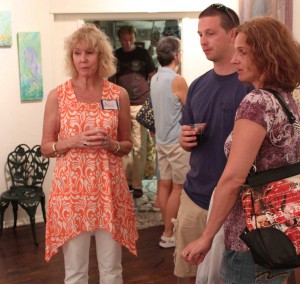 Judy Quest produces softy muted, ethereal works in oil and pastel in a wide range of natural subjects, all cast in a pearly sheen that adds a romantic feeling to her sunsets, figures, seascapes, landscapes, flowers, foliage and wildlife. The artist layers, blends, and juxtaposes colors, and through these methods, the saturated surface seems to glow with pigments. There is always a sense of movement stilled in the depth of many subtle colors. Her female muses are caught out of time, frozen in a moment of kinetic energy. Judy's dreamlike snapshots of Floridian landscape and female figures engender a uniquely feminine pastoral sensibility. Luminous, omnipresent, and charmingly embellished with details worth exploring, Quest's work achieves a painterly quality all her own.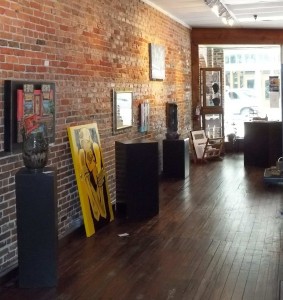 Pam Peters' artwork is a celebration of life and nature. Her most recent works, Portraits of the Earth & Portraits of Peru, are mixed media presentations of original photography printed on watercolor paper and enhanced with watercolor paint. "I believe that my art provides a window in time that we look through together to simultaneously share the emotional experience evoked by my work," says Pam. "I use various media, primarily watercolor, because I love the movement of water and paint across the surface of the paper. The fluidity and transparency of the medium matches the rhythm and visual impact of the patterns that nature creates and that I am reflecting in my work."
Arts for ACT Gallery & Boutique is located at 2265 First Street, in the old Arcade Building in which Thomas Edison, Henry Ford and Harvey Firestone once watched early films with their wives and friends. The exhibits continue through October 30, 2012. For more information, please telephone 239-337-5050 or visit www.artsforactgallery.com.
2.  Blue Dahlia is is featuring Nella Coy.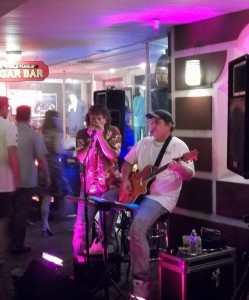 3. Cigar Bar Live has Myth inside from 10 p.m. to close. The "World Famous" Cigar Bar has been a cornerstone of the downtown Fort Myers historical district since 1996.
4. Some call City Tavern Fort Myers' best kept secret, but for those who work and live in the River District, it has been a nightlife hot spot for more than 10 years. Voted "Best Happy Hour in Southwest Florida" 2 years in a row, CT offers great drink prices and live music every Thursday, Friday and Saturday night.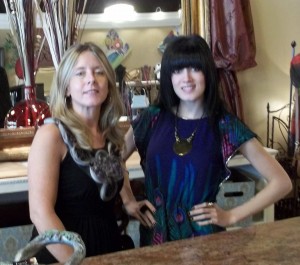 5. Enjewel is the hip First Street boutique that caters to confident and fashion-forward women. While it still has a bountiful supply of long slinky maxi and chiffon summer dresses, peek-a-boo sleeve tops, and chic tunics in sizes to accommodate every woman, fall fashions, like fall blazers, red slimming jeans and open knit sweaters, are now beginning to arrive in the boutique. And so are bold, faceted prong-set bauble necklaces that are the latest craze. Operating under the banner that "with the right accessories [a woman] can do anything," Enjewel also offers vintage purses and handmade, Mother of Pearl and natural horn bags and jewelry. So stop in and ask Lynne Routhier and Vanessa Dryden what's trending up this fall. With all their contacts in the fashion industry, Lynne and Vanessa are always in the know.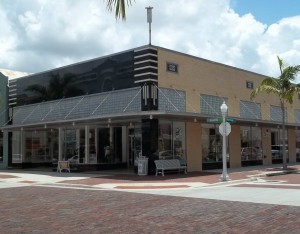 6. At The Franklin Shops on First Street, Music Walkers will find artistic treasures in Blind Dog Gallery, Creative Images by Judi(photography, wildlife and Florida scenes), David Krupick Photography, Fusion Art Glass Factory (functional art and decorative pieces made by Carrie Keohane of Fort Myers), John James Audubon Collection, Joe Rossi Art Studio (acrylic, watercolor and mixed media), Julien Miville (contemporary American impressionist with some works in Pointillism) and Natasha Cuevas Photography. In addition, Franklin Shops' Rene' Miville has added a niche gallery on the second floor that features the work of a limited number of local talent on a rotating, short-term basis. Two of the artists whose work will be on display during Friday night's Art Walk are no strangers to southwest Florida art lovers. One is cartoonist Doug MacGregor and the other is Bradford Scott Hermann. But for Music Walk, the Franklin Shops is featuring the jazz group The Swinging Gypsies with Angela Goodman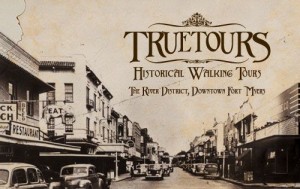 The Franklin Shops on First is also home to True Tours, which offers highly informative historical walking tours, spooky haunted history tours, architectural and public art walking tours. So if you've ever wondered about the history of the old buildings downtown or the public artworks that dot the River District, then stop into the Franklin Shops during Music Walk and book your tour with Gina Taylor. (For more information, you can reach Gina by phone at 239-945-0405 or at www.TrueTours.net.)
The Franklin Shops are located at the corner of Broadway and First in the downtown Fort Myers River District.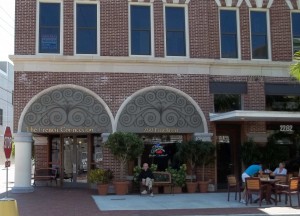 7. French Connection restaurant and cafe is located at the corner of First and Jackson Streets. For this month's Music Walk, French Connection is featuring Blues guitar prodigy Mike Imbasciani.
8. At Hideaway Sports Bar, Kevin McKee performs.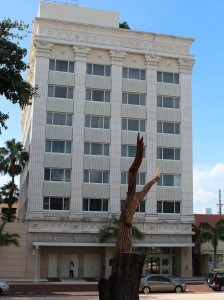 9. Part of the InterContinental Hotel Group, Hotel Indigo is known for plush guest rooms and swank public spaces that are transformed seasonally through changing signage, aromas, music and artwork. With Vino de Notte, a newly-renovated lobby lounge and its Phi in the Sky rooftop lounge, Hotel Indigo always figures prominently in the Music Walk scene. And this Friday, the Phi in the Sky lounge features Tribal Love.
Phi in the Sky is home to David Acevedo's mural, The Heart of the City's Sky.Owners Tim and Catherine O'Brien commissioned the work in August,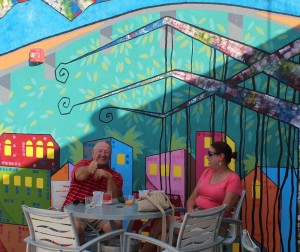 2011 following a month-long competition that Acevedo won because of his superb attention to detail, space, color and deep concentration on Fort Myers' cultural society. Says the hotel's social media director, Kayla Dacosta, "David is not only a sensational artist, but his spirit runs deep and his work is an obvious statement of all things beautiful and exceptional in the world. He grasps color and moves paint in such a way that viewers feel awakened by his work. Hotel Indigo is very pleased and grateful to have David lending inspiration to the Phi in the Sky!"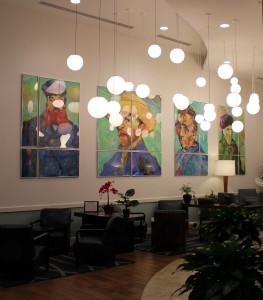 And as you pass through the lobby, be sure to take note of the four "van Goghs" that Matlacha artist Leoma Lovegrovepainted following a stop in Auvers during a trip to France. "When I got back home, I wanted to reproduce the brilliant yellows of van Gogh's wheatfield against the deep blue Normandy Sky," Lovegrove explains. So she set to work and completed ten paintings in just three days. Five of the paintings have been sold, and one was inadvertently destroyed. But the four remaining works are on display in Hotel Indigo's modernist lobby. But don't expect them to be mere copies of van Gogh's work. Lovegrove employed her own brush strokes and color palette, which even included neon paint. "This series also was the first time I used splattering," she points out. "But I don't just throw paint haphazardly. There is method to my madness. I am true to the impressionistic style. [But] I Leomatized his portraits," she proclaims. But the van Goghs won't be there much longer. In December, Lovegrove will be replacing them with a series of exciting new contemporary works.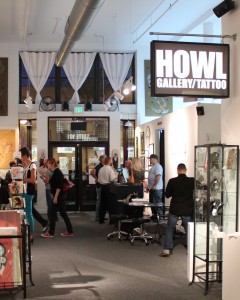 10. HOWL Gallery/Tattoo on Broadway Street brought back rock poster icon Derek Hess for the 4th anniversary of Fort Myers Art Walk. Hess had such a good time at last year's solo show that when Andy Howl mentioned that he had an opening in October, 2012, Derek was all in.
Hess is perhaps best known internationally for reinventing rock concert poster art in the '90s. His resume includes posters for Pantera, Thursday, Pink Floyd and Pearl Jam, as well as CD covers for Motion City Soundtrack and Unearth. The Louvre Museum in Paris and The Rock 'n Roll Hall of Fame have included his art in their permanent collections and MTV, Fuse, VH1, and countless books, magazine and rock albums have reviewed or featured his poster art.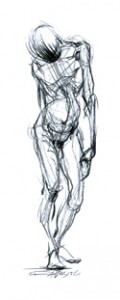 But over the last decade, Hess has morphed from poster artist extraordinaire to a fine artist accomplished in pen and ink, acrylic paint and silk screen prints with hand made separations. He credits the success of the transition on his ability to draw well. "My advice for anyone who wants to get involved with drawing based art: learn the fundamentals of drawing," Hess says. "This way you don't have to worry about how to draw something. Your energy can be spent on what to draw." As a result, Hess' art has been able to transcend genres as well as generations, which is icing on the cake for the artist. "At the end of the day I'd like, ideally, for all of my art to be technically sound. That, to me, is what makes a successful artist."
Deliver me from clever art is the name of his current show at HOWL, and it showcases a cross-section of works from several series, including vintage Playboy cover illustrations, his WWII Airplane Fish series, Flowers series, and more. You can access HOWL Gallery/Tattoo either at 1514 Broadway or via the courtyard that HOWL shares with Hotel Indigo, the federal courthouse, Starbucks and Lush Bakery. For more information, please visit www.howlgallery.com.
11. In the courtyard that it shares with Hotel Indigo, Starbucks and the federal courthouse, HOWL will be hosting two days of live music, with Friday night featuring original local bands: The Mockingbirds, Ready The Colours, Who is Jon?, and Farewell Debut. Music starts at 7 p.m. on the Howl back patio.  Saturday night will feature the 2nd annual Howl of the Undead concert during Zombicon on the back patio. https://www.facebook.com/events/148466085298469/.
12. Indigo Room is where rockabilly band Memphis 56 plays Johnny Cash, Elvis Presley and some very old country music. "Rockabilly started in the south," the band's founder Todd Fadely told Florida Weekly in 2007. "A hillbilly guitar player trying to play rock and roll. A lot of the early rockabilly didn't have a drummer. A lot of them are covered songs, bluegrass songs or old standards. Rockabilly could almost be called the first punk rock. It was never really mainstream music." But it is now, during Music Walk in the Indigo Room.
13. Morgan House is featuring The Oyster Fantastic Band and DJ Christyle.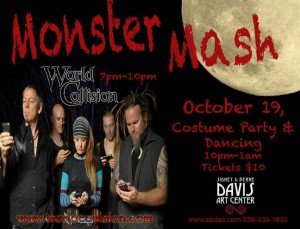 14. The Sidney & Berne Davis Art Center has a full night of activity planned for Music Walk starting with World Collision from 7-10 p.m. Living up to its name, World Collision fuses instruments and rhythms from around the world and delivers powerful new music, packed with energy and emotion, leaving the audience spellbound. The musicians craft many of their own instruments, and the vocals deliver melodies that wake the dead and make dancers of the living.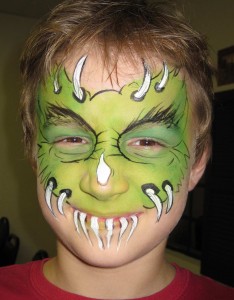 Then from 10 until 1 a.m., it's Dancing at the Davis with the "Monster Mash" Halloween party. Don't have a costume? Not to worry. Elements of Body Art will be doing on-site face and body painting for all ages from 7 p.m. until late. Can't dance? No sweat. The Fred Astaire Dance Studio will be on hand to teach the steps to Monster Mash and Michael Jackson's Thriller. And Bryon McCartney Photography will have a photo booth set up to capture the fun and great costumes.
McCartney is a seasoned commercial photographer, award-winning fine art photographer and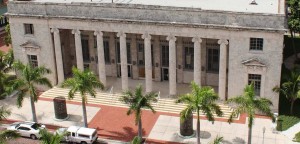 experienced photography instructor whose fine art photography has won numerous awards including First Place and Best of Show Selection in the prestigious International Photography Awards and First Place in the Prix de la Photographie Paris. His images have been shown in galleries in the USA and Switzerland, as well as numerous international photography expositions, books and publications. Originally from Ohio, he began his career in Chicago in 1989, moving to Europe in 2000. In 2007, he established the Zurich-based ViewFinder Center for Photography. Bryon relocated to Southwest Florida in early 2012.
The Sidney & Berne Davis Art Center is located at 2301 First Street, in the heart of the downtown Fort Myers River District. For more information, please visitwww.sbdac.com or telephone 239-333-1933.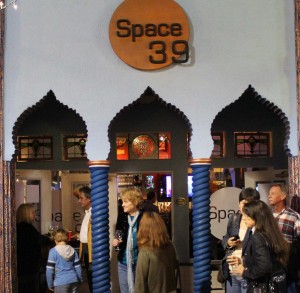 15. Space 39 has a group art show. The Patio de Leon hybrid bar and art gallery is always a fav Music Walk hot spot.
16. At Spirits of Bacchus, Traffic Jam performs.
17. The Veranda is the one of the River District's premier restaurants. During Music Walk, you can enjoy the musical stylings of Gary Goetz at their famous Piano Bar.
18. At Twisted Vine: Singer/Songwriter Patrick Jerome performs 6:30 til 10:30.
Tune into WINK News 6 this Friday morning from 8-9 a.m. for the monthly Music Walk morning show feature.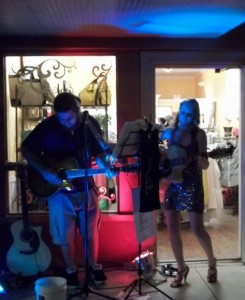 Music Walk partners and venues include:  HOWL Gallery/Tattoo, Spirits of Bacchus, Space 39, Red Rock Saloon, United Cafe, French Connection Cafe, The Franklin Shops, Enjewel, Happenings Magazine, Hotel Indigo, Twisted Vine Bistro, Indigo Room, Harborside Event Center, City Tavern, Downtown House of Pizza, World Famous Cigar Bar, HideawaySports Bar, Morgan House, The Veranda Restaurant, Market America Realty, Main Street Antiques, WinkNews6, Classic Rock 94.5, CoolHand Luc's, Lush Bakery, Sidney & Berne Davis Art Center, Charme, What's Up Dogs, and AmeriDry.
Music Walk is organized by Andy Howl of HOWLGallery/Tattoo, with help from Dee Hohimer, Suzy  Lewis, and Jamie Kuser of Happenings Magazine.  Music Walk is a River District Alliance event.  Visit www.riverdistrictevents.com for more  info.