Edison Ford Estates Collection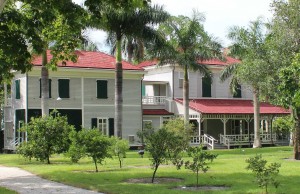 Thomas Alva Edison is regarded as one of the world's most elite and productive inventors. He was also Fort Myers' most famous seasonal resident. Because of poor health, Edison spent his winters here, purchasing 14 acres of land in 1885 on the south side of the Caloosahatchee River, where he built a beautiful two-story red-roofed home complete with a laboratory and botanical gardens.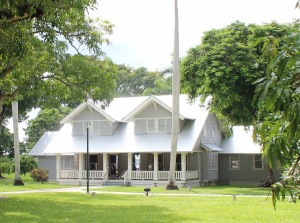 In 1896, the Edisons became friends with Henry Ford, who would visit Tom and Mina in Fort Myers during the winters. He too fell in love with the town and in 1916, Henry and Clara Ford bought the property next to Edison. Ford nicknamed the two-story American bugalow-style house The Mangoes and added wings for both family and staff.
Today, the Edison & Ford Winter Estates is a world-class cultural and educational resource honoring the innovation and creativity of these two inventors, industrialists and "uncommon friends." A National Register Historic Site, the Estates includes the display of permanent art collections as well as temporary exhibits of art as an interpretation of site and a reflection of the 1920s historic landscape.
Intended to enhance the experience of visitors to its museum, grounds and related botanical site, the Estates' sculpture collection is primarily figurative and includes a standing Thomas Edison and Henry Ford, seated Mina Edison, and pedestaled busts of all three.
Standing Thomas Edison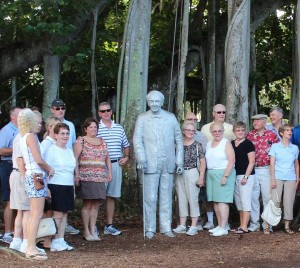 The entrance to the Edison Ford Winter Estates is dominated by an acre-wide India banyan tree that was planted in 1925. Back then, it was a mere four feet in height and two inches in diameter. Today it is the largest banyan tree in the continental United States, covering more than an acre and supported by more than 350 roots. And standing right in front of it, as though greeting visitors, is a standing figure of Thomas Edison, undoubtedly the most photographed sculpture in all of Fort Myers.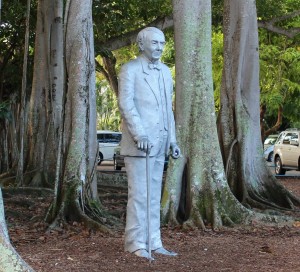 Made by local sculptor D.J. Wilkins from cold cast aluminum, the sculpture is anchored to a platform that is covered by mulch in order to give the appearance that a waiting Edison is supported merely by the trademark cane extending from his right hand. Wilkins included a silver ball in the inventor's left hand, although he could have easily opted for a sprig of goldenrod given that the bulk of the research Edison conducted in the laboratory on his winter estate involved testing over 17,000 botanicals in an effort to discover a local source of latex from which to make rubber.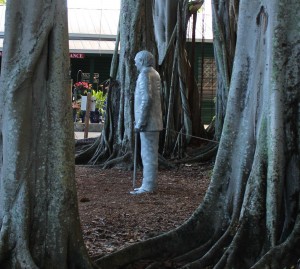 But for Wilkins, the silver ball represents a deeper insight into the mind of the great inventor. Thomas Edison often deflected his genius, claiming that creativity was "one percent inspiration and ninety-nine percent perspiration." But he certainly paid closer attention than the rest of us do to the ideas that came to him. As legend goes, Edison would sit in a chair when he got sleepy, holding a ball bearing in his left hand. Soon, he would enter the "hypnagogic state," a stage between wakefulness and sleep where many people claim to have visual and auditory hallucinations.
"When Edison eventually moved into deep sleep, his hand would relax and the ball bearing would drop into a metal bucket he kept by his chair," Wilkins relates. "He'd wake up and jot down the ideas that had popped into his head while he was dreaming. If the story's true," Wilkins thoughtfully adds, "you can add biofeedback to the list of things Edison invented."
Wilkins also tipped Edison's cane in silver to match the ball in the inventor's left hand. "The ball represents Edison's continually-evolving intellect. But many people have brilliant minds," notes Wilkins. "It takes discipline to harness that mind power. The silver tip on the cane represents that Edison was also well-grounded."
At seven feet four inches in height, the sculpture is "heroic size," meaning it is 25 percent larger than life. Donated by Estates' patron Darilyn Alderman, it was dedicated on February 11, 2005, the 158th anniversary of Edison's birth.
[Please note that the historians and curators at the Edison & Ford Winter Estates emphatically disavow Wilkins' silver ball story as unsubstantiated and unsupported urban legend. They were unaware of the inclusion of the silver ball in the statue's left hand until after the sculpture's installation and dedication.]
Seated Mina Edison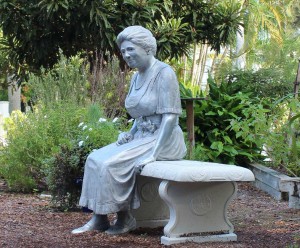 Just past the sculpture of Thomas Edison and to the left of the ticket office is a seated, heroic-size Mina Edison. She too is the creation of sculptor Don Wilkins, who crafted her in cold cast aluminum as well. Wilkins seated her on a concrete bench with room enough for visitors to sit and have their picture taken with the "home executive" of the Edison Estate. And appropriately, the sculpture sits in the Edison Heritage Garden, a place in which Mina would have felt right at home.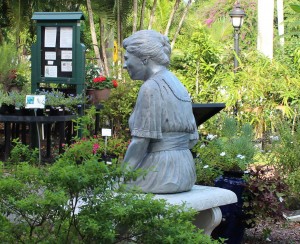 While husband Tom was consumed with collecting and testing scores of plants for their medicinal and scientific value, Mina adored the beauty and tranquillity of formal gardens. Over the years, she had a number of them installed throughout the grounds, including a moonlight garden of white and blue blooms, a lily pond garden of iris, water lilies and papyrus, and a rose garden as well. All became perfect backdrops for the socialite's many tea parties and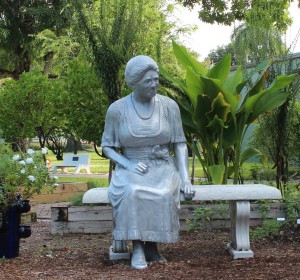 luncheons, but the Edison Heritage Garden held special significance. It was there that Mina grew vegetables and herbs in raised garden beds and containers, watering them with collected rain water. And nearby are a variety of fruit trees the Edisons cultivated, including banana, lemon, avocado, star fruit and calamondin. Mangoes are especially plentiful and run the length of the front entrance.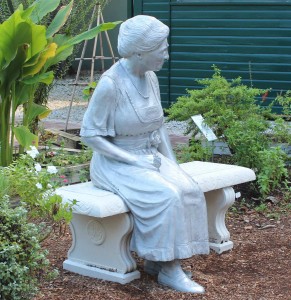 But Mina did not merely enjoy the estate's gardens. She was active in numerous garden clubs and related civic groups including the Chautauqua Association (where she served as president of the Bird and Tree Club), the National Audubon Society, the John Burroughs Association, the Daughters of the American Revolution (where she served for a year as its national chaplain) and the School Garden Association of America.
While scores of visitors take advantage of the space left on the bench for photo ops with Mina, the spot was intended by Wilkins for Thomas Edison. "She's looking over at him as if to invite him to come over and sit next to her," Wilkins reveals. "I think that's why so many people sit next to her. They're responding unconsciously to that look in her eyes."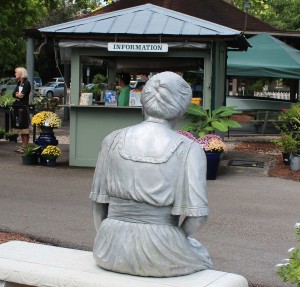 "She's especially popular with kids," points out Lisa Sbuttoni, the Public Relations and Marketing Director for the Edison Ford Winter Estates. "It's not unusual to walk by and see a small child curled up in Mina's lap." To make his sculpture kid friendly, Wilkins blunted the contours of the handkerchief Mrs. Edison holds in her right hand so that it won't poke or cut anyone sitting on the sculpture. "We also carved channels in her dress to make sure that water didn't pool around her hand."
Donated by Orvall McCleary, the Mina Edison sculpture was dedicated on February 11, 2009.
Standing Henry Ford
Don Wilkins also made a standing statue of Henry Ford for the Edison Ford Winter Estates. The 7 foot 4 inch cold cast aluminum sculpture is located outside the car manufacturer's American bungalow-style Fort Myers retreat, The Mangoes, which he purchased in 1916 for $20,000. Donated by Orvall McCleary, it was dedicated on July 29, 2007, the day prior to the 144th anniversary of the inventor's birth.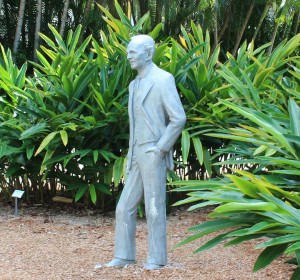 "Unlike Edison whose clothing was often worn and crumpled, Henry Ford had a reputation as a sharp dressed man," Wilkins relates. "All the reference photos I consulted show that he paid meticulous attention to his clothing, so all the lines in his suit are crisp and tailored to the hilt."
Wilkins did not, however, depict Ford in his famous soybean suit. As that story goes, Ford became concerned in the 1930s that his farming customers could no longer afford to buy his cars because they were not getting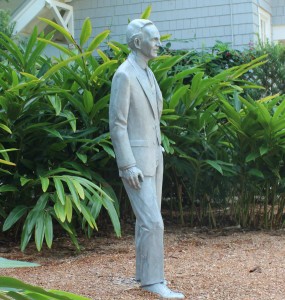 the prices they needed for their crops due to the Great Depression. So Ford began developing crops that could serve as ingredients for fuels, plastics and textiles in a "cars growing from the ground" project. Hemp and soybeans seemed especially suited to this purpose. He adapted his Model T to run on ethanol, built a car that contained plastic parts and upholstery of vegetable origin, and even invented a suit made of soybean protein fiber that he called "soybean wool." Always a great promoter of his inventions, he took to wearing the soybean suit everywhere he went.
Unfortunately, the soy fibres were itchy and it was not long before less expensive, petroleum-based synthetics like rayon took over the market place. Nevertheless, Ford's interest helped foster the fledging soy industry and scholars speculate that had Ford lived longer, he would have been active in promoting soy foods, which would have greatly accelerated their introduction into American diets.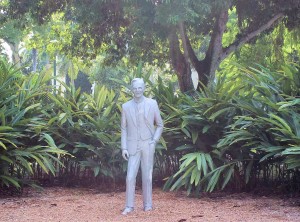 Ford first met Edison at a convention held in 1896 by the Edison Illuminating Company, for whom Ford worked as an engineer. However, he did not make his first trip to Fort Myers until 1914, when Edison invited him to come along on a camping trip into the Florida Everglades. Calling themselves "the Vagabonds," Ford and Edison, along with Harvey Firestone and John Burroughs, would make many more camping trips over the next decade and a half, building bonds of friendship that are memorialized today by another D.J. Wilkins sculpture, Uncommon Friends.
Ford returned to The Mangoes only sporadically after Thomas Edison's death in 1931. He sold his estate to Thomas and Gladys Biggar in 1945. In 1988, the City of Fort Myers purchased Henry Ford's estate for $1.5 million, restored it to its historic appearance and opened it to the public in 1989. The property is now managed by Thomas Edison and Henry Ford Winter Estates, Inc., a local non-profit organization.
Busts of Henry Ford and Thomas Edison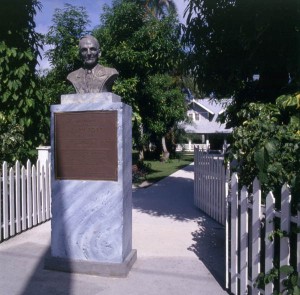 Twenty-two years before he created the standing sculpture of Henry Ford, Don Wilkins created a bust of the car magnate for Thomas MacFarlane Biggar, who purchased Henry Ford's winter estate in 1945 and decided to preserve it in tribute to the "great industrialist and greater humanitarian." Made of cold cast aluminum, the bust was placed atop a granite pedestal that stood at the entrance to Ford's home from the time of its completion in 1985.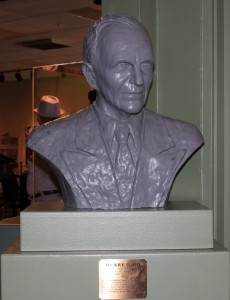 After the standing sculpture of Henry Ford was placed on the north side of The Mangoes, there was no longer any need to display the bust outdoors and so it was moved inside the museum that is maintained across the street next to the Edison Botanical Laboratory. Today it shares the hallway leading to the museum's Orientation Gallery with a brown bust of Thomas Edison.
"Both the standing sculpture and the bust share my insistence that the expression on my subject's face reflect their own unique personality," says Wilkins, who studies a copious volume of historical photographs before starting the casting process. It's not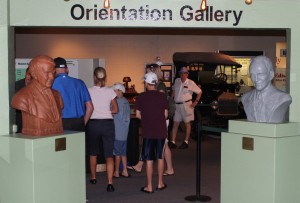 easy to build an accurate three dimensional likeness from an array of two-dimensional photos, but there's more involved than merely synthesizing a 3D image from 2D pictures. "Half the fun is reading fact books about people like Thomas and Mina Edison and Henry Ford. As you read them, you get a feel for not only how they looked, but how they thought, moved and acted. The expression that results comes from an embedded sense of who these people were."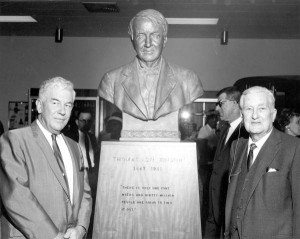 The bust of Thomas Edison appears to have been dedicated sometime in the mid-1960s. It was unveiled by Tom and Mina's son, Charles, in the Estate Museum. Charles won distinction in his own right first as Secretary of the Navy and later as the Governor of the State of New Jersey.
Bust of Mina Edison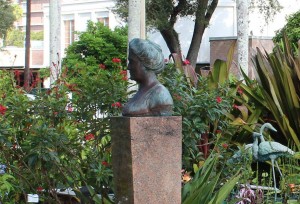 In addition to the heroic-size sculpture of Mina Edison, the Edison Heritage Garden also contains a water feature and a bronze bust of Mina Edison. It was rendered by New York sculptor Eleanor Platt (1910-1974). Commissioned and donated by the Brooks Foundation, the bust was dedicated by Charles Edison on February 15, 1970.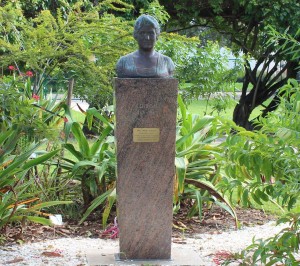 Platt studied at the Art Students League of New York and became a portrait artist, sculptor, art educator, teacher and lecturer. A member of the National Academy of Design and National Sculpture Society, Platt enjoyed exhibitions at the Guggenheim Museum, National Academy of Design, National Sculpture Society and the Pennsylvania Academy of Fine Arts.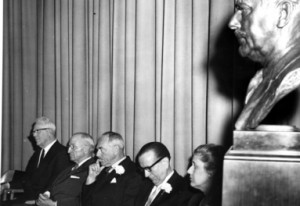 Perhaps her most famous bust was that of Secretary of State Dean Acheson for the Harry S. Truman Library. The bust's dedication was attended (from left) by Chief Justice Earl Warren, former President Harry S. Truman, Dean Acheson, Oscar Chapman and, of course, Eleanor Platt.
Bouquet to Mina Edison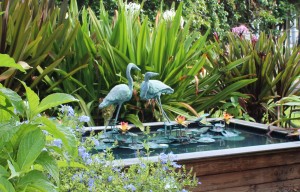 Adjoining Mina Edison's bust in the Heritage Garden is a rectangular pool that holds a copper water sculpture called the Bouquet to Mina Edison. It was made by Don Wilkins and dedicated by Charles Edison in 1986. "It used to be in the reflecting pool," reports Wilkins, "but had to be moved when we restored the pool."
About the Edison & Ford Winter Estates
The Edison & Ford Winter Estates consists of more than 20 acres of botanical gardens and nine historic buildings including Edison's Botanic Research Laboratory, the Estates Museum (which contains an impressive collection of inventions, artifacts and special exhibit galleries), Edison's winter home (which he named "Seminole Lodge"), and Henry and Clara Ford's adjoining residence (which they called "The Mangoes"). Mina Edison deeded Edison's Estate to the City of Fort Myers in 1947, which opened it to the public later that year. Thomas MacFarlane Biggar purchased Henry Ford's winter estate in 1945 and decided to preserve it in tribute to the "great industrialist and greater humanitarian." The City of Fort Myers purchased it from him in 1988 and opened to the public in 1990.
In 2003, the City of Fort Myers delegated the Estates' governance and management to Edison & Ford Winter Estates, Inc., a 501(c) (3) non-profit charitable and educational organization. Since assuming its operation, Edison & Ford Winter Estates, Inc. has completed $13 million in capital restorations through grants from the City of Fort Myers, Lee County, State of Florida, HUD, and private sources, such as the Edison-Ford Winter Estates Foundation and other private and corporate grants and donations. It also listed the Estates on the National Historic Register, an Historic Florida Landmark and an original Save America's Treasures of the National Trust for Historic Preservation.
The Edison & Ford Winter Estates' mission is to provide unique educational experiences based on the artifacts, legacy and lives of Thomas Edison and Henry Ford, with emphasis on their Florida history. With a goal of inspiring the public to learn from these experiences, the Estates conducts daily tours of the historic site include the homes, museum, laboratory and gardens. Tours may be guided or self guided with audio wand and map. With more than 200,000 visitors annually, the Edison & Ford Winter Estates is today one of the nation's most visited historic homes, with offsite educational program reaching an additional 25,000 each year.
About Edison & Ford President and CEO Chris Pendleton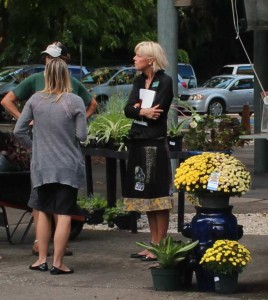 Chris Pendleton serves as President and CEO of the Edison & Ford Winter Estates. She has been active in the museum profession for over 30 years. During that time, she has been a part of various accrediting and assessment teams for the American Association of Museums, grant review panels for the State of Florida and national agencies, and various statewide museum boards and organizations such as the Florida Trust for Historic Preservation and VISIT Florida. Her professional expertise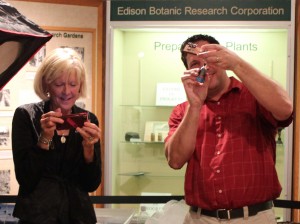 includes institutional planning, construction, restoration and business expansion. During her tenure at the Edison & Ford Winter Estates, Pendleton has directed a $13 million restoration of the historic buildings on the 20-acre site, and implemented the estate's transition from a publicly-managed city attraction to a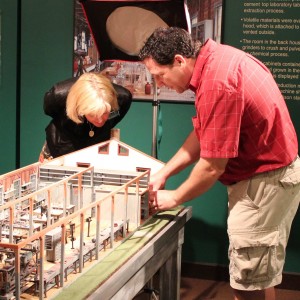 private non-for-profit corporation.  This focus has included professional standards, diversification of community and public programs, business analysis, grant and funding growth, restoration and master planning for site and operational expansion.
Her credits include directing museums and historic sites in Florida, Virginia, North and South Carolina since 1977, including:
Museum of York County and Brattonsville Plantation, Rock Hill, South Carolina
Costal Discovery Museum and Honey Horn Estate, Hilton Head Island, South Carolina
SciWorks and Environmental Park, Winston-Salem, North Carolina
Science Museum of Western Virginia, Roanoke, Virginia
Imaginarium Hands-on Museum, Fort Myers, Florida
Edison & Ford Winter Estates, Fort Myers, Florida since 2001
Ms. Pendleton grew up in Palm Beach County, Florida and New York City, New York.  She currently resides in Fort Myers, Florida on the river just off historic McGregor Boulevard. Chris is a graduate of Florida State University (Math/Physics) and Winthrop University for Master's work in Administration. She is married to Nathaniel Pendleton, a professional engineer and businessman. Mother of one, her daughter, Hilary, received her doctorate degree from Florida State University. Chris' hobbies including hiking, gardening, beach walking and reading.
D.J. Wilkins' Other Public Artworks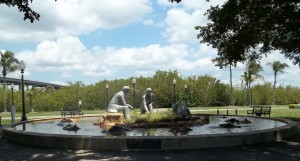 Besides the sculptures in the Edison Ford Estates collection, Wilkins' resume includes Uncommon Friends, a sculpture depicting Thomas Edison, Henry Ford and Harvey Firestone gathered around a campfire on a tiny island in the middle of a reflection pool and fountain. Long regarded as the sculptural symbol of Fort Myers, the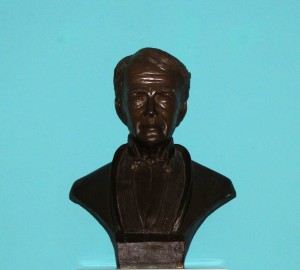 installation resides at the Monroe Street entrance to Centennial Park and within eye shot of three more of Wilkins' outdoor sculptures, The Great Turtle Chase, Clayton and The Florida Panther on Monroe Street. Wilkins also cast the busts of Thomas Edison (right), James D. Newton, Tootie McGregor Terry, Captain Francis Asbury Hendry, Paul L. Dunbar, Connie Mack Sr. and Chief Billy Bowlegs, known collectively as "The Harborside Collection," the Wes Nott Statue, and heroic-size standing statues of Thomas Edison at both the Lee and Collier campuses of Edison State College.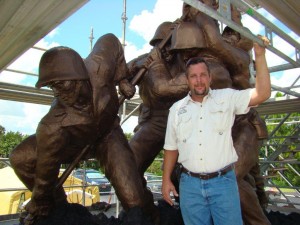 Wilkins has also played an instrumental role in restoring several of Southwest Florida's public sculptures including The Spirit of Fort Myers at the entrance to Edison Park, the Tootie McGregor Fountain in front of the Edison Restaurant at the Fort Myers Country Club and the Iwo Jima Memorial in Eco Park on Veteran's Parkway in Cape Coral.
Dimensions, Material and Location.
The Edison & Ford Winter Estates is located at 2350 McGregor Boulevard,  Fort Myers, FL 33901.
Its map coordinates are latitude N 26° 38′ 4.7472″ and longitude W 81° 52′ 50.0304″.
Fast Facts.
In 2003, Thomas Edison and Henry Ford Winter Estates, Inc., a 501(c)(3) organization, assumed management of the estates from the City of Fort Myers. Its mission is to protect, preserve and interpret the site and future growth and development. The new corporation successfully completed a $10 million restoration project in 2006.
The 15,000 square foot, air conditioned Estates Museum inspires imagination, encourages intellectual exploration and stimulates the senses with galleries featuring an impressive collection of inventions, artifacts and special exhibits.