Uncommon Friends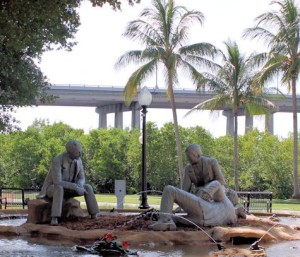 Located on the scenic banks of the Caloosahatchee River in the northwest corner of the downtown Fort Myers River District is Centennial Park, a beautiful ten-acre community plaza that commemorates the first one hundred years of the City of Fort Myers. The centerpiece of the park is a memorial of another kind. It's called Uncommon Friends, and is a tribute to the bond shared by three of the city's most famous winter residents, Thomas Edison, Henry Ford and Harvey Firestone.
What it is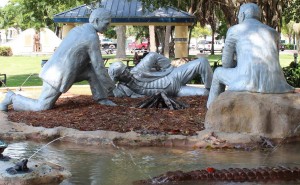 Uncommon Friends is a sculpture depicting a seated Henry Ford, kneeling Harvey Firestone and reclining Thomas Edison gathered around a campfire on a 20-foot island set in the center of a 40-foot diameter pool.  In the water around the island are life-size sculptures of a mother alligator and her five babies, a mother manatee and her calf, otters, 16 fish, four floating lily pad groups that are piped as fountain heads, and 12 frogs sitting on 6 small protrusions of land that similarly double as fountain heads. "There were 39 original castings in total," notes sculptor D.J. Wilkins, "not including the plaque."
.
Who made it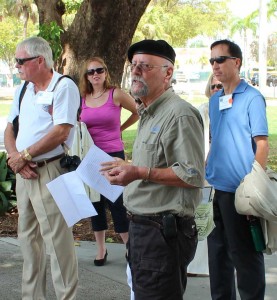 The sculpture is the creation of local artist D.J. Wilkins, who also engineered, wired, piped and constructed the fountain and pool. Proclaimed the "Sculptor of Fort Myers" by former mayor Art Hammel and the City Council that served during his administration, Wilkins is responsible for 23 public sculptures located throughout the city of Fort Myers. It was Hammel who commissioned Wilkins to "make something for our new Centennial Park."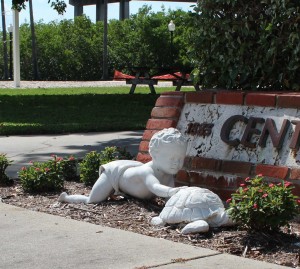 In addition to Uncommon Friends, Wilkins' resume includes The Great Turtle Chase (right) and Clayton, also in Centennial Park, The Harborside Collection (seven busts including Chief Billy Bowlegs, Francis A. Hendry, Tootie McGregor Terry, Paul L. Dunbar, Connie Mack, Thomas Edison and James D. Newton), The Florida Panther on Monroe Street, a bust of Henry Ford and heroic size statues of Thomas Edison, Mina Edison and Henry Ford at the Edison & Ford Winter Estates (known as the Edison Ford Estates Collection), sculptures of Thomas Edison for both the Lee and Collier campuses of Edison State College, and the Wes Nott Statue on the campus of Lee Memorial Hospital.
Wilkins has also played an instrumental role in restoring several of Southwest Florida's public sculptures including The Spirit of Fort Myers (Rachel at the Well) at the entrance to Edison Park, the Tootie McGregor Fountain in front of the Edison Restaurant at the Fort Myers Country Club and the Iwo Jima Memorial in Eco Park on Veteran's Parkway in Cape Coral.
How he come up with the idea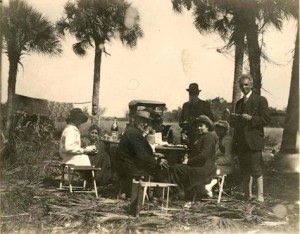 After Mayor Hammel requested the piece, Wilkins spent a year researching the relationship shared by Edison, Ford and Firestone. Among the people with whom Wilkins consulted was James D. Newton, a close friend of the three inventors and author of a book about them by the name of Uncommon Friends. "He was a friend of mine," Wilkins told journalist Andrea Galabinski in July of 2009, "so I called him up and asked, 'What do you think about my naming the statue I'm doing for Centennial Park 'Uncommon Friends,' the same as your book?' He said he'd be honored, but I said, 'You'd be honoring me,' so that's how it got its name."
The campfire scene possesses special significance for the City of Fort Myers. Not only were Edison, Ford and Firestone three of Fort Myers earliest and most famous winter residents, they made Fort Myers the birthplace of recreational travel.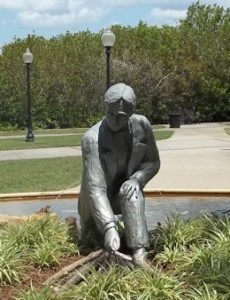 In 1914, the threesome began making camping trips into the Florida Everglades. Calling themselves The Vagabonds, over the next decade they pioneered recreational travel. "Although we don't know exactly how the idea for the first camping journey into Florida's wild country came about," stated the Edison Ford Winter Estates, "it seems likely that Edison saw the trip as an adventure and an opportunity to share his beloved Eden with his friends." Besides The Vagabonds, other campers included naturalist John Burroughs and James D. Newton.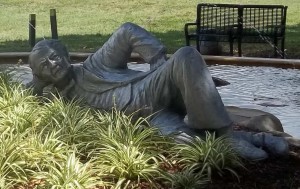 Each camper had a pre-designated role. Edison arranged a storage battery set-up that provided light and electricity for the camp. Firestone stocked Ford's cars with the finest provisions and hired cooks to prepare their food. Ford supplied the cars, served as the caravan's mechanic, scouted out the camp sites and chopped all the wood for their campfires. He even rigged two trucks with drinking water tanks and work tables.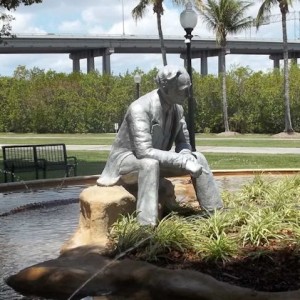 On the strength of Edison's 1,093 and Ford's 165 patents, both inventors were famous and highly popular, but Edison and Ford were adept at self-promotion and rarely missed an opportunity to publicize their activities. Thus, they invited the press to come along on their camping trips, and Ford even brought along the Ford Motor Company newsreel cameras. Each destination became a publicity stop mobbed by their adoring public, which helped contribute to Ford's sales.
In this way, the City of Fort Myers became the birth place and epicenter of recreational travel.
How he made it
To make Uncommon Friends, Wilkins needed to combine the skills of sculptor, landscape architect, swimming pool contractor, plumber and electrician.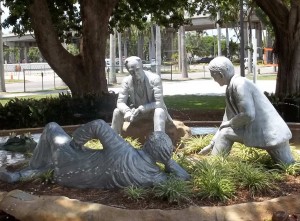 He started, of course, with sculptures of Edison, Ford and Firestone. Edison is depicted reclining next to the campfire, possibly listening to something Ford and Firestone are discussing, but his far-off gaze probably belies that he's working out the parameters of some new invention in his head, as he was known to do from time to time.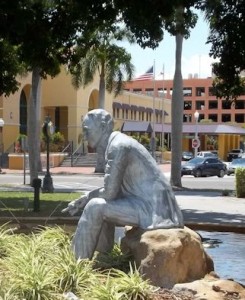 Wilkins seated Henry Ford on a chunk of rock at the water's edge. He's looking at Firestone, listening intently, a cigar between the fore and middle fingers of his right hand. Today, three men out camping would probably be dressed in T-shirts, shorts and boat shoes or flip flops, but Wilkins has attired Ford, Firestone and Edison in three-piece suits, ties and dress shoes undoubtedly because that's how men dressed in the 1920s, even in the heat and humidity that typifies this region of the south.
Firestone is depicted kneeling, saying something to Ford as he lights the campfire with an outstretched right hand.
The three figures are made of cold cast aluminum.  "I considered using bronze," Wilkins notes, "but that would more than quadrupled the cost of the project" ($328,000 compared to an actual cost of $70,000). The sculptures are not solid aluminum. Rather, Wilkins used the metal to form a quarter inch skin that covers an interior consisting of a lightweight filler.
Edison, Ford and Firestone may be the leading men of Uncommon Friends, but Wilkins included a large supporting cast. He designed, cast and produced a host of plants and animals indigenous to southwest Florida including a manatee and her calf, an alligator and five of her offspring, otters, fish and frogs and even a number of lily pads. "The figures in the water are cold cast bronze."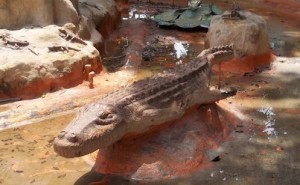 The alligator is mounted on top of a rock that Wilkins crafted from plaster and wire mesh. "She was my only casualty during an otherwise uneventful fabrication process," DJ reminisces. "I took her out of the cast and promptly dropped her. Obviously, I had to start all over again with her."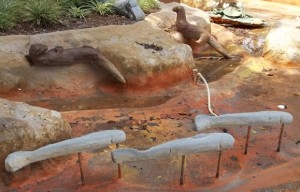 So that the fish appear to be swimming in the water when the pool is filled, they are supported by rods that are anchored in the floor. Wilkins provided 16 of them, as well as four groupings of water lilies and frogs sitting on rock formations that double as fountain heads. They are connected by pipes to a pump that is normally hidden under a plaster boulder to the east side of the wide circular sidewalk and park benches that surround the fountain and sculptures, allowing park visitors to view the installation with a full panorama of backdrops including the Harborside Event Center, the marina, and the bridge over the Caloosahatchee River.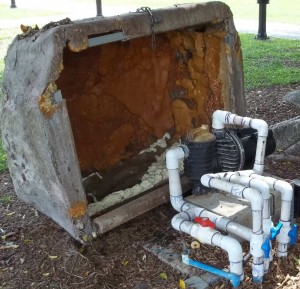 "The fountains are auditory features," Wilkins advises. "Because we are 70 percent water, people naturally find the sound of water both relaxing and inspirational. That's what they're intended to do for everyone who visits Uncommon Friends."
The ambition of the project is in character with the prodigious undertakings for which Edison, Ford and Firestone were known during their careers as three of the pre-eminent inventors in U.S. if not world history during the 19th and early 20th centuries.
Its underlying message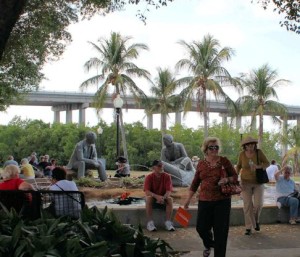 The sculpture and fountain are not about the inventions which, together, ushered in the 20th and 21st centuries. Nor is it about the inventors' fame or fortune. It is simply a homage to the deep friendship they shared. Nevertheless, it is the collective hope of former Mayor Art Hammel, his City Council and sculptor D.J. Wilkins that the sculpture will inspire an enduring sense of appreciation by all of Fort Myers residents and visitors for the contributions made by these pioneers of industry to this community.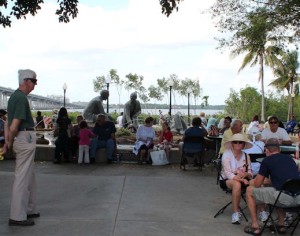 More expansively, the statues serve as a reminder that you've only failed if you give up (Edison), the most important attributes in business are integrity and innovation (Firestone), and radical, risky dreams can indeed revolutionize the world (Ford). Not surprisingly, Uncommon Friends is a popular gathering spot during River District events such as ArtFest Fort Myers, a 3-day art festival that draws more than 60,000 visitors to downtown Fort Myers on the first weekend in February each year.
Location, Measurements and Materials.
The street address of Centennial Park's entrance is 2150 Edwards Drive, Fort Myers, FL 33901.
The fountain's coordinates are longitude 26d 38′ 42.7128″ N and latitude 81d 52′ 21.4962″ W.
The reflection pool has a diameter of 40 feet.
The island on which the sculptures lay, sit and kneel is 20 feet in diameter.
No information has been secured at this time giving the dimensions of Edison, Ford or Firestone.
Sculptor DJ Wilkins indicates that the aquatic life in the reflection pool is "life sized."
The figures of Edison, Ford and Firestone are made of cold cast aluminum.
The figures in the water are made of cold cast bronze.
Fast Facts
Uncommon Friends was dedicated in 1988.
Uncommon Friends was voted the best public artwork by South Florida Gulf Coast Magazine.
Uncommon Friends is widely regarded as the sculptural symbol of the City of Fort Myers.
It was commissioned by the Fort Myers Beautification Advisory Board, which added 21 public artworks to the City's collection during a 20-year span that began in 1983 with the restoration of The Spirit of Fort Myers at the entrance of Edison Park.
Newton's book gave rise to a one-hour PBS documentary on the lives of Edison, Ford, Firestone, Charles A. Lindbergh and James D. Newton which was narrated by Walter Cronkite.
D.J. Wilkins worked in heating, ventilation and air conditioning when he first arrived here in 1975 from Breckinridge, Kentucky, where he was teaching students skills like welding as part of a stint in the Job Corps.
He credits his mother with his choice of Fort Myers. "'Fort Myers is the prettiest place I'd ever seen,' she told me once," DJ recalls.
The seeds of his sculpting career were planted after he "escaped here" when a "hippie friend" on Fort Myers Beach showed him art he'd created out of cypress wood. They rode in a 1960 GMC pickup truck to a Naples art gallery where Wilkins saw sculptures that inspired him.
A Note About Cold Casting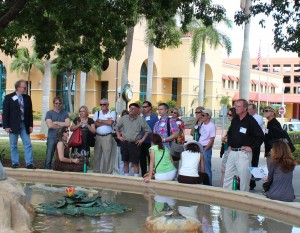 Throughout the annals of art history, sculptors have favored marble, granite, limestone, clay and terracotta together with precious metals and gemstones like gold, silver, ivory and jade. But since antiquity, bronze has often served as the material of choice and this continues to be true today in the case of monumental works. But bronze sculptures cast hot at a foundry are often cost prohibitive to a public art program or artist on a limited budget. So cold casting has evolved as a low cost option. [On left, Wilkins (center) explains cold casting process to members of the Florida Association of Public Art Professionals during their annual convention on May 3, 2012.]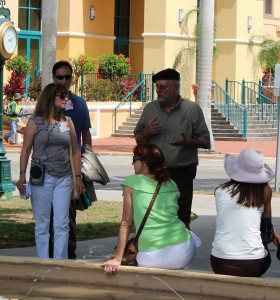 Bronze can still be utilized in the cold casting process, but metals like copper and aluminum have become increasingly popular. Aluminum, in particular, is not only less expensive, it resists corrosion better than bronze or copper, a factor of more than passing importance in a climate subject to extreme heat, humidity and summer rainfall. Both of these factors weighed in D.J. Wilkins decision to use aluminum in Uncommon Friends. [Pictured with Ava Roder, Chairwoman of the City of Fort Myers Public Art Committee (left), with Art Consultant Mark Flickinger of Environmental Design Collaborations (standing behind Roeder), Wilkins discusses conservation and maintenance issues with Florida Association of Public Art Professionals in May of 2012.]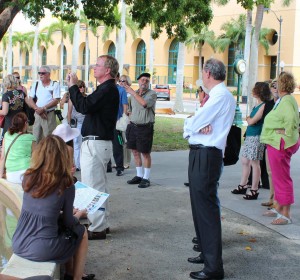 After making his casts for each figure, Wilkins ground aluminum into a fine powder, mixed it with resins and a casting medium which he then painted on the inside of his mold. As the quarter-inch aluminum skin hardened, it bonded with the resins and casting medium, giving the shell strength and creating a surface that could be acid-etched to create intricate detailing and then polished into high sheen that emulates the look of an expensive foundry casting.
Related Articles and Links.