Alliance's Art in Flight Program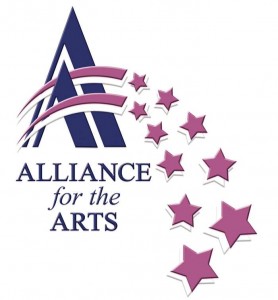 The Art in Flight program brings art to public spaces at Southwest Florida International Airport. It exits pursuant to a partnership between the Lee County Alliance for the Arts and the Lee County Port Authority. Established in 2010 for the purpose of showcasing the diversity of art, culture and community within the Southwest Florida region, the program is available to local and regional cultural organizations, individual artists and collectors who wish to exhibit artwork and artifacts of public interest that demonstrate artistic merit, cultural significance or educational value.
Rationale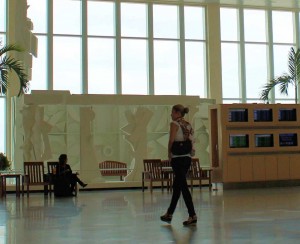 With the establishment of the Art in Flight program, RSW joins the growing number of airports that have converted their often-antiseptic empty terminal spaces into discovery zones where weary, bored and stressed travellers – and their families and friends – can kill time by soaking up a sampling of the local culture and artistic flavor. "People are spending so much more time in airports," observes Indianapolis Museum of Art Director Maxwell Anderson. "They've become a kind of gateway to local culture."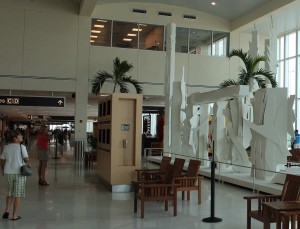 Local artists, arts and cultural organizations, and area museums are more than willing to oblige the airports in their need to provide entertainment for passengers forced to arrive at the airport at least two hours before domestic and three hours in advance of international flights, and whose wait time is often amplified by maddening delays that can be occasioned by anything from bad weather to mechanical problems occurring anywhere in the chain of connections that bring airliners to the the departure gate. Although no official statistics have been compiled to date tying art in airports to increased attendance at art galleries, cultural events or museums, most believe that airport exhibitions are a valuable way for them to reach a captive audience of people who probably don't characterize themselves as museum or gallery goers.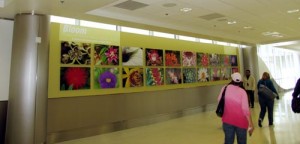 That was the strategy that prompted Fairfield Tropical Botanical Garden to install its BLOOM exhibition in Miami International Airport's North Terminal. "It's an opportunity to acquaint people with what they're going to see on a much larger scale at Fairfield," Bruce Greer told New York Times reporter Dorothy Spears in 2011. The Board of Trustees President  says that through the BLOOM exhibition, Fairchild can introduce art and plants to an entirely new audience, fulfilling its goal of making art tangible to the masses while explaining the purpose of botanic gardens and the role of human beings in this fragile balance.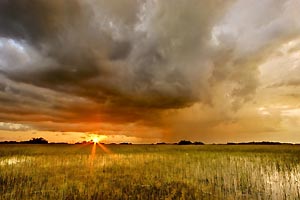 Everglades Foundation Executive Director Stanley Boynton sees the same opportunity. Boynton believes that MIA's inclusion of 24 large-scale photographs taken by recent participants in the Everglades Park Service's artist-in-residence program inspires people to visit the Everglades and support the foundation's efforts to restore the park. "There's no better location in Miami [to advertise the Foundation's work] than the airport," Boynton contends.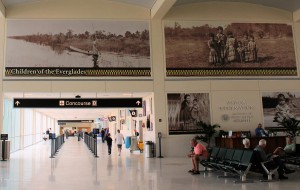 Still, there's no guarantee that bored-to-busy airline passengers will take the time to stop and notice the artworks on display in an airport setting. "We've had to think hard about how to maximize opportunities for people to experience the art and to access the rest of the collection on the basis of one encounter," urban planner and public art consultant Todd Bressie told The College Hill Independent in a recent email interview. "There is a disconnect between where people spend their time (in line, at the gate) and where you tend to see art at airports," which is typically in pre-security locations. But even if only a fraction of the passengers who pass through an airport each day pause for a look, that still means that each exhibit is being seen by far more people than the median attendance for art museums in the United States of roughly 44,000 visitors each year.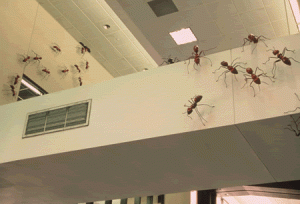 The injection of spectacular, whimsical and unexpected displays of art into normally utilitarian spaces is an easy win for airports as well. Both permanent and rotating exhibits enable congested airports to change their branding from anxiety-inducing no man's lands to large, curated spaces that provide aesthetically pleasing and entertaining art and cultural displays. Comment cards bear this out. Passengers frequently report that airport art helps them alleviate the stress that inevitably builds as they wait in line to get through security. "We get letters all the time from passengers who are surprised to find museum-quality art at an airport," shares David Vogt, who manages the art programme at Hartsfield-Jackson Atlanta International Airport. "Not only do our local passengers appreciate it," adds Dallas/Fort Worth Vice President of Marketing Sharon McCloskey, "but we believe that the artwork helps influence people's decision to use DFW as a connecting airport."
It also helps airports differentiate their facilities from the thousands of similar-looking airports located throughout the country. "Airports may give the impression of being an anonymous building that could be in any city," observes Lee Petrie, curator for the Terminal 1 art program at Toronto Pearson International Airport (YYZ). "[Our] arts and exhibitions program really gives our guests a taste of the cultural vitality of the city and the region so that they really feel that they're in Toronto or they're in Canada. They're seeing what we're all about as a city."
Airport art also serves as visual landmarks and meeting places that help travellers find their way around an airport's various terminals and baggage claims. "As airport designers," explains Noel Best, a principal at Stantec architecture, which has done a lot of work at Vancouver International Airport over the last 20 years,"one of the really important functions of using art in airports, especially commissioned art, is it becomes an integral part of the way-finding and collective memory of the people going through the airport."
The addition of art exhibitions in busy terminals also helps airport vendors. Not only does airport art create a nicer work environment, it's good for business. "While one family member is looking at a show, the others tend to shop and eat [thereby increasing passenger spending in boutiques, gift shops and restaurants]," notes one 2007 Italian airport survey.
Some airports with significant pre-security permanent and rotating collections are even discovering that their venues are becoming day-trip destinations for local residents.
Because of these and a multitude of other benefits, airports are likely to partner ever more increasingly with local museums, galleries, cultural organizations, historical societies, science organizations and design firms for intermediate-length and short-term rotating exhibitions. The exhibitions themselves are likely to be coordinated with increasing frequency with city-wide and regional shows such as art and cultural festivals, anniversary celebrations and major conventions. And to fund the expansion and conservation of existing collections, municipal, county and regional airport authorities may seek percent-for-art ordinances that mandate the allocation of a portion of new construction to airport art.
In the end, these efforts and initiatives will serve to convert airports into artports that benefit passengers, employees, airports and the communities they serve.
Other Art in Flight Programs
Many of America's 4,000 airports have implemented programs to place art in their open spaces. The locations vary from airy atriums, sterile corridors and frenetic baggage claims to unused billboards, moving sidewalks, glass displays, dedicated galleries and open-air gardens. And so do the artworks featured, which range from sculpture and paintings to photography, pottery, weaving and even dinosaur casts. The collections at some airports have become so extensive that they even publish their own guides (Copenhagen Airport), brochures (Dallas/Fort Worth) and catalogues (Amsterdam Schiphol).
Within Florida: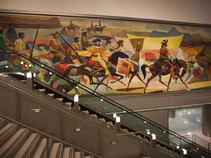 Miami International Airport teams with local museums, cultural institutions and social outreach programs to let the airport's annual 40 million passengers know that Miami has more than just sandy beaches and wild and raucous night life. The largest gateway for visitors from Latin America and the Caribbean, MIA includes among its numerous public artworks two award-winning exhibits, Ghost Palms and Harmonic Convergence, and two murals that have been relocated to MIA from the American Airlines terminal at JFK International Airport.
Located in the airport's international baggage claim, artist Norie Sato's 24-foot tall Ghost Palms covers five window bays along a 300-foot glass wall, expressing the strong structure of the ubiquitous palm trees that dominate the Miami-Dade landscape. The colors in its hand-painted and sandblasted glass were formed by embedded powders that reflect multiple spectrums of light which not only change colors throughout the day, but as passengers move throughout the baggage claim area.
Winner of the interior division of the 2012 Solutia World of Colour Awards, Harmonic Convergence features a 72-foot-long window wall with diamond-shaped panes of colored glass in front of a white structural steel  frame. Visually, Harmonic Convergence envelops viewers with a palette of more than 150 transparent colours that gradually range from deep reds to bright violets (similar to a rainbow). Auditorially, the piece emits a complex set of sounds Boston-based architect Christopher Janney recorded during trips to the Florida Everglades, scuba dives in the ocean, and other natural environments of South Florida. Two video cameras installed in the ceiling feed information to a computer about pedestrian activity within the space, influencing the density of the sound score.
Fort Lauderdale-Hollywood International Airport is seeking an artist in residence to capture for posterity the construction of a 65-foot high, 3,000-foot wide runway as well as expansion of one of its terminals. The artist or team of artists will chronicle the 80-car trains arriving twice daily and fleet of 130 dump trucks that will move and spread the several million tons of crushed limestone required by the $791 million project. The artist's work will remain on permanent display in the airport at the conclusion of this truly "unique opportunity," in the estimation of Broward County Public Art Administrator Leslie Fordham.
Outside Florida: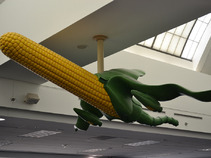 One of the first airports to receive government funding for art back in the 1970s, Hartsfield-Jackson Atlanta International receives between $1 and $2 million annually to maintain and expand its art collection. As a result, the air hub offers plenty of art for busy travellers throughout its six concourses. However, one of its most controversial pieces is Alabama artist Craig Nutt's Corncorde, a wood carving of a corn on the cob flying in the air "inspired by jet airliners, their wings swept back, leaping into flight from the airport's runways.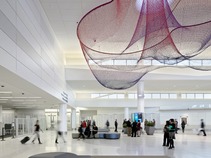 San Francisco International Airport maintains one of the largest airport art programs, budgeting more than $3 million annually for art. SFO's 27 full-time art employees maintain 20 landside (pre-security) gallery spaces with temporary 6-month exhibitions that range from classical paintings to contemporary sculpture. Part of their work involves building custom structures, benches, and other accoutrements for the 40 or so shows they exhibit each year. Established in 1980, the SFO Museum is the only airport collection in the nation to receive American Association of Museums accreditation. Like many airports around the country, SFO's artworks are funded by an art ordinance that allocates two percent (2%) of the cost of constructing or renovating civic structures to art acquisition and maintenance.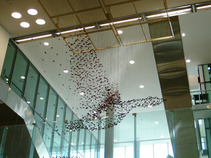 Since July, 1988, Philadelphia International Airport has maintained a visual arts initiative "to provide visibility for Philadelphia's unique cultural life, and to enrich the experience of the travelling public." The gateway currently has 17 rotating exhibitions and nine permanent artworks spread across seven terminals. Together, they cover subjects as varied as the city's baseball legends, the history of the Stars and Stripes, and "cultural static and all the noise and all the distractions in our lives." The latter point is driven home by a 20-panel, 30-foot long by 9-foot tall mural made by Philadelphia resident James Dupree whose vibrant paint colors, glosses, varnishes and embellishments stop passengers in their tracks.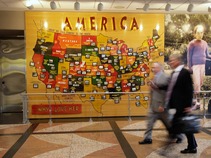 Denver International Airport a number of permanent art exhibits on display in its public spaces, including Luis Jimenez' 9,000-pound bright blue, red-eyed sculpture Mustang, which greets drivers as they approach DIA and is the last thing visitors see as they depart the airport. Much of DIA's art is placed strategically at key points along the passenger's path through the airport in order to provide a continual chain of cohesively soothing or diversionary images.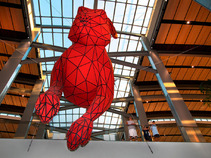 While only a mid-sized airport, Sacramento International Airport nevertheless maintains a world-class art program that contains more than 20 permanent exhibits including a controversial sculpture by Lawrence Argent, a 56-foot-long fiberglass red rabbit leaping from the rafters into a stone suitcase on the floor, and Brian Goggin's Samson, two 23-foot tall pillars made from 1,400 pieces of luggage stacked on two wheeled carts that is installed in Terminal A's baggage claim.
The Phoenix Airport today boasts a collection that numbers around 650 and includes 24 exhibition spaces that showcase Arizona's cultural resources. Says programme director and curator Lennee Eller, "It's about building a legacy for the community we serve, and the airport community we work within."
Las Vegas McCarran also offers a wide-ranging airport art program. "Artwork … is a fantastic way to show visitors there's more to Las Vegas than the things they experience on the strip," states McCarran deputy director Rosemay Vassiliadis.
About Southwest Florida International Airport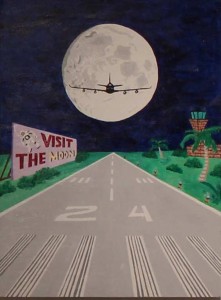 Southwest Florida International Airport (RSW) was certified for operation in May 1983. In response to over two decades of record-breaking growth, a bright, modern, state-of-the-art terminal opened in 2005. This award-winning facility was designed with today's traveler in mind and tomorrow's opportunities in view. RSW served more than 7.5 million passengers in 2011 and is one of the top 50 U.S. airports for passenger traffic. Today, 18 airline partners serve RSW with nonstop service throughout North America and international service to Canada and Germany. With flights to major gateways like Atlanta, Chicago, New York and more, travelers have access to convenient connections worldwide.
Previous Art in Flight Exhibitions
Previous Art in Flight exhibits have included:
Children of the Everglades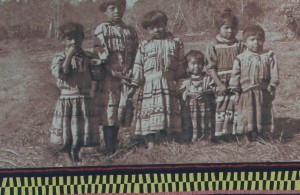 Children of the Everglades was part of the Alliance for the Arts' Art in Flight program from ___ to ____. It consisted of large scale photographs from the W. Stanley Hanson and Robert D. Mitchell Collection of Seminole Indian Photographs, which is archived at the Smithsonian Institution's National Anthropological Archives. The exhibit provided air travellers with a glimpse into the lives of the Seminole-Miccosukee Indian children as well as authentic artifacts such as patchwork dresses and jackets, sweet grass or pine needle baskets, palmetto dolls and historical documents.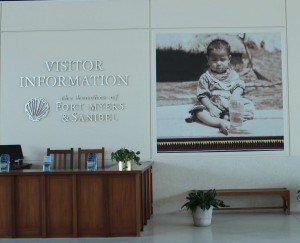 W. Stanley Hanson was the son of a turn-of-the-century Fort Myers doctor. Better known as the "White Medicine Man," Hanson grew up among the Seminole-Miccosukee Indians and became a trusted friend and advocate. Throughout his life, he worked tirelessly to defend the tribe's land and traditional way of life, served as a translator, and provided food and medicine to the tribe. In 1937, Hanson became a Seminole guide and interpreter under President Franklin D. Roosevelt's administration. The photographs and documents in the Hanson Family Archives provide a unique insider view of Seminole-Miccosukee Indian life and the fascinating relationship between these American Indians and the "White Medicine Man."
Additional sponsors for the Children of the Everglades exhibit included the Smithsonian Institution, Family Thrift Center, Carter-Pritchett Advertising, Scott Carter Signs, Owen Studio and MMT Printers.
Fly Me to the Moon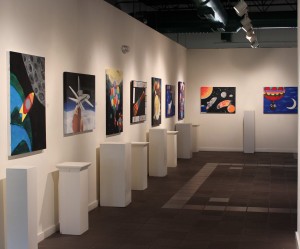 Between May 11, 2011 and the end of April, 2012, a 32-piece exhibition titled Fly Me to the Moon hung at the airport as part of the Art in Flight Program. The artworks were created by Lee County students who were challenged by their art instructors to create pictures depicting their solution to a question posed in 1865 by Impey Barbicane to his Baltimore Gun Club society members: "How would you get to the moon?" Following its run at Southwest Florida International Airport, the exhibition was placed on display through September 29 2012 in the main gallery of the Alliance for the Arts, where individual pieces were subject to a silent auction, with a portion of each sale going to benefit the art programs of the participating schools.
TURN, TURN, TURN: The Artistic Synthesis of Vinyl into Art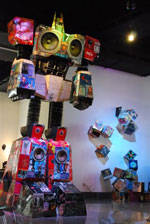 After purchasing an abandoned storage unit containing 60,000 vinyl records, renowned Captiva artist Rene Miville faced the tough question of what to do with all those records. Miville, a fine artist and former Vogue photographer who co-owns The Franklin Shops on First in the downtown Fort Myers River District, put out a call to artists in South Florida to create art using vinyl records, album covers, or both. During a five month period, he received entries from all over the state. Their collected work, 30 artists all together, is called "Turn, Turn, Turn – the Artistic Synthesis of Vinyl to Art." Select pieces were displayed in the Southwest Florida International Airport.
God Bless America Flag
On September 11, 2009, Matlacha artist Leoma Lovegrove painted a 10×18 foot American flag in her trademark expressionist style during an event at the Broadway Palm Dinner Theatre commemorating those who lost their lives in the attacks on the World Trade Center and those who conducted rescue efforts at Ground Zero. The canvas was hung in Concourse D, where it reminded travellers until September of 2011 of the reason for the enhanced security measures they are required to endure when boarding domestic and international flights. Lovegrove emblazoned the lyrics of "God Bless America" on the flag itself and smaller canvases painted by audience members who seized the opportunity to express their own feelings about that historic day surrounded the work.
About the Alliance for the Arts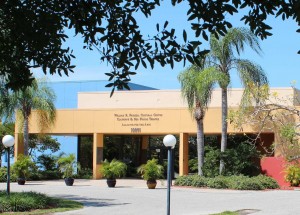 Located in Fort Myers, the Alliance for the Arts is the officially designated arts organization for Lee County. Founded in 1975 by community leaders such as David Robinson and Barbara B. Mann, the Alliance for the Arts was created to foster the growth of local arts. The Alliance's 10-acre campus and galleries are open to the public from 9:00 a.m. to 5:00 p.m. Monday through Friday and from 9:00 a.m. to 1:00 p.m. on Saturdays. Both are located at 10091 McGregor Boulevard, just south of Colonial Boulevard in Fort Myers. If you're not already a member, join today.
About the Lee County Port Authority
The Lee County Port Authority was established in 1987 to operate Southwest Florida International Airport and Page Field. The Port Authority is an enterprise fund, totally supported by revenue generated from its  operations. No ad valorem (property) taxes are used in airport operations or expansion.
The Port Authority is governed by a five-member Board of Port Commission (Lee County Commissioners). The commissioners are elected for four-year terms by voters throughout Lee County, each represents a specific geographic district. The Airports Special Management Committee serves as an advisory board to the Port Commissioners, reviewing policy, administrative and management matters for both airports. Each commissioner appoints one committee member. The committee also includes two regional members who represent the interests of neighboring Collier and Charlotte counties. These citizens share their business experience, expertise in their particular fields, and knowledge of the Southwest Florida market for the benefit of the airports and the entire region.
Fast Facts.
Guidelines for submitting an exhibit for inclusion in the Art in Flight program are posted at http://www.artinlee.org. Follow the link "For Artists" or call 239-939-2787.
The May 20, 2011 opening reception for "Fly Me to the Moon" featured a live performance of "Amelia Earhart" by Florida Rep's Lunchbox Theatre Series.
Related Articles and Links