River District Alliance Director and author Jared Beck records Otocast audio for Tootie McGregor Fountain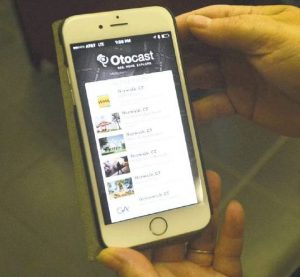 The City of Fort Myers is about to launch a free phone app that will enable users to learn about all the public artworks that are interspersed throughout the town. Called Otocast, the app contains text and historic photos for each covered artwork. But the app's centerpiece is an audio recording made by the artist who created the piece or someone who is intimately familiar with the artwork and the stories it recounts. By virtue of this audio component, Otocast is like having your very own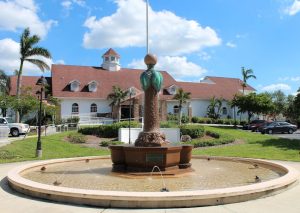 tour guide who knows the coolest facts and behind-the-scenes stories about the art pieces you see all around you.
One of those artworks is the Tootie McGregor Fountain, which is located on McGregor in the parking lot outside the Edison Restaurant at the Fort Myers Country Club. The fountain was Fort Myers' very first public artwork. But the City did not commission it.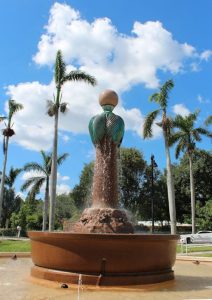 Rather, Tootie McGregor's second husband, Dr. Marshall O. Terry, had it carved and installed to commemorate the important role his wife played prior to her death in 1912 in converting Fort Myers from a rough-and-tumble cow town into a tourist destination characterized by top-flight, world-renowned hotels.
Tootie McGregor Terry was an astute business woman during an era in which industry and civic leadership was dominated by men. In particular, she not only took a leadership role in the town's leisure and entertainment industry, was instrumental in having property owners install a sea wall that ran from Monroe Street all the way to Billy's Creek,
and initiated a five-year period of road building that led to the business district and adjoining residential neighborhoods finally getting hard-surfaced roads. In spite of her numerous groundbreaking accomplishments, Tootie remained humble and self-deprecating – as the plaque at the base of the fountain underscores. Quoting Tootie, it says, "I only hope the little I have done may be an incentive to others to do more."
To record the Otocast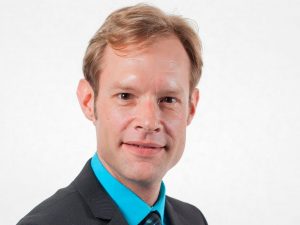 audio that tells Tootie's story and gives the history of the fountain that pays homage to her today, the Fort Myers Public Art Committee tapped former Chairman Jared Beck. Not only did Jared play an crucial role in persuading the City to install the Otocast phone app during his tenure on the Public Art Committee, he has long sought to draw attention to the contributions that Tootie McGregor Terry made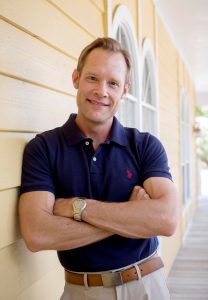 to the growth and development of Fort Myers and all of Lee County.
Beck serves as the Director of the River District Alliance, is employed as a Project Manager by Stantec Community Development (where he focuses on urban design, reinvestment and redevelopment design), and is the co-author of River & Road, a visual and narrative history of the architectural evolution and urban development of Southwest Florida as shown in Fort Myers, Florida. Written with Pamela Miner, River & Road won the 2017 Richard E. Rice Gold Medal Award for Visual Arts. It is available on Amazon, as well as in area bookstores and in the Edison Ford Winter Estates gift shop.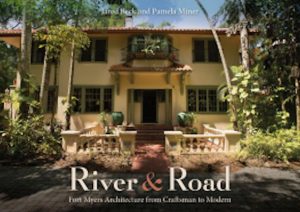 June 19, 2018.
RELATED POSTS.