IMAG History & Science Director Matt Johnson records Otocast audio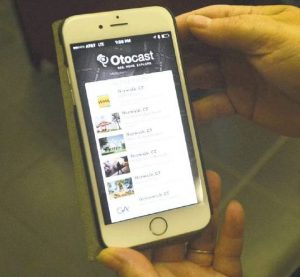 The City of Fort Myers is about to launch a free phone app that will enable users to learn about all the public artworks that are interspersed throughout the town. Called Otocast, the app contains text and historic photos for each covered artwork. But the app's centerpiece is an audio recording made by the artist who created the piece or someone who is intimately familiar with the artwork and the stories it recounts. By virtue of this audio component, Otocast is like having your very own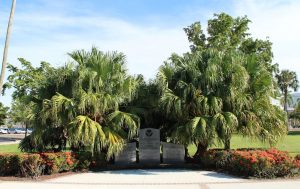 tour guide who knows the coolest facts and behind-the-scenes stories about the art pieces you see all around you.
One of those artworks is the Buckingham & Page Army Air Field Monument that is located in Centennial Park. Casual visitors to the park often miss the monument. It is tucked into a stand of overgrown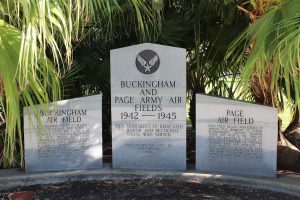 palm trees where a stretch of sidewalk meanders along the shoreline of the Caloosahatchee River between the Uncommon Friends fountain and the USCT 2nd Regiment Memorial that is popularly known as Clayton.
The Monument consists of the propeller from an World War II era fighter and three granite markers that pay tribute to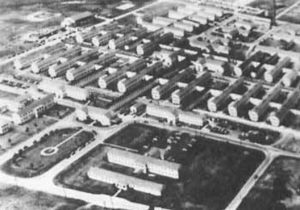 two air fields that were established in Lee County during World War II to train pilots, gunners and bombardiers. The largest was the Buckingham Army Air Field. Located upriver in Buckingham, it consisted of more than 65,000 acres, much of which was used for purposes of enabling crews to practice bombing runs. The other was Page Field. It was much smaller than its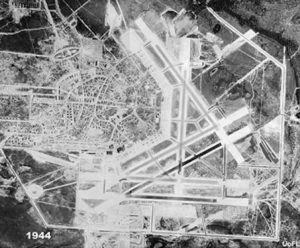 Buckingham counterpart, but no less important. Page Field served as a training base for P39, P40, P47 and P51 fighter pilots.
An audio for the phone app that informs the public about the Monument has been recorded by the Executive Director of Fort Myers' IMAG History & Science Center, Matt Johnson. Matt has a special connection to the two army air fields. He and journalist Chris Wadsworth co-authored a book on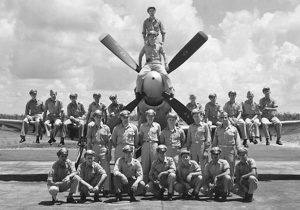 the Buckingham Army Air Field and knows more about the Buckingham & Page Army Air Fields than just about anyone living in Southwest Florida. In the audio, Matt shares interesting, little known facts about the air fields and describes the impact that they had on the growth and development of Fort Myers in the post-war years.
Matthew Johnson is a long-standing leader in the culture and heritage communities of SWFL.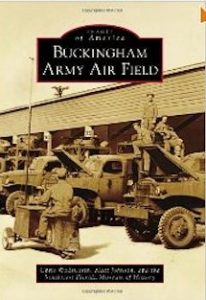 After receiving a degree in History from Florida Gulf Coast University in 2001, he was appointed Director of the Southwest Florida Museum of History and the Imaginarium Science Center in 2005. During his 16 years with the City of Fort Myers, he developed these museums into important community treasures under the Department of Cultural and Historic Affairs.
Matt has also directed many other City facilities and departments during his tenure with the City, including the historic Murphy-Burroughs and Langford-Kingston homes, the Harborside Event Center and the Community Development Department. He additionally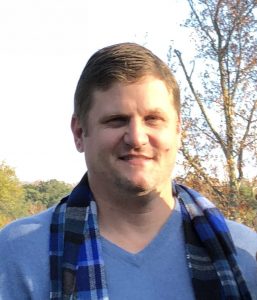 served as interim Assistant City Manager prior to leaving the City in 2017.
Johnson recently oversaw the combination of the Southwest Florida Museum of History and the Imaginarium. Rebranded as the IMAG History & Science Center, the facility is a new cutting-edge Center for learning about our world and community. Managed by the non-profit Imaginarium Group, Matt serves as Executive Director of IMAG.
June 19, 2018.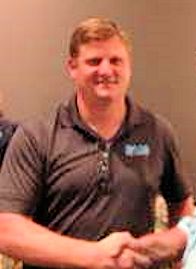 RELATED POSTS.