Spotlight on Fort Myers' Ward 3 art hub at IMAG History & Science Center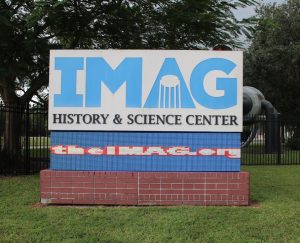 For more than a year, the Fort Myers Public Art Committee has been establishing art hubs in each of the City's six wards using the 23 Edgardo Carmona sculptures that the City purchased in August of 2018. One such art hub is IMAG History & Science Center in Ward 3. On April 25th, the Committee moved Duo Sinfonica or Man Playing Flute and Utopia or Boy Fishing from a Bucket to IMAG, which is an ideal art hub partner.
The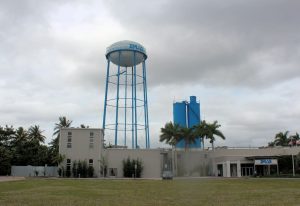 term art hub refers to a location that is already or which is intended to become either a cultural, business or residential destination. For more than twenty-five years, the IMAG History & Science Center has been inspiring generations of Southwest Florida families and children through science, technology, engineering, and mathematics (STEM education), as well as history, arts and humanities.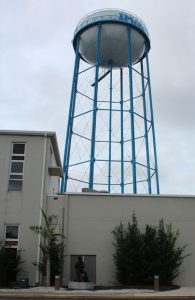 This family-friendly destination features interactive exhibits (such as Weather Hall), activities, aquariums, history displays, science shows, 3D movies, animal encounters (including the stingrays in the SEA-to-SEE Touch Tank), virtual and augmented reality experiences, Science on a Sphere and more.
Scores of people visit IMAG each year, and now they will also be exposed to two examples of public art from the City's permanent outdoor collection. While the City's Public Art Committee anticipates that residents and vacationers frequenting IMAG will certainly enjoy Boy Fishing from a Bucket, which is located within steps of IMAG's front doors, it also hopes that motorists traveling along Martin Luther King, Jr. Boulevard will notice,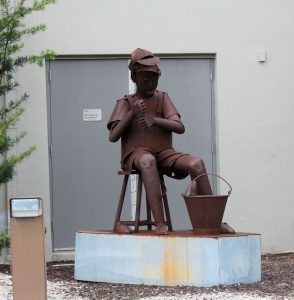 and be intrigued to find out more about, Man Playing Flute, which leans on a brick pillar anchoring IMAG's wrought-iron fence facing McCollum Hall. The latter is Register-of-Historic-Places landmark that is home to a 17-panel mural that pays tribute to the venue's inclusion as a Chitlin' Circuit stop from 1938 through the '60s and '70s where a number of legendary African-American musicians entertained enthusiastic crowds.
To encourage the public's interaction with these artworks, both have been included on Otocast, a free mobile app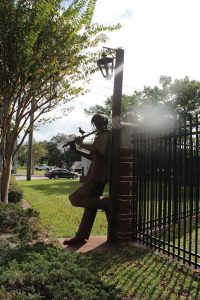 that includes text, photographs and audios that provide information and behind-the-scenes stories about the City's public artworks and the artists who created them. An audio summarizing the important contribution that fishing made to Fort Myers' founding, growth and development as a tourist destination recently went live and the audio for Man Playing Flute is in the process of being recorded and uploaded. Anyone with a smart phone has access to these tales, as well as little know tales and trivia about 30 of the City's other outdoor public artworks.
For information about some of these artworks and art hub locations, read the articles appearing below or download and enjoy Otocast.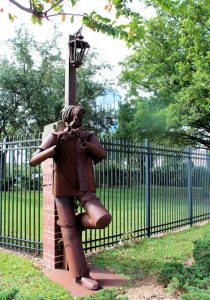 August 29, 2022.
RELATED ARTICLES.