'Fire Dance' turning gray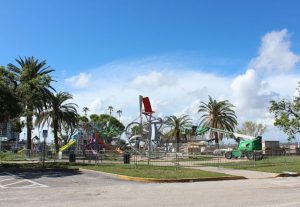 We're all a little grayer these days, right? But the 25-foot-tall Dupont red modern sculpture in Centennial Park West known as Fire Dance has turned almost entirely gray. It's all part of the artwork's make-over. The 11-year-old sculpture has faded pretty badly in spite of UV protection being added to the paint that Ohio artist David Black used back in 2011.
Noel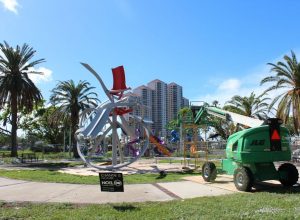 Painting is doing the honors. One of the largest and most respected painting contractors in the entire state, Noel Painting has tackled everything from modest family homes and multi-million-dollar estates to Publix grocery stores, Harley dealerships, high-rise condos, major hotels and the Alliance for the Arts. Under the direction of father-son team Steve and Travis Noel, the company has built a reputation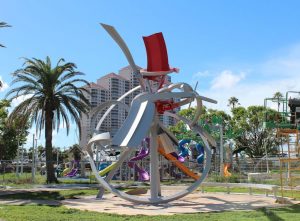 over the years for blending traditional craftsmanship with current technologies.
The gray color is actually primer. The primer will ensure that the topcoat adheres to the metal and also fills in the scrapes and gouges inflicted on the metal over the years by skateboarders.
Once completed, the primer must cure for three days. After that,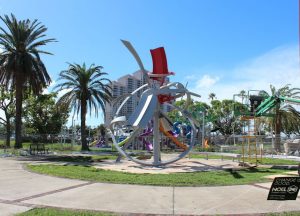 Noel will conduct an adhesion test to make sure that the metal is ready to accept a fresh coat of paint. However, Noel won't be using Dupont this time. Instead, it will be applying a product called NeverFade and Metal Topcoat, which contain Kynar Aquatec. Kynar incorporates a polymer that prevents the penetration of UV sunlight into the pigment and underlying aluminum.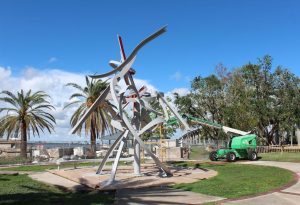 Decades of field tests and studies reveal that the patented chemical enables the pigment to retain its color not just for years, but for decades. Even better, surfaces painted with NeverFade, also resist scratching and gouging and corrosion of the underlying metal, which should extend the life of the sculpture.
Fire Dance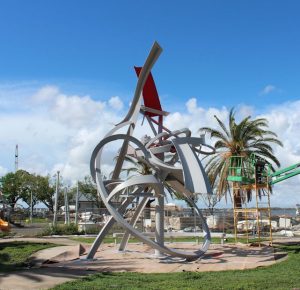 was the first commission awarded to an artist by the City of Fort Myers Public Art Committee. Conceived and fabricated by Ohio-based proto-architectural sculptor David Black, its medley of circles, spirals and counterbalances represent the park's energy and vitality during concerts and similar events.
Noel anticipates completing work on the sculpture before Thanksgiving.
More information on Fire Dance is available on the City's free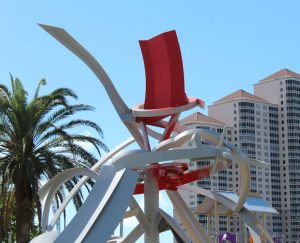 mobile phone app Otocast.
November 11, 2022.
RELATED POSTS.