Noel Painting begins work today on 'Fire Dance' sculpture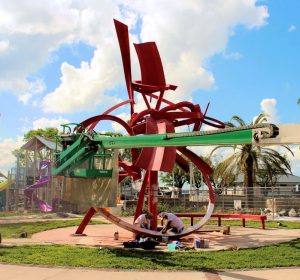 Noel Painting began work today on Fire Dance, the 25-foot-tall modernist sculpture located in Centennial Park West where Bay empties into Heitman Street. The sculpture is being sanded, primed and repainted using APV NeverFade and Metal Topcoat with Kynar Aquatec that is expected to preserve the sculpture's bright red color for decades, rather than a mere matter of years.
NeverFade and Kynar Aquatec are proprietary products that are only made available to select painting contractors. To qualify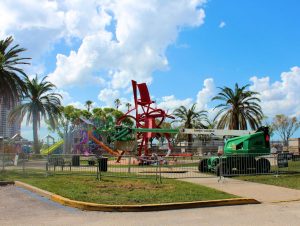 as an approved applicator, Noel Painting had to go through a company-provided training process that included a job site mock-up during which Kynar representatives taught them how to prepare the sculpture's surfaces and apply the special primer that will not only accept the topcoat, but protect the underlying aluminum from corrosion and spalling. NeverFade and Kynar Aquatec possess patented polymers that prevent UV sunlight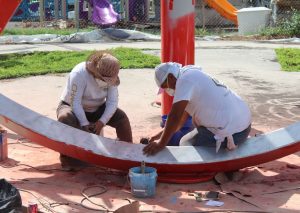 from penetrating painted surfaces which, in turn, facilitates color retention, withstands abrasion and encourages resistance to salt spray, dirt, mold and mildew.
Noel anticipates that it will take upwards of three weeks to complete work on the sculpture, with a week or more being reserved for sanding and removing the
gouges and abrasions inflicted by skateboard trucks and wheels over the years.
Fire Dance will temporarily turn colors during the painting process. That's because the primer is gray and must cure for three days. At the end of the curing period, Kynar representatives will conduct an adhesion test before allowing Noel to apply the red NeverFade and Metal Topcoat to the piece.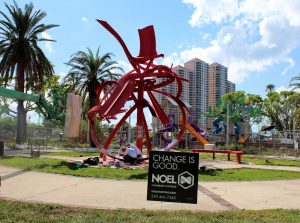 One of the largest and most respected painting contractors in the entire state, Noel Painting has tackled everything from modest family homes and multi-million-dollar estates to Publix grocery stores, Harley dealerships, high-rise condos, major hotels and the Alliance for the Arts. Under the direction of father-son team Steve and Travis Noel, the company has built a reputation over the years for blending traditional craftsmanship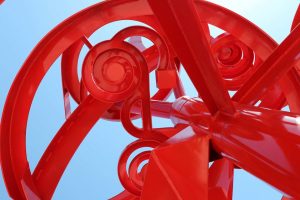 with current technologies.
Fire Dance was the first commission awarded to an artist by the City of Fort Myers Public Art Committee. Conceived and fabricated by Ohio-based proto-architectural sculptor David Black, its medley of circles, spirals and counterbalances represent the park's energy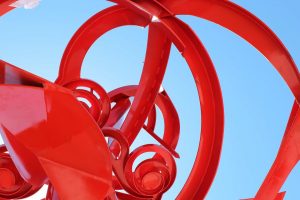 and vitality during concerts and similar events.
"My wife, Karlita, and I first visited Centennial Park at night," Black recounts. "We walked right into a jazz festival. Fire Dance incorporates the sounds of the music and the noise of the crowd. Circles within circles, it's active, open, airy and rhythmic,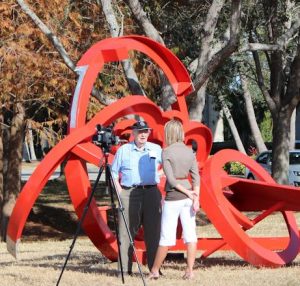 just like jazz."
Originally from Gloucester, Massachusetts, Black also included some blades and sails in his design in order to make reference to the sculpture's location close to the banks of the Caloosahatchee River.
"It is my hope that Fire Dance will lift each viewer's spirits and deepen their sense of community with Fort Myers by engendering a sense of civic pride," Black adds. It's a particularly poignant sentiment given the debris and detritus that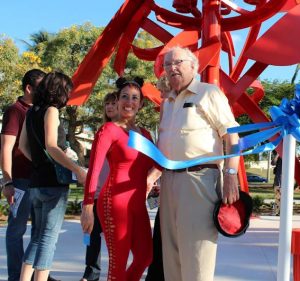 surrounds the sculpture compliments of the surge that accompanied Hurricane Ian.
More information on Fire Dance is available on the City's free mobile phone app Otocast.
November 1, 2022.
RELATED POSTS.