'Other Desert Cities' play dates, times and ticket information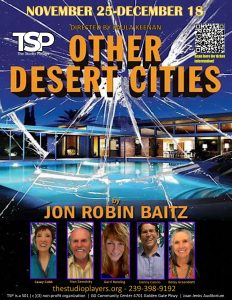 Play:  Other Desert Cities
Playwright:  Jon Robin Baitz
Genre:  Dramedy
Synopsis:  When the Wyeths' daughter Brooke returns home to Palm Springs after a six year absence to celebrate Christmas with her parents, her brother, and her aunt, they discover that she is about to publish a memoir dredging up a pivotal and tragic event in the family's history – a wound they don't want reopened.
Awards:  Outer Critics Circle Award for Outstanding New Off-Broadway Play; five Tony Award nominations; Pulitzer Prize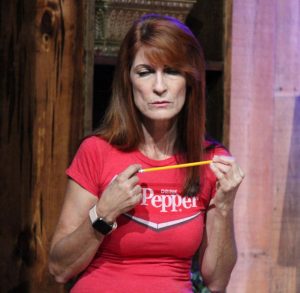 finalist.
Director:  Paula Keenan
Cast:
Play Dates and Times:
7:30 p.m. performances:   November 25 & 26 and December 8, 9, 10, 15, 16 & 17
3:00 p.m. matinees: November 27 and December 11 & 18.
NOTE: There are no performances of Other Desert Cities on December 1-4 due to Snow Fest at the Golden Gate Community Center.
Tickets: $30; please call 239-398-9191 or visit https://www.thestudioplayers.org.
Place:  Joan Jenks Auditorium at Golden Gate Community Center, 4701 Golden Gate Parkway, Naples, FL 34116.
November 1, 2022.