Lovegrove's Freedom Painting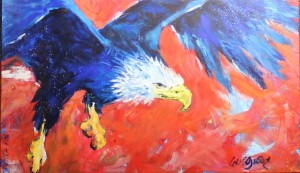 Freedom is a 3 x 5 foot painting of an American eagle rendered by Matlacha artist Leoma Lovegrove. It hangs inside the City Council Chambers at the Oscar M. Corbin, Jr. City Hall and is part of the City of Fort Myers public art collection.
Lovegrove painted the canvas live during the preliminaries of the Second Annual Southwest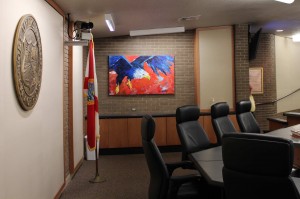 Florida's Got Talent Contest held July 25, 2010 at the Edison Restaurant in the Fort Myers Country Club on McGregor Boulevard. "In the time it took Leann Rimes to belt out God Bless America, Lovegrove had painted the bald eagle in front of Judges Randy Henderson, Mayor of Fort Myers; Fort Myers Chief of Police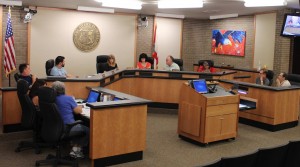 Douglas Baker; Pam Cronin, Vice President of Fund Stuff at the Shell Factory; and "Wild Bill" Woods of Fox-TV's Morning Blend," Lovegrove's publicist Fran Thomas said in a press release the following morning. "I left the beak and feet for the end," Lovegrove said. "As the song was ending, the audience let out a gasp when they recognized the eagle." (Lovegrove went on to take third place during the finals of the competition, which took place on October 2, 2010 at the Hyatt Regency Resort in Estero.)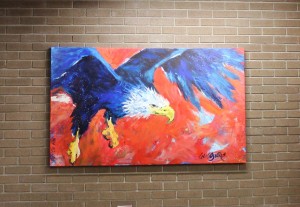 She donated Freedom to the City of Fort Myers during a city council meeting on November 15, 2010. "I met the mayor before the contest and felt he was very patriotic," said Lovegrove of her decision to make the gift. "Because of that, I wanted the city to have the art under Henderson's watch."
About Leoma Lovegrove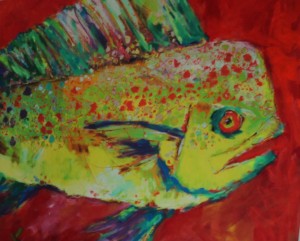 Leoma Lovegrove is known for expressionist works characterized by exuberant strokes (applied to canvas not only via brushes of all sizes and shapes, but with her fingers and hands as well) and a palette bursting with vivid tropical color. While she is popularly associated with Florida motifs that include birds, fish, palms and coconuts, Lovegrove easily adapts her quasi-impressionist style to both portraiture and entertainment art. Her subjects have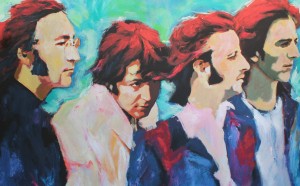 included former President Jimmy Carter (whose portrait hangs in his presidential library in Atlanta) and Sir Richard Branson (whose portrait she rendered for Virgin Airlines' headquarters in London). And while Johnny Depp and Steven Tyler remain collector favorites, her Beatles Series was so well-received that it drew the attention of the City of Liverpool.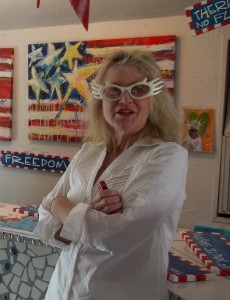 The presidential library of George W. Bush also includes Lovegrove's work, as do the private collections of actress Sharon Stone and actor Jesse Metcalf. To commemorate the unification of East and West Germany, Lovegrove's work Focused was presented to the Consul General of the Federal Republic of Germany, Eva Alexandra, Countess Kenderffy. Lovegrove has garnered reviews in numerous magazines and art publications, and she was featured in February of 2012 in Galileo, a German television show that is viewed by more than 2.5 million people in five countries.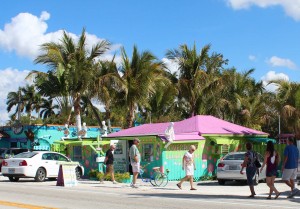 Lovegrove maintains her gallery, studios and botanical gardens in picturesque Matlacha, a popular tourist destination for visitors to southwest Florida. However, many art enthusiasts and collectors have become familiar with her work through her Painting Out Loud performances, during which Lovegrove completes an entire composition in a matter of minutes before a live audience to the accompaniment of inspirational music and a multi-colored light show. Freedom was created during such an event,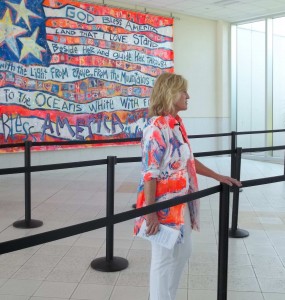 as was Remember 9-11, a 10×18 foot painting of the American flag that Lovegrove painted before more than 200 guests who had gathered locally in 2009 to commemorate the anniversary of the attacks on the World Trade Center and the Pentagon. Following that performance, the painting was displayed for nearly three years at the Southwest Florida International Airport as part of its Art in Flight program, where it served to remind air travellers of the reason for the enhanced security measures now in effect at all U.S. airports.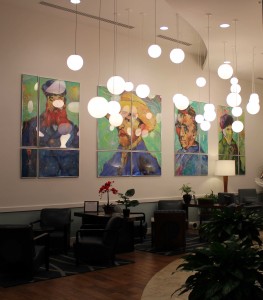 Currently, Lovegrove's new work, Shine On, hangs in Concourse D at Southwest Florida International Airport, part of Art in Flight's Honor, Country & Heroism exhibition, and her homage to the father of expressionism, Vincent van Gogh, is on display in the lobby of Hotel Indigo in the downtown Fort Myers River District. Other works have graced the windows of New York's Rockefeller Center.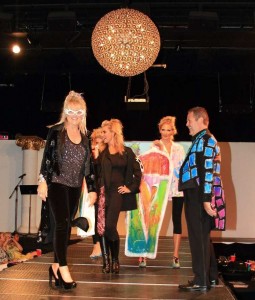 Lovegrove possesses a degree in illustration from the Ringling School of Art & Design in Sarasota, and has studied at ArtStudy Florida and the Guild de Beaux Arts and ArtStudy Giverny in France. She returns to Europe each spring to recharge her artistic batteries by sketching, drawing and painting in the cradle of the impressionist and expressionist movements. Lovegrove currently has a line of art wear under development that will be introduced by Beall's of Florida in 2013.
Fast Facts.
Freedom is registered along with the rest of the Fort Myers public art collection on cultureNOW.org, an online registry of public artworks, historical buildings and cultural landmarks based in New York City, New York.