Spotlight on River Basin muralist Donna Kreutz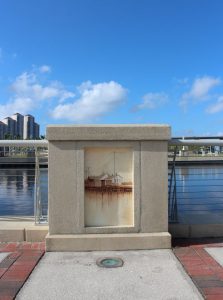 Mural #34 depicts the Atlantic Coast Line Railroad Pier that once extended from the foot of Monroe Street into the Caloosahatchee River. The mural was painted by local artist Donna M. Kreutz.
Donna is a realist painter whose art is influenced by her work in advertising, telecommunications, business analysis, corporate training, healthcare, banking and the travel industry.
She is currently employed as a villa agent for SunVillas, a company that represents more than 160 luxury villas in Jamaica.
Donna feels strongly about giving back to her community. In this role, she serves as President and a board member of Soroptimist International of Santa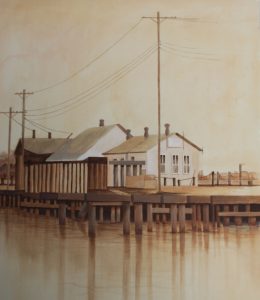 Clarita Valley in California, Co-President of the SWFL Chapter of Splashes of Hope (a charitable organization that creates whimsical art to brighten the environment and lift the spirits of those going through difficult times in discharge of its overall mission of taking people "from clinical to colorful") and a volunteer with the Arts in Healthcare program at Lee Health.
Donna is married to a professional artist who also has a mural (#29) in the River Basin project. Donna and Bill met as art students and often collaborate on art-related projects.
July 26, 2023.