The Great Turtle Chase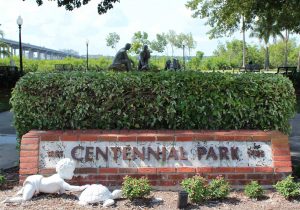 Centennial Park is Fort Myers' beautiful ten-acre community park located on the scenic banks of the Caloosahatchee River. You can't miss the entrance. It is demarcated by a red brick bordered sign. At the sign's base is a white marble sculpture called The Great Turtle Chase. Dedicated in 1990, it was cast by D.J. Wilkins, who former mayor Art Hammel once proclaimed as "the official sculptor of Fort Myers" because of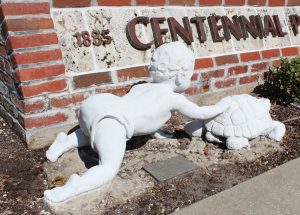 the numerous (23) representational sculpture he has created for the city over the years.
"When we built the Centennial Park sign," Wilkins reports, "I was looking for a symbol to represent the change of centuries and settled on this. The baby symbolizes the new century coming in and the turtle represents the old, outgoing century."
About D.J. Wilkins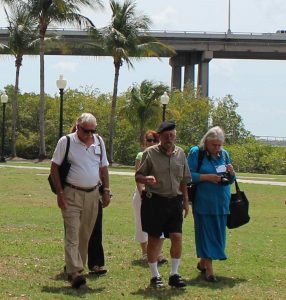 Some of Wilkins other sculptures in and around the downtown Fort Myers River District include Uncommon Friends and Clayton (also in Centennial Park), The Harborside Collection (seven busts including Chief Billy Bowlegs, Francis Asbury Hendry, Tootie McGregor Terry, Paul L. Dunbar, Connie Mack, Thomas Edison and James D. Newton), The Florida Panther (in the median on Monroe outside the Harborside Event Center), a bust of Henry Ford and heroic size statues of Thomas Edison, Mina Edison and Henry Ford at the Edison & Ford Winter Estates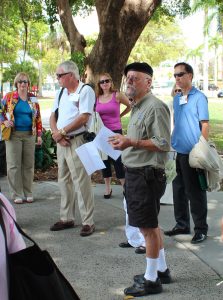 (known as the Edison Ford Estates Collection), sculptures of Thomas Edison for both the Lee and Collier campuses of Edison State College, and the Wes Nott Statue on the campus of Lee Memorial Hospital.
Wilkins has also played an instrumental role in restoring several of Southwest Florida's public sculptures including The Spirit of Fort Myers at the entrance to Edison Park, theTootie McGregor Fountain in front of the Edison Restaurant at the Fort Myers Country Club and the Iwo Jima Memorial in Eco Park on Veteran's Parkway in Cape Coral.
Location, Measurements and Materials.
Centennial Park's entrance is located at 2150 Edwards Drive, Fort Myers, FL 33901.
Its coordinates are longitude 26d 38′ 42.7128″ N and latitude 81d 52′ 21.4962″ W.
The crawling baby measures 34 inches in length, 16 inches in height and 16 inches at its widest point.
The turtle is 19 inches long, 13 inches wide and 7 inches in height.
According to sculptor D.J. Wilkins, the cast marble from the baby and turtle were made is a composite consisting of 30 percent acrylic-modified polyester resin and 70 percent four-blend ground marble.
Fast Facts
The Great Turtle Chase was commissioned by the Fort Myers Beautification Advisory Board, which added 21 public artworks to the City's collection during a 20-year span that began in 1983 with the restoration of The Spirit of Fort Myers at the entrance of Edison Park.
D.J. Wilkins worked in heating, ventilation and air conditioning when he first arrived here in 1975 from Breckinridge, Kentucky, where he was teaching students skills like welding as part of a stint in the Job Corps.
He credits his mother with his choice of Fort Myers. "'Fort Myers is the prettiest place I'd ever seen,' she told me once," DJ recalls.
The seeds of his sculpting career were planted after he "escaped here" when a "hippie friend" on Fort Myers Beach showed him art he'd created out of cypress wood. They rode in a 1960 GMC pickup truck to a Naples art gallery where Wilkins saw sculptures that inspired him.
When it came time to cast the infant, Wilkins decided to use his daughter, Elizabeth, as the muse. Today, Elizabeth is still chasing turtles. Working for the fourth largest engineering firm in the world, her field work often involves surveying potential construction sites for burrowing owls and gopher tortoises and finding the later homes in protected habitats.
November 19, 2018.
RELATED POSTS.
Great Turtle Chase's conservation now complete