'Uncommon Friends' fountain grazed by drunk driver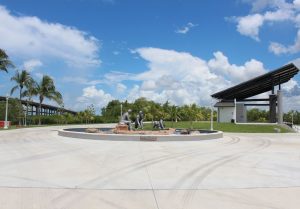 After being inundated by storm surge generated by Hurricane Ian, the Uncommon Friends fountain in Centennial Park East suffered another close call Monday night when a drunk driver grazed the outer wall of the installation.
The fountain is a tribute to the bond shared by three of Fort Myers' most famous winter residents, Thomas Edison, Henry Ford and Harvey Firestone.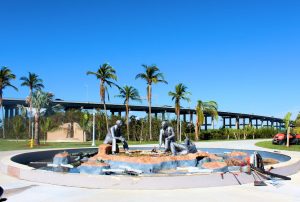 The inventors are depicted lounging around a campfire during a trip into the Florida Everglades in 1914. Commissioned by the City's Beautification Advisory Board, the late Don "D.J." Wilkins depicted the inventors on an island surrounded by aquatic wildlife that includes a mother alligator and her five babies, a manatee and her calf, otters, 16 fish, four floating lily pad groupings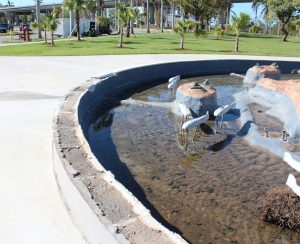 and a dozen frogs that serve as fountainheads.
Neither the inventors nor any of the inhabitants of the pool surrounding them were injured in Monday night's accident, which caused the loss of eleven of the limestone coping slabs that adorn the top of the wall surrounding the reflection pool. However, Ian left a residue of slimy black river mud at the bottom of the freshly cleaned and painted pool and the receding water caused the reclining figure of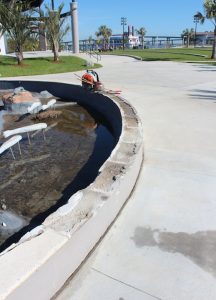 Thomas Edison to tilt forward slightly.
Parks & Recreation plans to straighten Edison, clean up the fountain and its inhabitants and fill the pool in time for the holidays.
The fountain has been the source of some controversy of late. This past May, the City's Public Art Committee voted to eliminate the water feature surrounding the artwork unless a sponsor can be found to underwrite the cost of repairs to the creatures in the pool caused by people wading in the water and hopscotching across the rocks and animals to take selfies on the island with Edison, Ford and Firestone.
Wilkins' widow,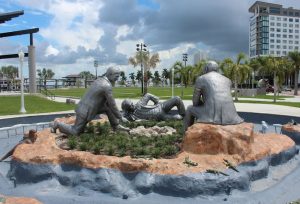 Jeanne, and several of the artists friends led by Brent Sheneman, are spearheading a campaign to find a sponsor and possibly add a "waltzing waters" component to the fountain, but it is unclear whether the latter proposal can win approval by the Public Art Committee and the City's Historic Preservation Commission. The status of these efforts will be the topic of discussion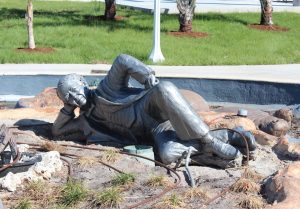 at the Public Art Committee's monthly meeting on November 15.
But even if the Public Art Committee elects to "deaccession" the water feature, the outer wall will be retained and needs to be repaired. No timetable has been established to accomplish this work.
The full story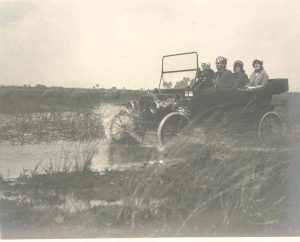 of the Uncommon Friends fountain can be found here.
And read here on the factors that have necessitated the need to eliminate the water feature unless someone or some company steps forward to sponsor the artwork.
October 26, 2022.