Selection Committee chooses Cecilia Lueza for MLK-VSSB gateway artwork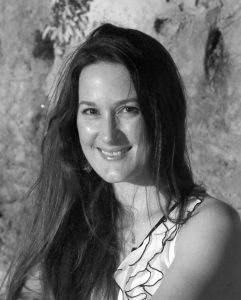 On Monday, January 24, a selection committee composed of members of Fort Myers' Public Art Committee and representatives of the Community Redevelopment Agency, Lee County Black History Society and Dunbar community chose St. Petersburg, Florida sculptor Cecilia Lueza to design, fabricate and install a gateway art piece at the intersection of Martin Luther King, Jr. and Veronica S. Shoemaker Boulevards that expresses the themes of hope, dreams and civil rights. Tentatively titled Journey of Hope, the proposed artwork consists of a profile of an African American woman looking up with yearning and determination contrasted against a golden sunburst that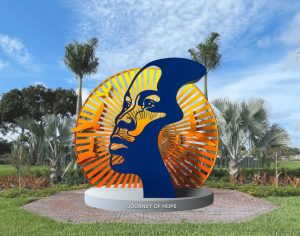 symbolizes the arrival of a new day where justice, equality and freedom prevail.
"Our goal for this very special project is to capture not only the brightness of hope and the power of dreams, but also the achievement of justice, equality and freedom pursued by extraordinary individuals like Veronica Shoemaker," said Lueza during her presentation to the selection committee.
According to Lueza,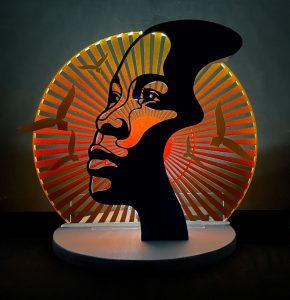 Veronica Shoemaker's drive, determination and leadership provided the main inspiration for the gateway sculpture, which is to be fabricated and installed late this spring or early summer.
The woman's profile takes its color palette in part from the City's logo.
The sunburst transitions from orange at the bottom to yellow at the top, "symbolizing the arrival of the future," as do the birds that are included in the design.
"This color palette creates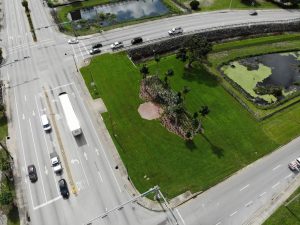 a stark contrast and make the sculpture stand out among the greenery of the landscape," notes Lueza, referring to the lush foliage that the City has already installed on the site and that will serve as a backdrop for the piece.
Noted for bright, colorful, energetic sculptural installations, Lueza captures the dynamics of urban life and the fluidity,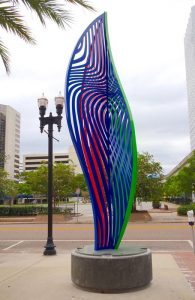 serenity and balance inspired by nature and water in motion. In choosing her as one of three finalists for the project, the selection committee admired several of Lueza's prior polychromed aluminum commissions, which sinuously soar into the sky during the day time and take on a magical aspect under the lights that Lueza typically incorporates into her sculptural work.
While the site for the Martin Luther King & Veronica S. Shoemaker Boulevard Gateway Artwork has no electrical service, Lueza plans to install a 200-watt self-sustained solar lighting system with LED fixtures to illuminate Journey of Hope after dark.
The cost of the sculpture, including the artist's fee, is $98,500.
Lueza and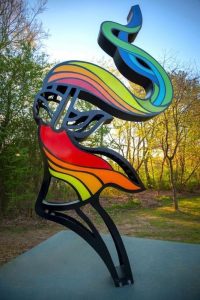 Michael Don Clapper of Denver, Colorado and Douglas Kornfeld of Cambridge, Massachusetts were chosen from a field of sixty-six applicants to prepare proposals for the site. The project is a collaboration by and between the City of Fort Myers Community Redevelopment Agency, Lee County Black History Society and Fort Myers Public Art Committee, with funding provided by the CRA.
Since 2013, Lueza has completed nearly sixty installations. In addition to commissions in Clearwater, Coral Springs, Fort Lauderdale, Jacksonville, Lakeland, Largo, Lauderhill, Ocala, Orlando, Pensacola, Pompano Beach, St. Augustine, St. Petersburg, Tamarac, Tampa, Tarpon Springs, West Palm Beach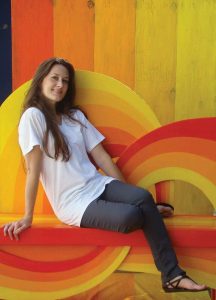 and Winter Garden, Cecilia's work can be found in public art collections in Alabama, Arizona, Colorado, Georgia, Iowa, Kentucky, Missouri, Nevada, New Jersey, North Carolina, Ohio, Tennessee, Virginia, Washington, Washington D.C. and the United Kingdom.
Argentine-American, Lueza studied visual arts at the University of La Plata in Buenos Aires, Argentina.
January 28, 2022.
RELATED POSTS.