Finalists chosen for MLK-VSSB gateway artwork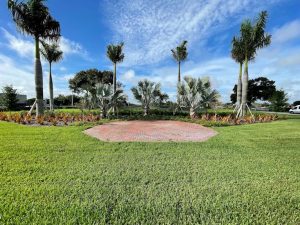 The City of Fort Myers Public Art Committee has announced that Michael Don Clapper, Douglas Kornfeld and Cecila Lueza are the finalists for the gateway artwork that is to be installed at the intersection of Martin Luther King, Jr. and Veronica S. Shoemaker Boulevards. Each will receive a $500 honorarium to design an iconic site-specific work that will incorporate the themes of Dreams, Hope and Civil Rights.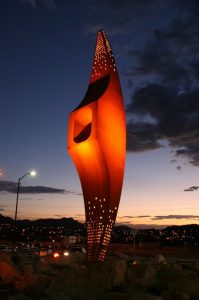 Denver-based Mike Clapper is known nationwide for creating sculptural installations that serve as interpretative beacons. Operating from the premise that public art is a visual means for communicating the core emotion or essence of any given place or theme, he strives to produce visual gestures that evoke reactions at a glance. The Selection Committee was particularly influenced by his 26-foot-tall installation at the entrance to the University of Texas El Paso that depicts an orange ax with perforated binary fields of binary code that speaks to the school's code of achievement.
In addition to Mining Minds, Clapper has completed more than two dozen commissions for public art programs that include the cities of Fremont, Stockton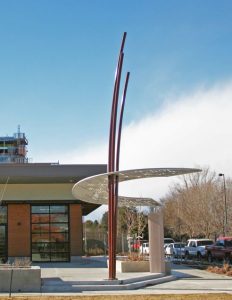 and West Sacramento in California; Denver, Pioneer Park, Snowmass and Wheat Ridge in Colorado; Canton, Ohio; Pendleton, Oregon; and Frisco, Texas. The piece in Canton commemorates the birth of the NFL. Michael has received a number of awards and grants, including the Artistic Merit Award presented by George Neubert in the North American Sculpture Exhibition in Golden, Colorado in 2006. A 1988 graduate of the Wendell Castle School in Rochester, New York, Michael has also served as an adjunct professor in the Department of Art at Metro State College of Denver.
Through his body of work, Cambridge, Massachusetts artist Douglas Kornfeld focuses on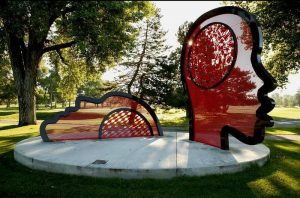 the signs and symbols our society uses to communicate cultural values, attitudes and beliefs and explore our collective yearning for creative achievement, individuality and community. He is particularly cognizant of public art's ability to not only speak to us now, but remain relevant to those who experience it in the future. The Selection Committee was swayed by Kornfeld's installation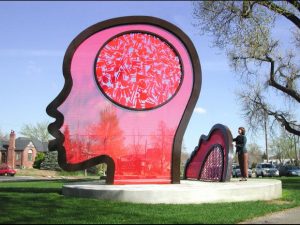 Meeting of Minds, which was commissioned for Denver's first public golf course to admit African American players. The sculpture won a national award from Americans for the Arts, which recognized the artwork as "one of the most exciting, compelling and innovative public art projects in the United States." The 17-foot-tall sculpture has become a recognized aesthetic landmark and icon for the surrounding, predominantly African American,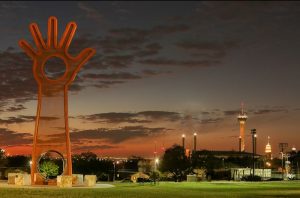 neighborhood.
In addition to Meeting of Minds, since 1997 Douglas has completed nearly thirty commissions for public art programs located in Denver and Golden, Colorado; New Haven, Connecticut; Lauderhill and St. Petersburg, Florida; Terre Haute, Indiana; New Orleans, Louisiana; Boston, Cambridge,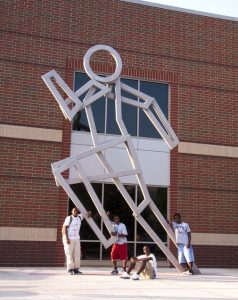 Fitchburg and Lincoln, Massachusetts; Portland, Maine; Providence, Rhode Island; Memphis, Tennessee; and Allen and San Antonio, Texas; as well as an installation in Wuxi, China. Kornfeld has received a number of grants and awards, including the American for the Arts' Year in Review Selected Artist for Best Public Artwork in 2005. His work has been featured in numerous newspaper and magazine articles and public radio segments and Douglas has served as an invited juror, panelist and lecturer on art commissions and topics.
Noted for bright, colorful, energetic sculptural installations, St. Petersburg, Florida artist Cecilia Lueza captures the dynamics of urban life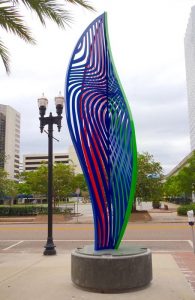 and the fluidity, serenity and balance inspired by nature and water in motion. The Selection Committee admired several of Cecilia's prior polychromed aluminum commissions which sinuously soar into the sky during the day time and take on a magical aspect under the lights that Lueza typically incorporates into her sculptural work. While the site for the Martin Luther King & Veronica S. Shoemaker Boulevard Gateway Artwork has no electrical service, the Selection Committee hopes that Lueza will incorporate solar or equivalent lighting.
Since 2013, Lueza has completed nearly sixty installations. In addition to commissions in Clearwater, Coral Springs, Fort Lauderdale, Jacksonville,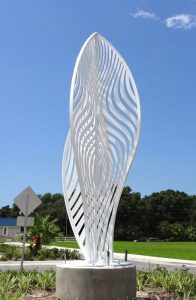 Lakeland, Largo, Lauderhill, Ocala, Orlando, Pensacola, Pompano Beach, St. Augustine, St. Petersburg, Tamarac, Tampa, Tarpon Springs, West Palm Beach and Winter Garden, Cecilia's work can be found in public art collections in Alabama, Arizona, Colorado, Georgia, Iowa, Kentucky, Missouri, Nevada, New Jersey, North Carolina, Ohio, Tennessee, Virginia, Washington, Washington D.C. and the United Kingdom. Argentine-American, Cecilia studied visual arts at the University of La Plata in Buenos Aires, Argentina.
The finalists were chosen from a field of sixty six applicants, whose submittals included letters of interest, images of prior commissions and their resumes.
Each finalist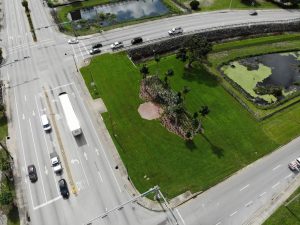 now has roughly eight weeks to research the site, Dr. King and Veronica Shoemaker and the history of the Dunbar community (which was once known as Safety Hill) and produce a concept for an iconic gateway artwork that will be installed in a newly-landscaped area south of Martin Luther King, Jr. Boulevard and between the north and southbound lanes of Veronica S. Shoemaker Boulevard. To aid in this process,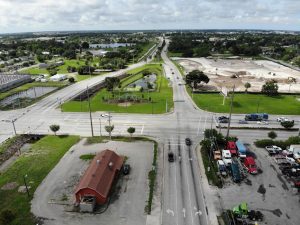 the City of Fort Myers Community Redevelopment Agency and Lee County Black History Society have prepared "History Overview Documents" for Paul Laurence Dunbar, Dr. Martin Luther King, Jr. and Veronica S. Shoemaker, as well another for the City of Fort Myers Safety Hill/Dunbar Community from the 1930s to present day to aid you in your research for the project. The finalists may also consult the Southwest Florida Historical Society and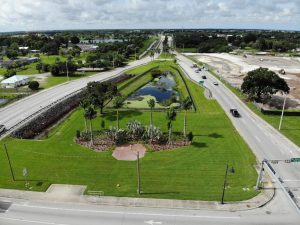 IMAG History & Science Center for additional historical information and photographs of the site and surrounding community.
Each finalist will be afforded thirty minutes on Tuesday, January 19 to present their concepts to a selection committee consisting of the Public Art Committee and designees of the CRA, Lee County Black History Society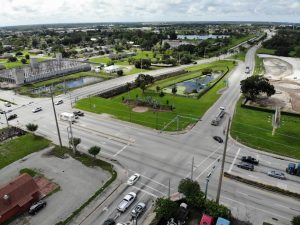 and Dunbar community at large. All presentations will be virtual, beginning at 4:15 p.m. The selection committee will meet in City Council chambers. The meeting is open to the public and Dunbar residents, property and business owners and other stakeholders are encouraged to attend.
The project is a collaboration by and between the City of Fort Myers Community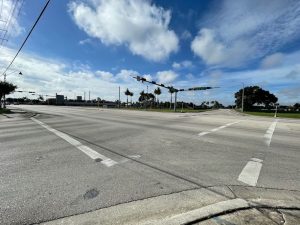 Redevelopment Agency, Lee County Black History Society and Fort Myers Public Art Committee, with funding provided by the CRA. Installation of the winning design is anticipated to take place between April and June of 2022.
November 18, 2021.