Fort Myers launches ambitious art hub plan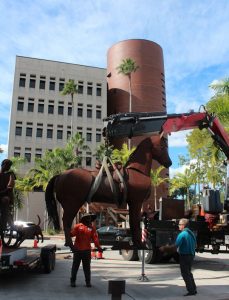 The City of Fort Myers took a major step over the weekend towards implementing its plan to create art hubs throughout the city. Toward this end, it relocated sculptures created by Columbian artist Edgardo Carmona to Billy Bowlegs and Roberto Clemente Parks in Ward 1, the Urban Community Farm in Ward 2, the S.T.A.R.S. Complex and IMAG History and Science Center in Ward 3 and the Collaboratory in Ward 4. The City's 9-member Public Art Committee had previously identified each of these sites as locations that already are or which are expected to become cultural, business or residential gathering spots.
"Art hubs will enable a greater number of people and larger percentage of the City's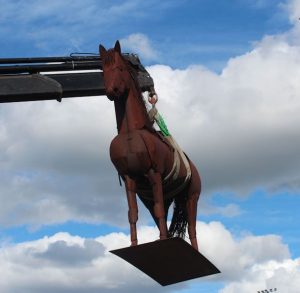 citizenry to see, interact with and enjoy the City's public art collection while simultaneously engendering greater economic opportunity and better quality of life in the residential neighborhoods and business districts in which they are placed," states the Public Art Committee in its current Annual Plan.
The art hub is being embraced by numerous municipalities and government agencies across the country.
For example, the City of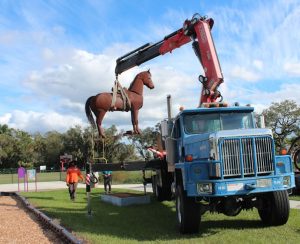 Gainesville has partnered with the University of Florida to improve and enhance the social, physical and economic aspects of that city's neighborhoods through the use of art hubs.
The City of Tampa calls their program Art on the Block. Established by Mayor Jane Castor to bring art and artists into neighborhoods, Tampa's program is designed to not only make art accessible to all,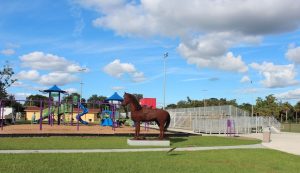 but transform ho-hum places into visually-engaging spaces, thereby incentivizing residents and business owners to improve the curb appeal of their properties. Tampa's Art on the Block program works in partnership with the private sector and across multiple city departments.
Efforts like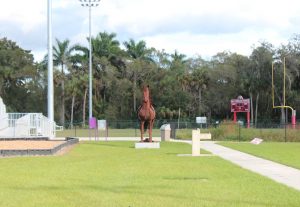 these not only inspire residents, they engender closer ties to the communities in which they live and work. This was the conclusion reached by the Knight Foundation and Gallup in 2011 based on a survey they conducted of 43,000 people in 26 cities about what they wanted most from their communities. To the surveyors' surprise, respondents stated that "the aesthetics of a place – its art, parks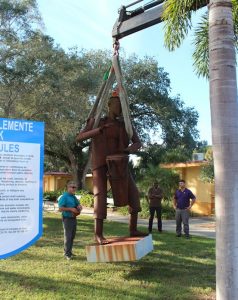 and green spaces" ranked higher than education, safety and the local economy as "drivers of attachment."
The use of art hubs as a strategy for creative place-making is premised on three principles, clustering, layering and branding.
Clustering occurs when artworks are placed in close proximity to each other and a variety of recreational, cultural and business assets, thereby drawing in new people and prompting heightened levels of interaction.
Layering involves creating clusters of art in tandem with recreational,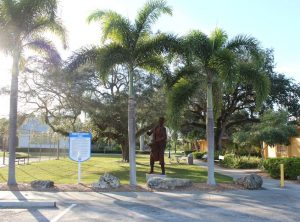 cultural and business assets in City-designated neighborhood and business redevelopment districts. Making the arts visible in these locations fosters long-term cultural embeddedness, giving rise over time to increased creative and economic activity.
And by making the arts visible within residential neighborhoods and business districts, individual artworks and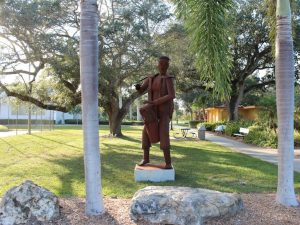 clusters come to be identified with particular public spaces. In essence, public art combines with historic sites, open public spaces and cultural events to create a "mindscape" or community branding.
In collaboration with City Councilperson Teresa Watkins Brown, the Public Art Committee identified two parks as locations where sculptures from the City's outdoor public art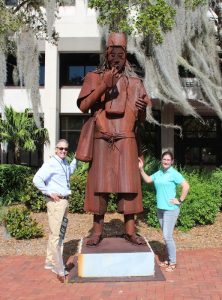 collection could be used to advance these goals. The Horse (Al Galope) has been moved near the bleachers along the west sideline of the football field at Billy Bowlegs Park, while Bongo Drummer (Cadencia) and Mambeo join Cheryl Foster's What Dreams We Have and How They Fly in Clemente Park.
Since its renovation in 2011, the latter park with its ten acres of walking trails, beautiful landscaping and picnic tables has not only become a popular place for family picnics, parties and social gatherings, it hosts numerous community events including Juneteenth, Holiday in the Park and Black History Month. In addition,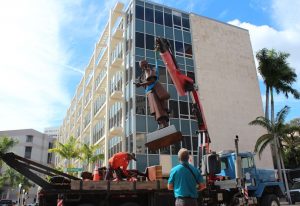 many come to visit and conduct historical research at the William Academy Black History Museum. Now, those using the park will also be exposed to an aggregation of public artworks, which they can learn about through the mobile phone app called Otocast to which the City subscribes. The free download is available both in your app store and on Google Play.
In collaboration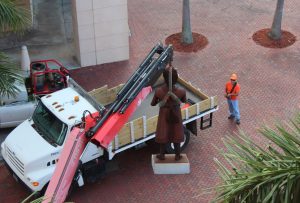 with City Councilperson Johnny Streets and the Fort Myers Redevelopment Agency, the Public Art Committee chose the Urban Community Farm in Ward 2 as a place that is likely to engage members of the community who might not otherwise have an interest in, or access to, public art. Sandwiched between Bardon Street and Flint Drive south of Martin Luther King Jr. Boulevard in Ward 2, the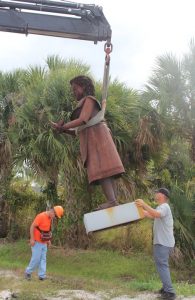 Community Urban Farm is the brainchild of Dr. Jesse Bryson and the I Will Mentorship Foundation. By integrating arts and cultural events, providing culturally-relevant programming, providing community wellness, land-use and STEM education, and developing a hands-on food and education program that fosters environmental stewardship among area youths and adults, Dr. Bryson and his Foundation are working to advance community revitalization through urban agriculture while simultaneously nurturing both the visual and performing arts. The farm is now home to The Knife Sharpener (Al Filo) and Fruit Seller (Vendedora De Frutas), which compliment an 8-foot-tall by 180-foot-long mural of political, legal, scientific and other leaders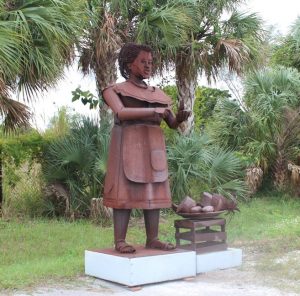 chosen by the community and rendered by Cesar Aguilera and Brian Weaver of Artsemble Underground, an arts organization that is hard at work making art more prevalent and accessible to communities throughout Southwest Florida.
The S.T.A.R.S. Complex located on Edison Avenue in Fort Myers (and renamed the Dr. Ann Murphy Knight S.T.A.R.S. Complex on January 5, 2017) has been serving the Fort Myers community for over 25 years. An acronym for Success Through Academic and Recreational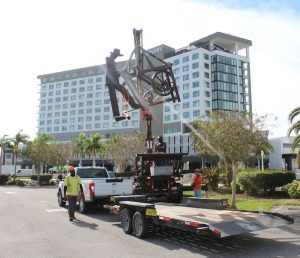 Support, S.T.A.R.S. has been a safe haven and recreational venue for children that offers everything from academic assistance to dance and sports. Councilperson Terolyn Watson and the Public Art Committee felt that the S.T.A.R.S. Complex (which resulted from a partnership between the United States Department of Housing and Urban Development, the City of Fort Myers, Fort Myers Housing Authority, Lee County School Board, Youth Partner Organizations and the corporate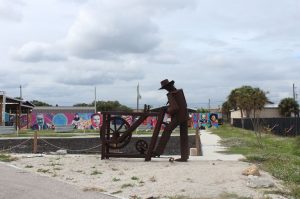 sector) was the perfect spot for a public artwork, Trialogo, that celebrates bicycling and the special bond shared by children and their pets.
When it comes to exposing young minds to the creativity and opportunity represented by public art, the IMAG History & Science Center is another ideal art hub partner. IMAG is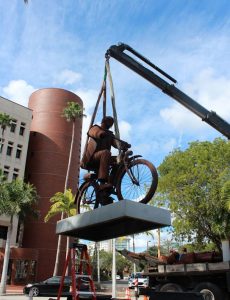 a family-friendly destination offering fun and educational interactive exhibits, aquariums, history displays and a 3D theater. Displays take visitors on a walk through the history and archaeology of Southwest Florida, including some featured sites of interest in Fort Myers. After parking, visitors will pass Boy Fishing from a Bucket (Utopia) on their way inside, while Man Playing Flute (Duo Sinfonica) leans on a lamppost outside the wrought-iron fence, entertaining motorists traveling along Martin Luther King, Jr. Boulevard.
Man Playing Flute will be joined in the coming months by another musically-oriented sculpture, Nostalgic Tune on the Radio (Sintonia),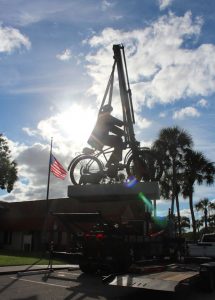 which will be placed at McCollum Hall as soon as its renovation by Reva Development Corporation has been completed. Combining with the 17-panel mural that adorns the concrete block wall that separates McCollum Hall from the residential neighborhood to the north, Man Playing Flute and Nostalgic Tune on the Radio will anchor an art corridor that ushers drivers from the Dunbar Community into downtown Fort Myers and back again. [By next summer, that corridor will also feature an iconic gateway artwork that will be installed to the south of the intersection of Dr. Martin Luther King Jr. and Veronica S. Shoemaker Boulevards.]
At the request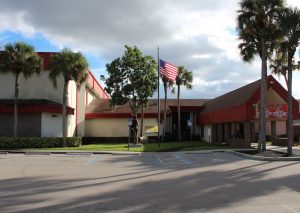 of Councilperson Liston Bochette, the Public Art Committee has moved the elegant Ribbon Routine (Ena En La Plaza) to the Collaboratory, across from the Greyhound Bus Terminal. Housed in the historic, once-segregated 1924 Atlantic Coast Line railroad depot that served as the Southwest Florida Museum of History until a few years ago, the Collaboratory has set the ambitious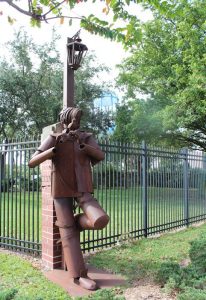 (some might say audacious) goal of being the organizing force behind fixing Southwest Florida's myriad and complicated social and environmental problems over the course of the next 18 years. And what better symbol of the Collaboratory's multidisciplinary approach and focus than a sculpture that embodies balance, movement and internal/external strength in a way that expresses a sublime, poignant moment in time?
In addition to McCollum Hall (Ward 2), additional art hubs will be established in the coming months at Florida Repertory Theater (Ward 4), the Laboratory Theater of Florida (Ward 4), the Edison & Ford Winter Estates (Ward 4), the Alliance for the Arts (Ward 5) and a new park that is being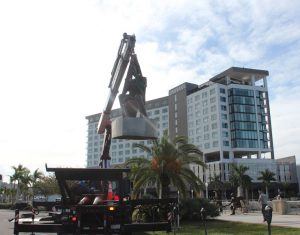 constructed at the Forum (Ward 6). Ward 6 will also see the installation of a new public artwork at Fire Station 17, which is slated for completion in May-June of 2022.
All of the hubs and sculptures will be unified through Otocast, a free mobile app where users can read information, view both historic and contemporary photographs and hear background stories on audios recorded by the artists who created the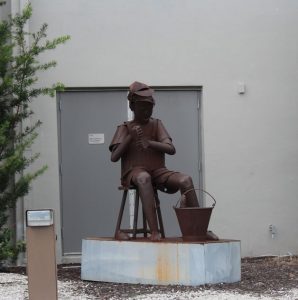 artworks in the City's collection or other "people in the know." And speaking of ambitious (some might say audacious) goals, Otocast will be expanded over the coming months to include 40 or more historic sites, as well as the various murals and parks and other "points of interest" located throughout the city. Through Otocast, the Public Art Committee hopes that the creation of art hubs in each of the City's six wards will encourage greater access to the City's public art collection and increased mobility between all six wards.
"When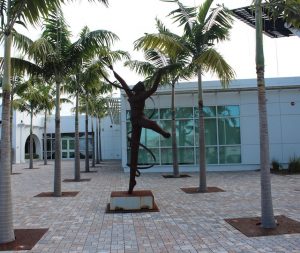 people love where they live, the level of pride is deeper and there is greater investment in growth, shared prosperity and economic vitality," states the Public Art Committee's Chair, Carolyn Gora.
Over the weekend, the City took a great stride in accomplishing this lofty objective.
November 21, 2021.