'Little Shop of Horrors' play dates, times and tickets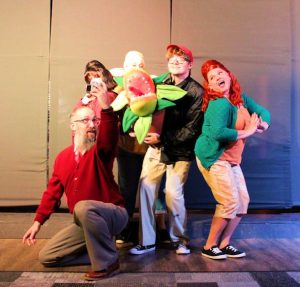 Play:  Little Shop of Horrors
Creators: Little Shop Of Horrors comes from creative geniuses Howard Ashman and Alan Menken (Disney's The Little Mermaid, Beauty and The Beast, Aladdin)
Genre:  Sci-Fi Musical
Synopsis:  Meek floral assistant Seymour Krelborn stumbles across a new breed of plant he names "Audrey II" – after his coworker crush. This foul-mouthed, R&B-singing carnivore promises unending fame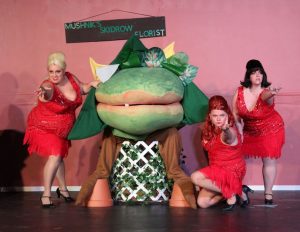 and fortune to the down and out Krelborn as long as he keeps feeding it, BLOOD. Over time, though, Seymour discovers the otherworldly origins of the plant and its plans for global domination!
Director: Tyler Young
Stage Manager:  Peyton McCarthy
Cast: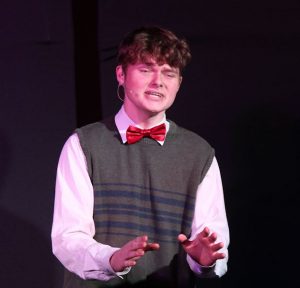 Seymour:  Nick Beyor
Audrey:  Erin Webb
Mushnik:  Chris Treece
Orin:  Seth Balcer
Crystal:  Cassy Terwilliger
Chiffon:  Aimee Naughton
Ronnette: Cassie Sampson
Audrey II Voice:  Ryan Porter Craig
Audrey II Pup: Dea Boozer
Homeless/Vine 1:  Serenity Bailey
Homeless/Vine 2:  Julia Styner
Homeless/Vine 3:  Ethan Mohring
Homeless/Vine 4:  Sophia Treece
Homeless/Vine 5:  Adriana Farrugia
Homeless/Vine 6:  Camila Guedes
Homeless/Vine 7:  Emmy Kuykendall
Mr. Bernstein: Ray Baker
Ms. Luce:  Landon O'Brien
Skip Snip: Landon O'Brien
Customer 1:  Camila Guedes
Customer 2:  Ray Baker
Customer 3:  Julia Styner
Radio Announcer: Ethan Mohring
Pat Martin: Ramona Baker
Play Dates and Times:
7:30 performances: Friday, February 3, Saturday, February 4, Thursday, February 9, Friday, February 10, Saturday, February 11 and Sunday, February 12
2:00 p.m. matinees:  Sunday, February 5, Saturday, February 11 and Sunday, February 12
Tickets:  For tickets, please visit https://temp.thebelletheatre.com or telephone 239-323-5533.
Location:  Belle Theatre, 2708 Santa Barbara Blvd., Unit 135, Cape Coral, FL 33914.
February 2, 2023.