'Disenchanted' play dates, times and cast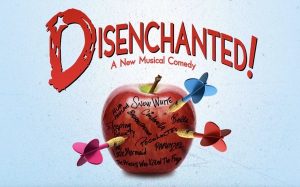 Play:  Disenchanted: A New Musical Comedy!
Playwright (Book, Lyrics, Music): Dennis T. Giacino
Synopsis: Poisoned apples. Glass slippers. Who needs 'em? Not Snow White and her posse of disaffected princesses in the hilarious hit musical that's anything but Grimm.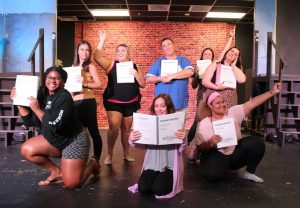 Forget the princesses you think you know—the original storybook heroines have come back to life years and years after their supposed "happily ever after," and they're not too thrilled with how things turned out. In fact, they're jaded, sassy, enlightened and empowered. And what better way for them to express their disenchantment with the "princess complex" than through song? So if your theatrical tastes run toward the vulgar, get ready to have the time of your life. Tiaras optional.
Music:
One More Happ'ly Ever After
Insane
Without the Guy
Two Legs
Big Tits
For the Rest of Our Lives
Honestly
Finally
Not Vone Red Cent
Secondary Princess
All I Wanna Do Is Eat
A Happy Tune?
Perfect
Once Upon a Time
Director: Tyler Young
Cast: 
Belle – Katherine Freeman
Hua Mulan – Dakota Johnican
The Little Mermaid – Megan McDonald
Historical Note: Disenchanted! debuted at the Orlando International Fringe Festival in 2011.
Play Dates and Times: Disenchanted runs September 28 through October 8, with performances at:
7:30 p.m. on September 28, 29 & 30 and October 5, 6 & 7; and
2:00 p.m. on September 30 and October 1, 7 & 8.
Tickets:  To purchase tickets, please visit Disenchanted! (thebelletheatre.com) or telephone 239-323-5533.
Location:  The Belle Theatre, 2708 Santa Barbara Blvd. #135, Cape Coral, FL 33914.
August 24, 2023; revised September 14, 2023.