Highlights of Broadway Palm's 'Phantom' too numerous to list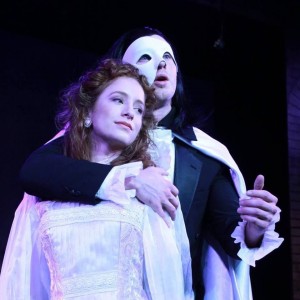 Phantom opened on December 29 at the Broadway Palm Dinner Theatre. No, not the Andrew Lloyd Webber adaptation of Gaston Leroux's 1911 novel, Phantom of the Opera. This is the redheaded stepchild of playwright Arthur Kopit and composer Maury Yeston.
When Yeston and Kopit's financiers discovered that Lloyd Webber was working on a competing version of the musical, they pulled their backing. After all, who could compete with the composer who already had Cats, Evita, Jesus Christ Superstar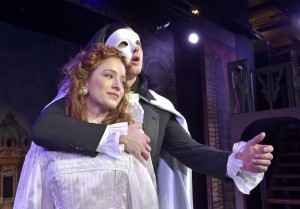 and Joseph and the Amazing Technicolor Dreamcoat to his credit? The short answer is Yeston & Kopit. One day, history may actually regard their musical the better of the two. But even if not, Broadway Palm's Phantom is not to be missed. It is an entrancing, intimate and deeply personal affair.
Yeston & Kopit's Phantom places the focus on the Phantom,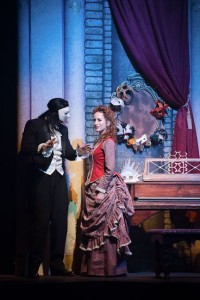 a tortured soul named Erik who sequesters himself in the catacombs beneath the Paris Opera House to conceal his deformed facial features from the public eye. Even though no one dares venture into the dank confines and ghostly mists below the opera house's proscenium, he's worn a mask to conceal his hideously deformed face since he saw his reflection in the water at the age of eight and mistook it for a sea monster. Now, he subsists on the solace he finds in beautiful music, a salve his beloved mother provided until she succumbed to a broken heart. And because her song reminds him of his mother, Erik leaps at the chance to give street singer Christine Daae' the lessons she needs to develop her captivating but untrained voice.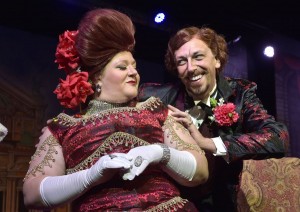 But the Story of Erik is not divulged until the beginning of Act Two. The entire first act, consisting of 12 of the play's 17 scenes, serves as the lead up to Erik's painful reveal. And thanks to the imaginative direction of Brian Enzman and the inspired choreography of Amy Marie McCleary, Act One is a spectacle of intricate movement and sophisticated scores set against a backdrop of opulent scenery, gorgeous period
costumes and spellbinding rolling set changes executed with the precision of the Nutcracker or Swan Lake.
The highlights of the production are too numerous to list. But the success of Broadway Palm's Phantom begins and ends with the exceptional performances turned in by Troy Bruchwalski and Maxwell Porterfield,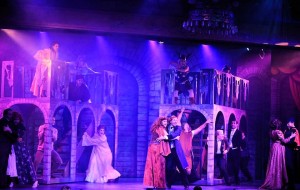 who play the Phantom and Christine Daae', respectively. Bruchwalski moves with equanimity through a wide range of emotion, from murderous and vengeful to both shy and tender as he experiences his first date on a picnic in an imaginary forest of his own creation on the edge of his subterranean lagoon. Porterhouse is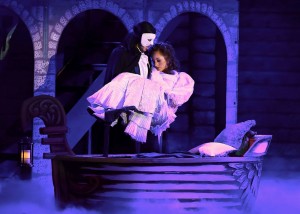 deft as the Phantom's demur and deeply appreciative protégé and the object of her mentor's and benefactor's competing affections. But while Bruchwalski and Porterfield possess considerable talent in their capacities as actors, it is as singers that they truly soar.
Maury Yeston's score is not as dramatic or memorable as Andrew Lloyd Webber's. That's okay.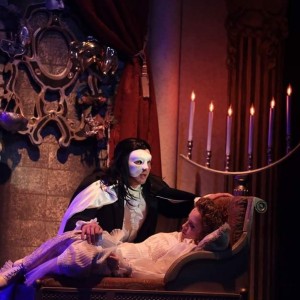 The songs and lyrics he wrote for Phantom sparkle with all the effervescence of a fine French champagne on New Year's Eve.
Bruchwalski and Porterfield's duet, "You Are Music," is as romantic as it is uplifting. The obligato Christine warbles in her singing competition at the Bistro, "As You Would Love Paree," is worthy of American Idol or The Voice. And the duet between the Phantom and his protector, Gerrard Carriere, encapsulates the loss both men have experienced in their tumultuous lives. But Yeston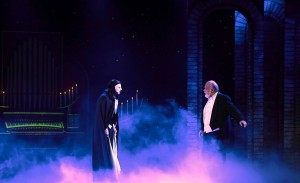 saves his most delectable morsel for the character of Carlotta, the diva everyone loves to hate. "This Place Is Mine" is not just elucidating. It injects a touch of levity into an otherwise somber script.
The dance numbers in Phantom are equally entertaining. Local talent Sami Doherty (who just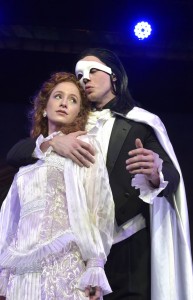 played Judy Haynes in White Christmas) turns in an enthralling performance as Erik's delicate mother, Belladova. Credit must also be given to Phantom's large ensemble, which brings enthusiasm and an air of pageantry to every scene in which they appear.
But perhaps the biggest and most pleasant surprise in store for the audiences who attend this musical is the humor it contains. The opera's new owners, Carlotta (brilliantly played by Andrea Spencer Christensen) and Alain Cholet (played by John Anker Bow), are hilarious as they air kiss and booty bump their way through scene after scene. Even the Phantom cracks an out-of-character wisecrack or two – albeit as he is cradled by his father after being grievously wounded by a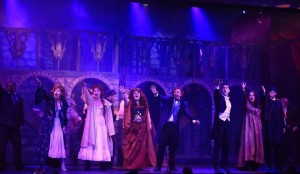 gendarme while trying to escape capture.
One need not have seen Andrew Lloyd Webber's The Phantom of the Opera to appreciate Yeston & Kopit's version of this timeless story. Phantom stands on its own merits. And Broadway Palm's production of this musical is unquestionably first rate. And if you've seen The Phantom of the Opera, let us know which musical you prefer. Email tom@artswfl.com.