Cultural Park's version of hartless Roxie chillingly believable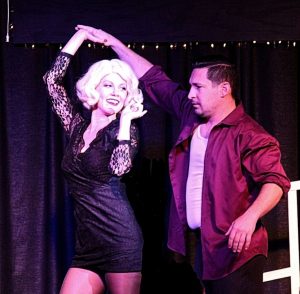 A new force in musical theater has emerged in Southwest Florida. Her name is Lisa Kuchinski, and she's appearing as Roxie Hart in Cultural Park Theatre's production of the iconic musical Chicago through March 10.
The role of Roxie requires an actor who can sing, move and act. Kuchinski scores "10s" in all three categories.
If you've seen her recently in Marian, or the True Tale of Robin Hood or Repossessed, you'll wonder why she's been keeping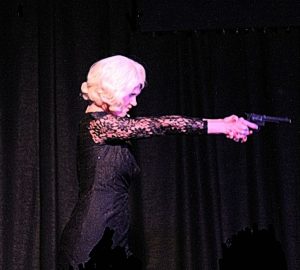 her clear and powerful vocals a secret. In truth, she hasn't. She won a Cultural Park Marquee Award for Outstanding Featured Actress last season for her portrayal of Sister Mary Teresa in Sister Act. Musical theater is actually her preferred genre, but opportunities for parts aren't exactly abundant in this part of the country. Still, she just appeared as Rhonda the Oxidol Girl in Irving Berlin's White Christmas (for The Naples Players) and has also been Harriet in A Wonderful Life (at Broadway Palm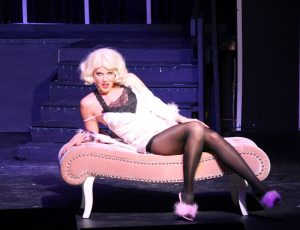 Dinner Theatre), Gilmer in Godspell (for Herb Strauss Theatre), Sandra in Godspell (for Theatre Zone/FGCU), Liat in South Pacific and Helene in Sweet Charity (both at Cultural Park). Although she never took the stage, she also understudied for Melissa Whitworth in Another Night Before Christmas, but if she had, there wouldn't have been any drop off in talent as a matter of vocals.
Lots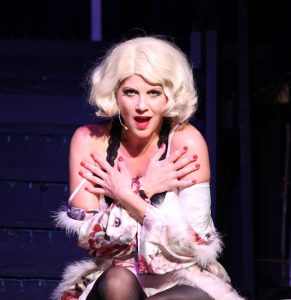 of actors sing. Kuchinski emotes. She employs melody, lyrics and tempo not to showcase her vocals, but as the tools of effective musical storytelling. When she opens her mouth, she doesn't warble. Thoughts, feelings and a complex of emotions come tumbling out. The audience learns as much about what she and the other characters are doing and experiencing from the way she sings each song as from the lyrics themselves.
The role of Roxie doesn't require a pure dancer. But it does contemplate an actor who can pose, posture and move.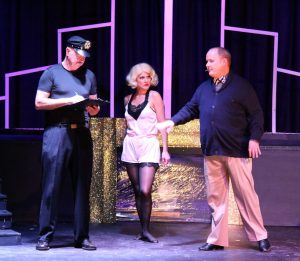 Kuchinski excels in these areas. She's like a model or film actor who's always mindful of camera location. But in theater, there are hundreds of lenses for an actor to play to. She's never out of position and rarely, if ever, presents a bad side or her back to the audience. She works angles and lines of sight with an alacrity that would make Euclid, Archimedes and Pythagoras weep for joy.
That said,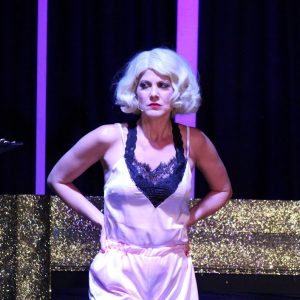 Kuchinski's strongest suit is acting, and her rendition of Roxie Hart is truly fascinating. Every actor and her director bring a slightly different slant or take on a character, including one as legendary and well-known as Roxie Hart. This Roxie, Kuchinski and Director Gerrie Benzing's Roxie is neither farcical nor comical – although she does display these qualities on occasion to get her way. No, Kuchinski & Benzing's Roxie is sly, calculating and sinister. She's a master manipulator, particularly where men are concerned.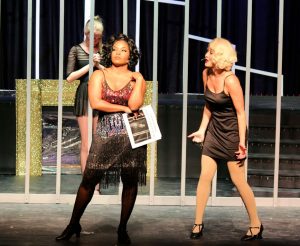 The audience isn't given much by way of backstory where Roxie Hart is concerned. But whatever her background, upbringing and psychological underpinnings, Kuchinski & Benzing's Roxie possesses the uncanny ability to size up people and identify the buttons that will enable her to exploit them. She's terrifying diabolical in a distinctively Machiavellian sort of way.
Take her wimp of a husband, Amos. In other productions of Chicago,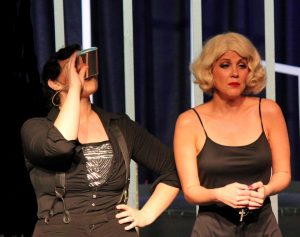 there's a suggestion that Roxie has a soft spot for Amos. Not in this one. Kuchinski & Benzing's Roxie despises the henpecked little worm.
"He ain't no sheik, that's no great physique, and lord knows he ain't got the smarts," Roxie sings. "But look at that soul, I tell you that whole is a whole lot greater than the sum of the parts."
While an argument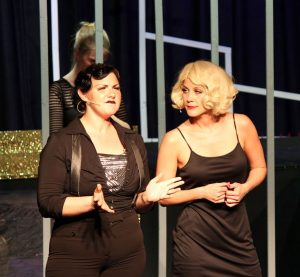 could be made that she's paying him a compliment, when these words leave Kuchinski's ruby red lips, they're riddled with disdain and disgust. She doesn't admire his kindness or his desire to please. She doesn't appreciate his efforts to provide for her. She isn't even grateful for his willingness to lie for her and tell the cops that he was the one who shot the intruder who's lying dead at the bottom of stairs to their bedroom. Sounds crazy, but it's really pretty simple.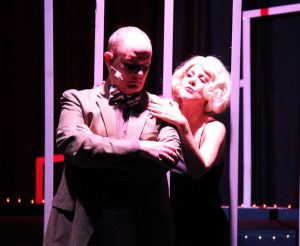 She can't respect a guy who will let a woman walk all over him and come back for more.
Of course, Amos' lack of smarts is a two-edged sword. When the cop tells Amos the dead man isn't an intruder but the salesman who sold them their furniture, Amos puts two and two together and quickly throws Roxie under the proverbial bus.
"Look at him go rattin' on me," she spits with the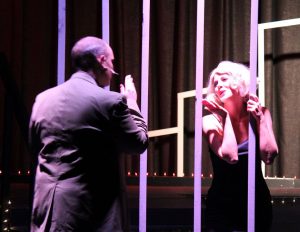 venom of a cobra, going on to ridicule her guileless husband. "With one more brain, what a half-wit he'd be."
Like the cold lifeless lover laying at the bottom of the stairs, anyone who's disloyal to Roxie must be disassembled and destroyed. That includes Amos. The poor guy doesn't even see it coming until he's been run over by Roxie's train.
Nor does Billy Flynn,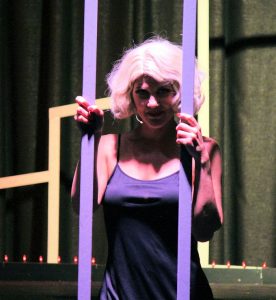 the headline-chasing lawyer who agrees to defend Roxie from capital murder charges.
In the realm of criminal defense law, Flynn is accustomed to manipulating the media, judges and juries to acquit anyone who can afford to pay his $5,000 retainer. ("I don't mean to toot my own horn, but if Jesus Christ lived in Chicago today, and he had come to me and he had five thousand dollars, let's just say things would have turned out differently.")
But Flynn has never run into anyone like Roxie.
Roxie needs Flynn to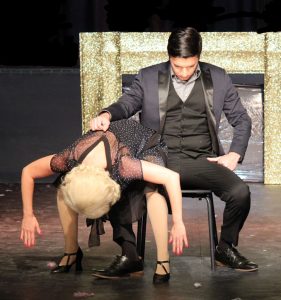 get a trial date and persuade judge and jury to acquit her of murder even though she did the deed. Flynn concocts a story that plays fast and loose with the facts, and tells Roxie precisely what she's going to do and say when he calls in the media. But Roxie detests the idea of letting anyone else, even her unscrupulous lawyer, pull her strings like a puppeteer. While she knows that she has no choice in the matter, Kuchinski/Benzing's version of Roxie bristles at the needed subterfuge, and this adds an inescapable element of tension and tone absent from other renditions of the character. Sure, Roxie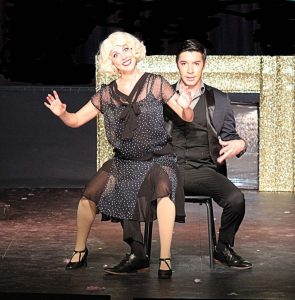 sits on Flynn's lap and mouths the words he gives her as he simultaneously pulls the press' strings, getting them to accept as chapter and verse that Roxie was the real victim as they "both reached for the gun." But in her mind, she's no one's fool, not even Billy Flynn's.
Flynn only thinks he has the upper hand.
In his ongoing efforts to chase the headlines and control the news cycle, Flynn jumps from client to client. He ditches Velma for Roxie.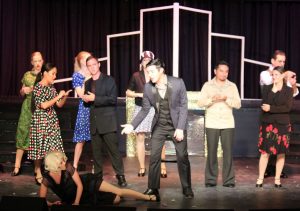 Then he kicks Roxie to the curb to take on the case of a wealthy socialite who machine guns her husband and his lovers while they are in their bed having a threesome. Roxie knows that the only way to entice a headline whore is with a salacious tagline, so she feigns fainting, then claims she's pregnant and maintains that she shot the furniture salesman to save her unborn child. In an instant,
Roxie's not only a media darling, but Flynn's star client. Now he's dancing to her tune.
Thanks to Kuchinski's mad crazy skills as a dramatic actor, this hartless version of Roxie is chillingly believable. She can be vulnerable. She can seem innocent and naïve. She can even look angelic or downright cherubic. But those are just some of the tools of her trade. She's a schemer. Sure,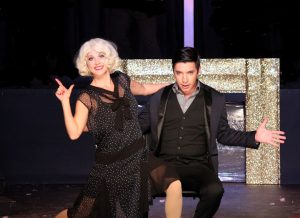 she suffers setbacks, but she never gives in or gives up. And that's because she's determined, nay driven by an overarching goal. It's not money. It's not fame. It's not a career in Vaudeville or theater. They're just the trappings of success. This Roxie, Kuchinski and Benzing's Roxie raison d'etre is control. Control of her life. Control of her destiny. Control of everyone who wanders into her orbit.
To paraphrase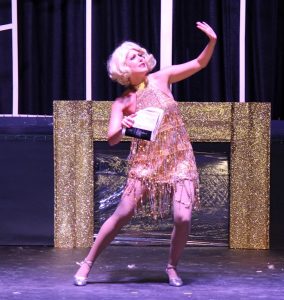 the philosopher Nietzsche, whoever she can't control must be destroyed – like the lover who threatens to leave her or the husband who fails to stand by her even though she betrayed and cheated him first.
Good luck, Velma Kelly. If you ever lose your utility to Roxie, God help you too. (Notice in the finale that Roxie and Velma never become a team; rather, they retain their individual status as parallel stars.)
Kuchinski and Benzing get Roxie like few other actors and directors.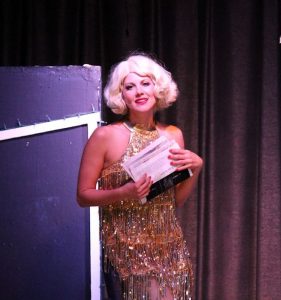 Go see this production of Chicago. When you do, you'll see Roxie in a new and different way too.
Chicago is on stage at Cultural Park Theatre in the Cape through March 10.
March 2, 2019.
RELATED POSTS.