Laura Lorusso's 'Multiverse Anomaly'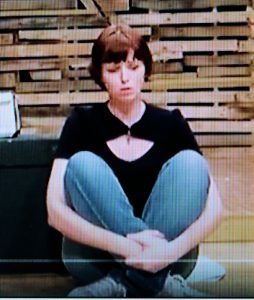 Laura Lorusso was one of four writers who participated in Lab Theater's 24-Hour project which, for a second consecutive year, challenged screenwriters rather than playwrights to pen a script overnight in just eleven short hours between 8:00 p.m. on Friday night and 7:00 a.m. the following morning.  Titled Multiverse Anomaly, Lorusso's screenplay depicted two people and a toaster caught in a tear in the seam between two universes. The catch – one male, one female and the third inanimate, all three were versions of the same person in parallel universes.
Misha Ritter Polomsky directed and lensed the short film, which starred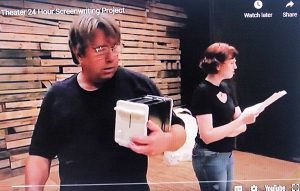 Keith Gahagan as the male, Kat Ebaugh as the female and the toaster as itself. Gahagan played the part with a convincing Scottish brogue that added a delightful layer of eccentricity to his character. Ebaugh portrayed his disbelieving counterpart who just wanted to return to the normalcy of home.
Both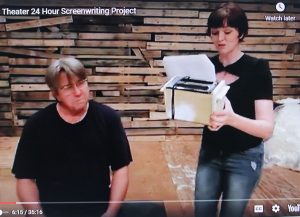 Gahagan and Ebaugh participated in this year's screenwriting project even though they are currently occupied with other shows. Keith will be playing Mr. Green in Clue: On Stage for the Center for Performing Arts in Bonita Springs on the weekends of October 15-17 and 29-31. Kat has been working a job, preparing for midterms (she's working on a degree in environmental science and sonography)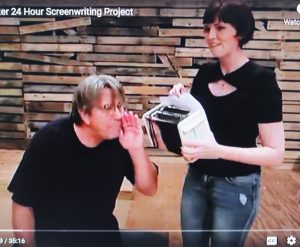 and rehearsing for a new burlesque show.
Gahagan has performed in community theater productions 0n Marco Island and in Bonita Springs and Fort Myers since 2007. Among his stage credits are postman Charlie Martin in On Golden Pond, Senator Charles Whitmore in the Studio Players' production of Jason Odell Williams' dramedy Church & State, Curt in Don't Talk to the Actors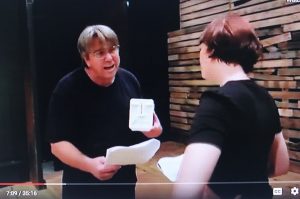 (also The Studio Players), and Eddie the bar owner in The Legend of Georgia McBride for Lab Theater. However, Keith is no stranger to film. He made his debut in Tilly, a short film that was awarded runner-up Best Overall in the inaugural Bonita Springs Film Festival. He made his feature film debut in Hanging Millstone, a 3 C's production currently being screened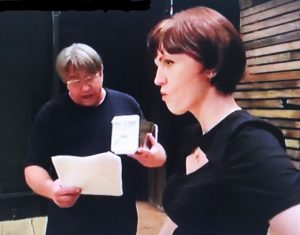 on the film festival circuit.
Kat Ebaugh is an actor, dancer, performer and yoga instructor. In addition to performing with Stage 2 Improv troupe, she has appeared in numerous stage productions at The Naples Players, including TNP's virtual production of Comedy Night on August 22, 2020. She too has been in film. In Kat's case, she played the part of The Little Mermaid in Lab Theater's filmed production of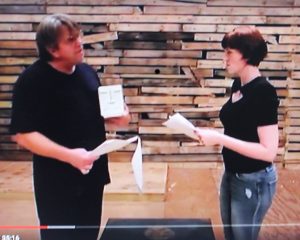 Dennis Giacino's Off-Broadway smash Disenchanted: A New Musical Comedy [Stay-At-Home Version].
Misha Ritter Polomsky is a local actor whose theater credits include Yitzhak in Hedwig and the Angry Inch, Lilith in She Kills Monsters, Phantom in The Rocky Horror Show and Enid Hoopes in Legally Blonde.
This is Laura
Lorusso's sixth 24-Hour Challenge. In addition to her win in 2013, she produced plays in 2014, 2017 and 2018 and took part in last year's inaugural screenwriting project. Titled Langford Manor, her 2020 screenplay and film evoked parallels to The Blair Witch Project, the 1999 low budget Daniel Myrick and Eduardo Sánchez film that changed the supernatural horror genre forever. Go here for more on Laura's playwriting/screenwriting credits.
There's still time to view and vote for Multiverse Anomaly:  https://bit.ly/Vote24HRSWP.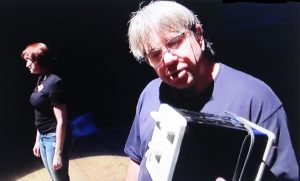 And remember, the safe word is always pineapple.
October 13, 2021.
RELATED POSTS.