Spotlight on Holly Hagan
Holly Hagan lands plum role of Olivia in Lab Theater's production of 'Twelfth Night' (04-19-16)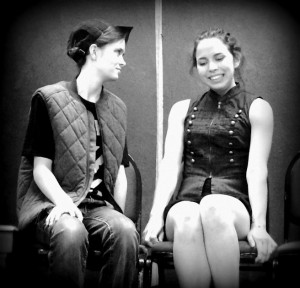 After playing bit parts in a handful of Lab Theater productions (more on this momentarily), Holly Hagan has bagged the plum role of Olivia in Twelfth Night. If you're not familiar with this classic Shakespeare comedy, Olivia is a gorgeous sassy-smart heiress who has recently buried both her father and her beloved brother. In fact, she's so despondent over the latter's death that the poor girl (whose tears Shakespeare likens to pickle juice) has resigned herself to seven years of cloistered mourning. But fret not, a handful of (dis)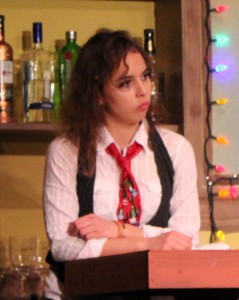 reputable characters are intent on luring her out of her doldrums. Attracted as much by her wealth and social status, a Duke by the name of Orsino, Sir Andrew Aguecheek and a social climber by the name of Malvolio all seek to woo, wed and bed her. Hell, even Olivia's drunken uncle, Sir Toby Belch, seeks to gain some advantage by marrying off his niece. But Olivia is no one's fool. She prefers the Duke's manservant Cesario, whose spirited demeanor, way with words and feminine qualities win her heart. In the latter regard, it turns out that Cesario is actually a girl disguised as a boy so that she can get close to the Duke, with whom she's madly in love.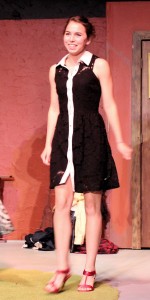 Something of a love triangle, n'est pas? Well, you'll just have to attend a performance to see how Shakespeare works it all out – commenting, in the process, about love, marriage, gender and even the absurdity of love poems that apply equally to our society today as to the Victorian culture of the Bard's day.
When Lab Theater audiences last saw Holly, she was serving up drinks to the well-lubricated Eight as they gathered in the Red Nose Inn to meet the press over allegations of sexual harassment and impropriety by the legendary he-ain't-no-saint Nick. Before The Eight: Reindeer Monologues, Hagan was Angela in Stage Kiss, and she was a member of the team of actors who performed Ben Lamoureux's one-act play, Bird Flew, which was both the judges' and people's choice in Lab Theater's 24-Hour Playwriting Project on December 6. Other parts have included Thomasina Coverly in Arcadia, Soupy Sue in Urinetown and Kate Keller in The Miracle Worker.