'Twelfth Night' director Nykkie Rizley says play is 'all Cumfuddled'
'Twelfth Night' is 'all Cumfuddled' says director Nykkie Rizley (04-18-16)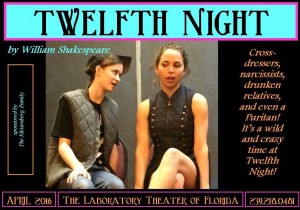 Lab Theater's long commitment to diversity onstage will again be seen in Twelfth Night, a production that couples gay, bisexual and cross-dressing characters with some non-traditional casting that supports actors who are African­-American, Hispanic, female, and of a broader age range in roles which have traditionally been played by white males.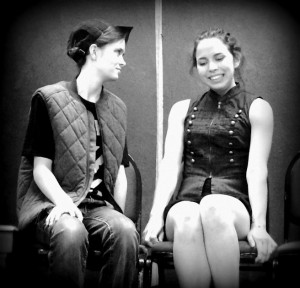 Director Nykkie Rizley feels this works particularly well with Twelfth Night because at its core, it's a story about love and the human condition. "Since each character is telling their own story of how and who they love – something we can all relate to regardless of our race, sex or age – non traditional casting allows us to reveal different perspectives," Rizley said.
In classic Shakespearean fashion, Orsino is infatuated with Olivia (played by Holly Hagan),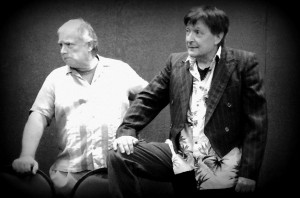 but she is interested in the messenger-boy Orsino sends to plead his case. Unfortunately, the "boy," Cesario (Kylee Stobb), isn't a boy at all! And, to complicate things further, she's in love with Orsino! This comedy is full of the best of Shakespeare's characters including narcissists, drunks, and even a Puritan!
Director Nykkie Rizley has led her cast to untangle all the nuance that the Bard has built into the structure of this play. "It's all Cumfuddled… Can I make up that word?" asks Rizley. "Everyone is worried about their libido and their image and reputation. Then the heart has to go and get all involved and screw everything up. That is Twelfth Night. I see it as a beautiful, romantic meeting of lovers interrupted by the nonsensical fumblings of their own human nature. It is terrific and ludicrous and heartwarming and dumbfounding and joyous and sad. It IS Shakespeare."
Rizley is a founding member and Secretary of the Board of Directors of Lab Theater. She has previously directed The House of Yes and One Flew over the Cuckoo's Nest, and served as Assistant Director for Death of a Salesman. In addition to teaching theater classes at Lab Theater (including Acting I and II as well as Acting for Seniors), Nykkie also participates on the judging panel for Lab Theater's 24-Hour Playwriting Challenge. Nykkie has a degree in Theater Prop Design from the University of Micigan and trained in both Chicago and New York.
Twelfth Night opens at The Laboratory Theater of Florida on Friday, April 22, 2016 at 8 p.m. Doors open at 7:15 p.m. on opening night, welcoming guests to a reception to herald this play.
"If music be the food of love, play on!"