'Hush Up Sweet Charlotte' play dates, times and ticket info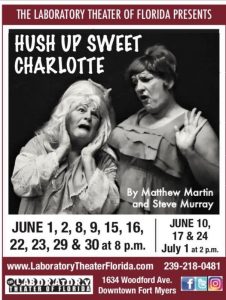 Play: Hush Up Sweet Charlotte
Playwrights: Matthew Martin and Steve Murray
Synopsis: Charlotte Hollis lives in a woefully run-down antebellum plantation in Ascension Parish, Louisiana. The aged and crazed southern belle has been ostracized for decades by the surrounding community because they suspect that she murdered her lover (a neighbor's husband) for ending their affair. Since that time many decades ago, her only companion has been her loyal, trailer trash maid, Velma.
As the play opens, Charlotte finds herself in dire straits. Condemned, the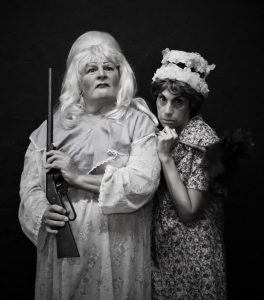 mansion is about to be torn down and neither Charlotte nor Velma know what to do. So Charlotte calls her cousin for help, but when Miriam shows up, she brings along the family physician so that he can have Charlotte committed. As the situation spirals out of control, Charlotte must not only fight to save the family homestead, but her sanity and freedom as well.
Director: Artistic Director Annette Trossbach
Cast:
Charlotte Hollis: Brian Linthicum
Conniving Cousin Miriam: Randall Kenneth Jones
Velma: Sue Schaffel
Joining Linthicum, Jones and Schaffel on stage are Heather McLemore Shaw, Danica Murray, Alberto Gayoso, Steven Coe and Char Loomis.
What the Critics Said:
"Laughter is the only way to make sense of it all." sfweekly.com
"[A] tour de force of great gay camp acting." – talkinbroadway.com
Play Dates and Times: June 1, 2, 8, 9, 15, 16, 22, 23, 29 and 30 at 8:00 p.m., with 2:00 p.m. matinees on June 10, 17 and 24 and July 1.
Tickets: Tickets are available to purchase on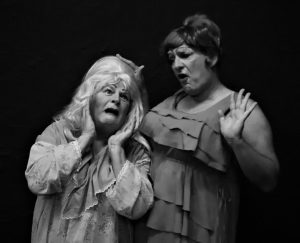 Brownpapertickets.com or by calling the box office at 239-218-0481. For additional savings, guests may purchase a 2018-2019 Season Pass.
Where:  1634 Woodford Avenue in the Fort Myers River District.
RELATED POSTS.