Lab's 'Hush Up Sweet Charlotte' drag-tastic parody of Bette Davis-Olivia de Havilland film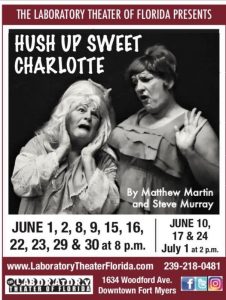 The Laboratory Theater of Florida is building something of a reputation for campy, drag-tastic productions. Last year, the Chrysalis Award winner produced the runaway hit Whatever Happened to Baby Jane: A Parody of the Horror with Randall Kenneth Jones and Rob Green in the roles made famous by Bette Davis and Joan Crawford. This June, it's Hush Up, Sweet Charlotte, a riotous parody of the 1964 suspense/horror Hush, Hush Sweet Charlotte that teamed Bette Davis with the venerable Olivia de Havilland.
The setting is a woefully run-down antebellum plantation in Ascension Parish, Louisiana. The once-proud mansion is now occupied by just two sad residents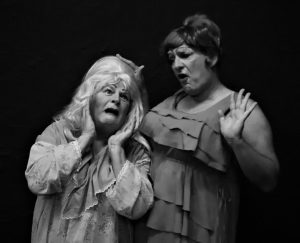 One is Charlotte Hollis, a southern belle who has been ostracized for decades by the surrounding community on the popular belief that she murdered her lover (a neighbor's husband) for ending their affair. The other is her disheveled, trailer trash maid Velma.
As the play opens, Charlotte finds herself in dire straits. Condemned, the mansion is about to be torn down and neither Charlotte nor her loyal companion know what to do. So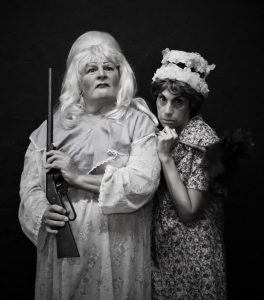 Charlotte calls her cousin for help, but when Miriam shows up, she brings along the family physician so that he can have her committed. As the situation spirals out of control, Charlotte must not only fight to save the family homestead, but her sanity and freedom as well.
Fort Myers resident Brian Linthicum portrays Charlotte Hollis.
"Step aside Bette Davis, there's a new girl in town," Linthicum declares, taking up the gauntlet of challenge presented by the role.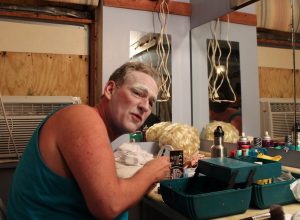 Marco Island's Randall Kenneth Jones is happy to let Linthicum play Bette Davis' part in Hush, Hush Sweet Charlotte. He's eager to channel another Golden Age Grand Dame, playing the part first performed by Olivia de Havilland.
"Sure, I want to wear pants on stage again," Jones quips. "But how many actors get to step into the stilettos of Bette Davis and Olivia de Havilland? My only concern is Olivia filing a lawsuit against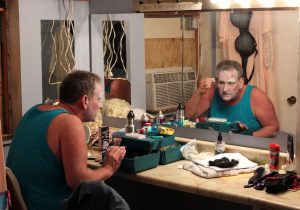 me for 'defamation' of a character!"
Randall doesn't draw much solace from the decision in March by a California appellate court that tossed out de Havilland's defamation suit against FX Networks on First Amendment grounds. De Havilland contended that she was depicted unfairly by the mini-series Feud, but the three-judge panel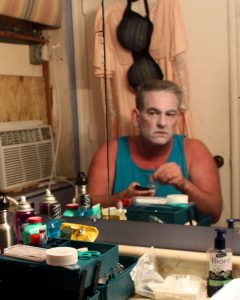 opined that not even a living legend film star has the legal right to control, dictate, approve, disapprove or veto a playwright or actor's portrayal of an actual person.
Taken in its entirely, Catherine Zeta-Jones' portrayal of de Havilland in Feue was overwhelmingly positive. Randall Kenneth Jones is starring in a parody.
"Olivia, trust me, I love you," Jones is quick to add, lest de Havilland (who is 101) replaces Suzelle Smith with Michael Avenatti.
Sue Schaffel steps into the shoes of the supremely talented Agnes Moorehead,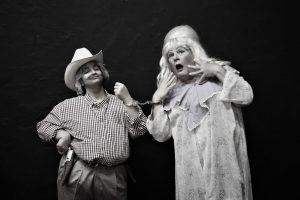 who played Velma in the film version. Playing this part is a dream come true for Schaffel, who splits time between Naples and Washington D.C.
"My favorite line in the show is 'But Velma is — well — Velma.'" And that pretty much sums up her character.
"Hush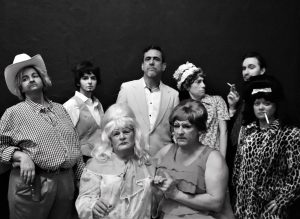 Up Sweet Charlotte will keep the audience laughing and hooting and hollering – all while sitting on the edge of their seats in suspense," Sue adds. "This is my first entry into the Florida theater scene and what an initiation it is!"
Joining Linthicum, Jones and Schaffel on stage are Heather McLemore Shaw, Danica Murray, Alberto Gayoso, Steven Coe and Char Loomis.
Lab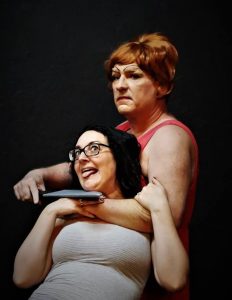 Artistic Director Annette Trossbach directs.
Make plans now to see this hilarious homage, which borrows numerous lines of dialogue directly from the original 1964 movie. Of course, the difference is in the way they're delivered – coupled with the offhand asides and sight gags built into the action.
But fret not if you've never seen the film. The play stands on its own merits. While laughs abound, what's sure to transfix the Lab audiences that attend this production is the realization that Hush, Hush Sweet Charlotte is, at its essence, a wildly-complicated murder mystery replete with hallucinations, ghosts, severed arms and sinister cabals.
May 15, 2018.
RELATED POSTS.