'Sweeney Todd' play dates, times and tickets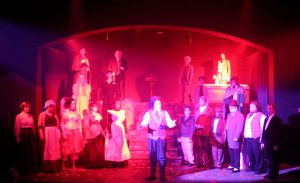 Play:  Sweeney Todd: The Demon Barber of Fleet Street
Book:
Lyrics and Music:  Stephen Sondheim
Genre:  Horror, Musical
Synopsis:  After a corrupt judge exiles him to a penal colony in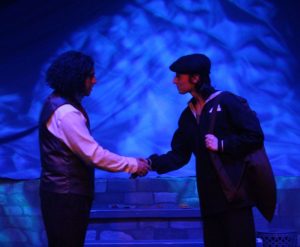 Australia so that he can pillage and torment his beautiful young wife, Sweeney Todd returns to London intent on giving His Honor the shave of his life. His landlord, the resourceful proprietor of a failing pie shop, offers to dispose the bodies piling up in Todd's upstairs barber shop by incorporating them into her meat pies, which suddenly have the London gentry lining up for her savory creations.
Director: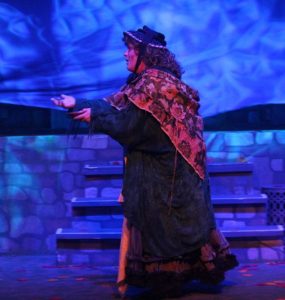 Paul Graffy
Assistant Director:  Madelaine Weymouth
Cast:
Sweeney Todd:  Dave Rode
Mrs. Lovett:  MaryAnne McKerrow (U/S Sharon True)
Judge Turpin:  Trace Meier
Beadle Bamford:  Jack Weld
Beggar Woman:  Lauren Miller
Anthony:  Cameron Rogers
Johanna:  Gabrielle Lansden
Adolfo Pirelli:  Steven Michael Kennedy
Tobias:  River Reed
Jonas Fogg:  John McKerrow
Ensemble: Joseph Bostic, Ryland Dingman, Brithany Hernandez, Mark King, Cindy Malley, Ariana Milian, Nyx Rasner, Ken Ruisi, Angela M. Thomas and Laelon Thomas
Play Dates and Times:
8:00 p.m. performances: February 10, 11, 16, 17, 18, 23, 24 & 25 and March 2, 3, 4, 9, 10 & 11
2:00 p.m. matinees:  February 12, 19 & 26 and March 5.
Special Events:
Half-price preview night: February 9 at 8:00 p.m.
Staging Teen Success Through Theater: February 11 at 8:00 p.m.
Special Events Requiring Additional Advanced Ticket: Space for these events is limited and ticketed separately. Tickets are $25/each or 2 for $40.00.
Bloody Valentine Cocktail Reception: February 18th, 6:00 – 7:30 p.m.
Class in Sweeney props and blood: February 25th, 6:00 – 7:30 p.m.
Ghost Hunt at the Theater: March 4th, immediately following the performance.
Tickets:  Tickets are $37 each or $15 for students with valid student IDs. There is one half-priced preview on February 9th at 8:00 p.m. and a new Thursday night special ticket price of $30 each for adults. For tickets, please call the box office at 239.218.0481 or online at www.laboratorytheaterflorida.com.
Sponsor: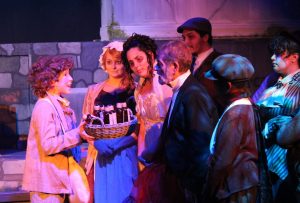 Sweeney Todd: The Demon Barber of Fleet Street is sponsored by The Bireley Family Foundation
Location:  1634 Woodford Avenue, in the Fort Myers River District.
February 8, 2023.