Audio for Wendy White's 'Fun in Florida' mural now live on Otocast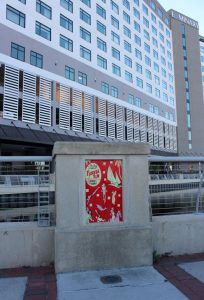 In the 1930s and '40s, Fort Myers promoted itself to the world through vintage postcards like the one that muralist Wendy White painted for the River Basin Mural Project. Now you can hear on Otocast about that epoch in Fort Myers history and how it ties into the City's most recent promotional efforts.
No one today knows when the first postcard promoting Fort Myers and its various hotels and attractions appeared in print. Gregg Turner, who authored the 2005 book Fort Myers in Vintage Postcards, thinks that the golden age of postcards in Fort Myers started just after the end of World War I. Over the next few decades, thousands of white-bordered, vividly-colored, linen stock postcards were printed, sold and sent by Fort Myers residents,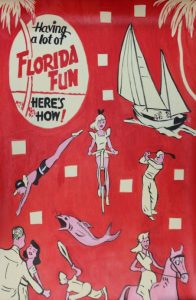 shopkeepers and vacationers to family, friends and business associates around the world – all with a common message: Fort Myers is the place for fun in the sun!
Artist Wendy White captures this message perfectly in her Fun in Florida mural, which appears on the stanchion facing Hendry Street near the corner of Bay at the river basin adjoining the Luminary Hotel.
When you listen to the audio about Wendy's mural, you'll hear the voice of Fort Myers public art, Bill Taylor. A long-standing member of the City of Fort Myers Public Art Committee, Bill Taylor is best known in Southwest Florida as a producer, director, actor and founder of Theatre Conspiracy at the Alliance for the Arts.
Since founding the latter company in 1984, Bill has produced upwards of 250 shows, directed more than 50 shows and performed in over 50 others including three one-man shows, Sex, Drugs & Rock and Roll, Barrymore and Tru. His favorite shows include A Tuna Christmas, The Katy and Mo Show, and whatever play he is working on currently.
Among the many initiatives Taylor has launched at Theatre Conspiracy are its perennial New Play Contest, an emphasis on productions written by female playwrights that provide strong female characters, and programming that provides opportunities for area actors of color and discourse on the Black experience in America (in shows like George C. Wolff's A Colored Museum, Lorraine Hansberry's A Raisin in the Sun, August Wilson's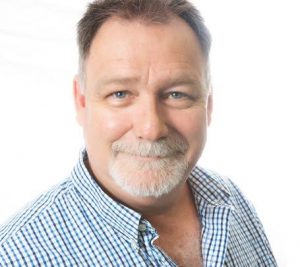 King Hedley II, Joe Wilson's Come and Gone, Seven Guitars and Ma Rainey's Black Bottom, Lydia Diamond's The Bluest Eye and Ntozake Shange's For Colored Girls Who Have Considered Suicide When the Rainbow is Enuf).
If you haven't yet used Otocast yet, pull out your smartphone and go to your app store right now. When you land there, type Otocast in the search bar and then hit download. It's free!
The
app works with geo-mapping, which means that when you tap on the green Otocast icon, the app will automatically call up the Fort Myers Guide.
Tap on the Guide and you'll see an aerial map of Fort Myers that displays a number of push pins. Those pins signify the location of most of the public artworks that are interspersed throughout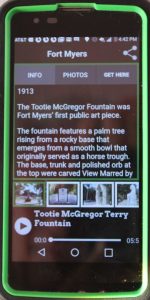 Fort Myers.
Notice the banner that runs along the bottom of your screen. It contains thumbnail photographs of the particular artworks identified by those pins. Tap on any one of them and it will take you to written information about the artwork; historic, installation and other photos; and an audio like the one that Bill Taylor just recorded for Wendy White's Fun in Florida mural.
At present, 14 of the 53 murals that are being installed around the river basin adjoining the Luminary Hotel are live on Otocast, with another 31 of the City's 41 outdoor public artworks being included in the Fort Myers Guide as well. Work is under way to not only add the other 39 River Basin murals and eleven sculptural artworks, but more than 30 historic points of interest located throughout the City.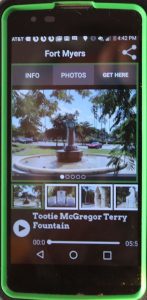 Don't just use Otocast to learn more about the artworks see about town. Be sure to share Otocast with everyone you know. It's a real conversation starter.
February 10, 2023.
RELATED POSTS.