Identifying river basin murals and muralists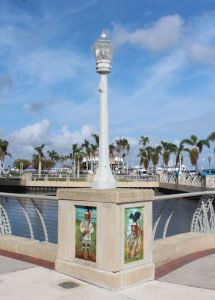 Work is underway at the river basin adjoining Luminary Hotel on an ambitious new outdoor art and history museum. When it is completed, the walkable gallery will feature 57 murals – four on the obelisks on Edwards Drive and 53 on the concrete stanchions which anchor the decorative fence that circumscribes the basin.
The project is a collaboration between the City of Fort Myers Public Art Committee and Community Redevelopment Agency and the Fort Myers Mural Society. The Mural Society has engaged 38 local artists to render the murals which, in turn, tell stories about Fort Myers' early existence as a port town on the river that many once called the most picturesque waterway in all of Florida.
The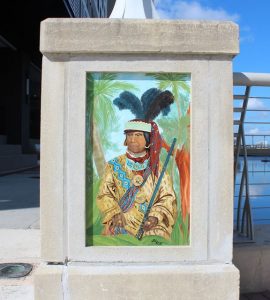 artists are painting the murals on special, high-grade cloth that is being glued to the concrete in a way that converts them into scratch-resistant tiles that prevent fading and resist damage from moisture and other elements. So far, Fort Myers Mural Society artists Erik Schlake and Roland Ruocco have installed about 14 of the mural panels, and their efforts are attracting crowds.  Their recurring question:  What will the other murals depict? Here's the answer:
1           Calusa Warrior Sounding Alarm by David Meo
2           Calusa Chief with Arms Folded by David Meo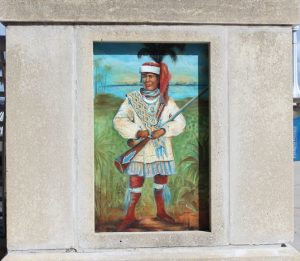 3          Chief Billy Bowlegs by Sherry Lynn Diaz
4          Chief Billy Bowlegs by Lorrie Bennett
5          Miccosukee Warrior Billy Fuel by Eric Riemenschneider
6          Colonel Abraham C. Myers by Claudia Goode
7          Block House and McKinstry Map of Fort Myers by Rod Acosta
8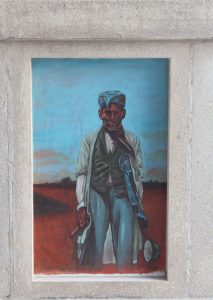 Commanding Officer's Quarters/Gonzalez-Travers-Heitman Home by Artist TBD
9          Evalina Gonzalez by Tarek Patton
10        John Alexander Weatherford by Lesley Morrow
11         Nelson and Ellen Tillis by Dawn Webb
12         Captain Francis A. Hendry by Sam Taylor
13         Cattle Being Driven Down Riverside Drive – Wendy White & Roland Ruocco
14        Marion Hendry's Grocery Store – Lorrie Bennett
15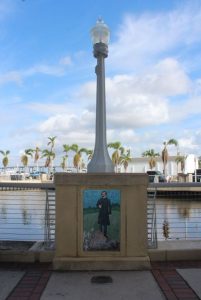 Major James Evans – Sherry Lynn Diaz
16        Aerial of the Piers of Fort Myers by Diane Lady Light Tormey
17         Recreation Pier  – Jacqueline Virtue
18        Promenade on the Royal Palm Hotel Pier by Ava Roeder
19        Fashionista Flossie Hill – Pat Collins
20        Royal Palm Hotel – Jacqueline Virtue
21         Tootie McGregor Terry Driving First Seawall Piling by Pat Collins
22        Man with 7' Tarpon by Victor Dotres
23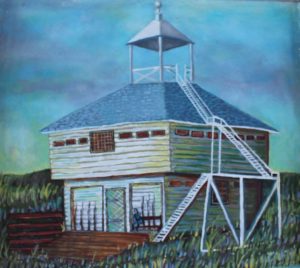 Sheriff Frank Tippins with City Pier in Background by Rod Acosta
24        City Dock by J.P. Almonacid
25        Menges Brothers Steamship Suwanee by J.P. Almonacid
26        Coca Cola Bottling Plant on City Dock by Diane Lady Light Tormey
27        Two Men in a Boat w/ Ireland's Dock in Background by Carolyn Gora
28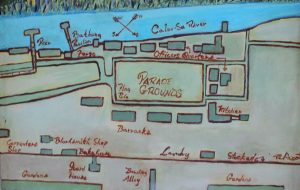 Shacks on Ireland's Dock by Jacqueline Virtue
29        City Transfer/Railway Express by Bill Kreutz
30        Lee County Packing House with Railroad Spur – Cesar Aguilera
31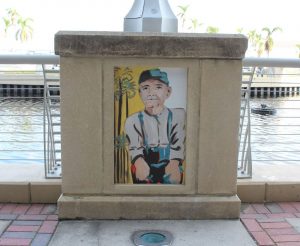 Thomas A. Edison Steamboat by Sanaa Bezzaz
32        Lee County Packing House Shipping Label – Annie Crouch
33        Lee County Packing House 1953 Memorial Day Fire – Roland Ruocco
34        Atlantic Coast Line Railroad Pier by Donna Kreutz
35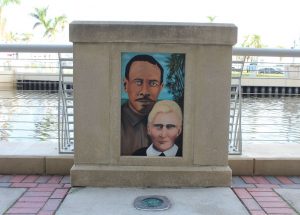 Kinzie Bros. St. Lucie Steamboat by Alex Wilkinson
36        First Train by Danilo Rubias
37        Pleasure Pier Panorama by Tim Lowry
38        Pleasure Palace Entrance by Davis Rost
39        Wes Nott and Diver by Israel Alpizar
40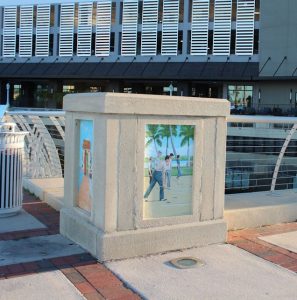 USO at Hall of 50 States by Deb Lawless
41         Shuffleboard Courts – Roland Ruocco
42        People on Edison Pier by Michelle McDonald
43        Thomas and Charles Edison Fishing from Pier by Monika Urbanska
44        Henry Ford in 1916 Model T by Ruben Dimas
45        City of Palms Steamboat by David Acevedo
46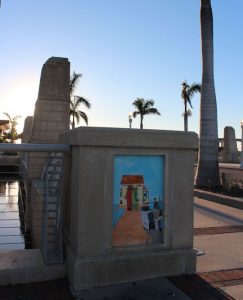 Boats Docked at Yacht Basin by Tom Rost
47        Elvis at City Auditorium by Sam Taylor
48        Shrimp Boat by Shari Shifrin
49        Heitman-Evans Hardware Store – Lorrie Bennett
50        Gator Hunt by Brian Weaver
51         Turkey Hunt – Pat Collins
52        Having A-Barrel-of-Fun in Fort Myers FLA by Holland King
53        Florida Fun by Wendy White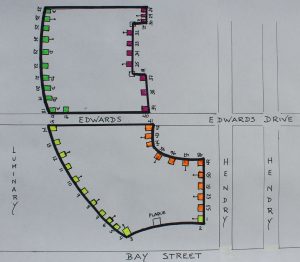 The numbers on the footprint to the right show where each of these murals can be found.
Because of the prominent roles they played in settling the town and its early development, the obelisks will feature Manuel A. Gonzalez, Harvie Heitman, Tootie McGregor Terry and Dr. Ella Mae Piper.
The Fort Myers Mural Society is on schedule to install all of the murals by the end of January so that they will be in place in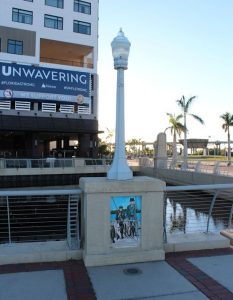 time for ArtFest Fort Myers, which invades the riverfront February 3-5.
However, that timetable depends on the City's ability to repair the 7 stanchions and 2 obelisks that were damaged by the surge associated with Hurricane Ian.
Bios and credits for each of the artists participating in the project will be included in Otocast, the free downloadable mobile phone app that the City is using to tell the public about the pieces in its public art collection. Audios are also being recorded in both English and Spanish that will inform visitors of the historical context captured by each mural.
Due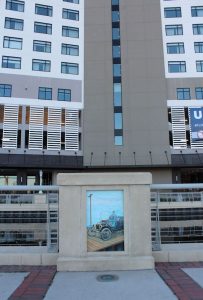 to the amount of research and logistics involved, uploading artist information, the historic photos and postcards they referenced and the audios for each mural is expected to continue through March.
But once all of the information has been uploaded to Otocast, people will be able to walk around the basin at their own pace, learning about the artists and listening to stories about Fort Myers' early relationship with the Caloosahatchee River to their heart's content. But recognizing that a significant number of people, particularly out-of-towners, prefer that personal touch, True Tours is also planning tours that will originate from Luminary Hotel and other locations and that may even include lunches, brunches and theater shows. Watch this space for future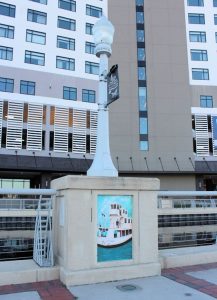 announcements.
In the meantime, locals, winter residents and tourists have every reason to check back often as more and more murals are installed in the coming days and weeks.
January 13, 2023.
RELATED POSTS: