Freelance writer, author and SWFHS President Glenn Miller records Otocast audio on Wes Nott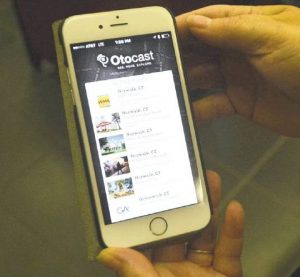 In 2018, the City of Fort Myers launched a free mobile app that enables resident, vacationers and other cultural tourists to learn all about the public artworks that are interspersed throughout town. Called Otocast, the app contains text and historic photos for each covered artwork. But the app's centerpiece is an audio recording made by the artist who created the piece or someone who is intimately familiar with the artwork and the stories it recounts. By virtue of this audio component,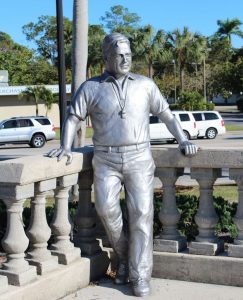 Otocast is like having your very own tour guide who knows the coolest facts and behind-the-scenes stories about the art pieces you see all around you.
One of those artworks is the Wes Nott Statue. It's located in the northeast corner of the campus of Lee Memorial Hospital in (where else?) Wes Nott Park, which appropriately sits on the site of what was once the Wes Nott swimming pool. Today, Coach Nott presides over the space, standing against a railing that abuts the southbound lanes of Cleveland Avenue (U.S. 41). It was cast by North Fort Myers sculptor Don "D.J." Wilkins for the Fort Myers Beautification Board in the year 2000.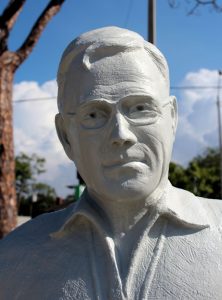 Coach Nott had a long and illustrious career as the swim coach of the Fort Myers High Green Wave boys' and girls' swim teams. During his tenure, Nott touched the lives of an estimated 8,000 children who fondly remember him for helping them achieve their best both in and out of the water by emphasizing hard work and good sportsmanship. And local sports expert Glenn Miller has been gracious enough to record an audio for Otocast that tells listeners all about the statue and the man to whom it pays tribute.
Miller was a perfect choice to provide the recording. Among his many interests, sports and sports history is among the fields he cherishes most.
After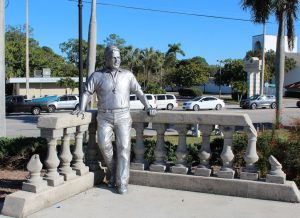 working as a staff writer for the Fort Myers News-Press for 25 years, Glenn accepted a buy-out in 2012 and became a freelance writer. Since then, his byline has appeared in Florida Weekly, Gulfshore Life, Gulfshore Business, eBella and the Babcock Ranch Telegraph. Since 2013, Glenn has also maintained a blog called Glenn Miller Writes, where he posts about sports, movies, books and sundry other things.
In addition, Glenn has published one novel (Grabmore) and is working on another, serves as a preceptor in the Journalism Department at Florida Gulf Coast University and is president of the Southwest Florida Historical Society. He began his newspaper career at the now-defunct St. Petersburg Evening Independent in 1975.
If are interested in learning more about Wes Nott and discover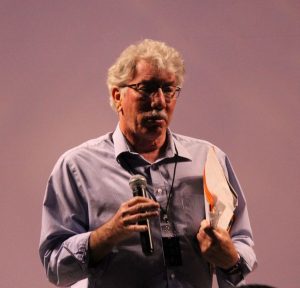 why he's memorialized by a statue on the campus of Lee Memorial Hospital, download Otocast and listen to Glenn's audio. It's free, user friendly and available in the app store on your phone.
July 24, 2019.
RELATED POSTS.