Wendy White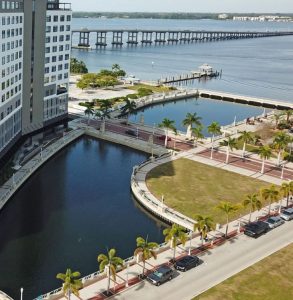 Based on a vintage 1930s-era postcard, this mural depicts the many activities that visitors can enjoy during a fun-filled trip to Fort Myers. Titled Florida Fun, it was rendered Wendy White who is an accomplished artist, curator, director, playwright, screenwriter and teacher.
Born in Rockaway Beach, New York, Wendy's palette and writings are strongly influenced by her early environment of living by the sea. Her father was a painter and while she was growing up, she and her twin brother would frequently model for him as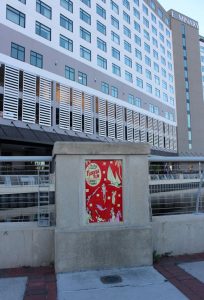 muses.
After he became blind during her teens, Wendy became her "father's eyes." White received a full academic scholarship to Barnard College of Columbia University, where she fulfilled her medical school requirements hoping to find a cure for her father's blindness. Her father regained his vision in one eye during her sophomore year at the same time she was studying painting with abstract expressionist Milton Resnick, who served as Wendy's mentor at Barnard. Thanks to Resnick's continual inspiration and encouragement, Wendy rediscovered the light from her childhood – her passion for art. This prompted her to begin the process of fully developing the abstract impressionist style
that's paramount in her work today.
Inspired by the old masters as well as modern-day expressionists, Ms. White has enjoyed exhibitions in galleries in New York City, Paris, Amsterdam, Copenhagen, Finland, Buenos Aires and Switzerland. In Copenhagen, White exhibited 40 new canvases that resulted from the award of a government-sponsored show by the VKI Center.
White's work can be found in more than 130 private collections around the world, as well as corporate collections, including Chemical Bank in New York, the U.S. Coast Guard at Governors Island, New York, the New Jersey Institute of Technology in Newark, New Jersey and Lynn University in Boca Raton, Florida).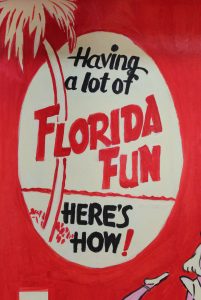 Wendy's work is also included in a number of public art collections (including a Broward Count Cultural Division Mural at Port Everglades, a World Trade Center Path Mural at the World Trade Center in New York and the VKI Institute for Water Environment at Horsholm, Denmark) and museum collections (including The New England Museum for Contemporary Art in Westport, Connecticut, The Paterson Museum of Art in Paterson, New Jersey and Museo de Arte Moderne de Buenos Aires in Argentina).
Her movie and theatre accomplishments include her one-woman show The Jewish Nun, produced in Edinburgh, Scotland at the Edinburgh Fringe Festival and performed to sold-out audiences Off Broadway at 59e59 in New York City,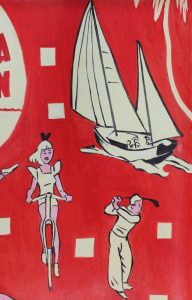 at the GAB Studio in Miami and at The New Light Theatre in Fort Lauderdale.
Her short film Roses are Blind won accolades and awards at film festivals around the world, including World's Best Short Story/Writer, World's Best Director, World's Best Filmmaker and World's Best Poster at the 2022 World's Best Filmmaker Festival; Best Thriller at the Cannes International Cinema Festival 2021; Best Thriller at the New Jersey Film Awards in September, 2021; Best Thriller at the Golden Lemur Film Festival in Lisbon, Portugal; Best Thriller Short at the Austin International Film Festival; Best Thriller at Silk Road Film Awards; Best Short Thriller at Florida Shorts 2021; Best Psychological Short at Indie Movies Spark Film Fest 2021;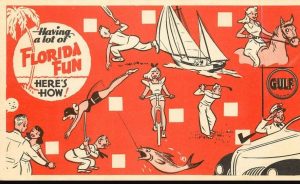 Best Thriller at Rome International Movie Awards 2021; Best Thriller Short at Big Sur Film Festival 2021; Best Woman in Jeopardy Film at the Culver City Film Festival in Los Angeles; Best Psychological Thriller at the Williamsburg Independent Film Festival; Best NYC Short at the International New York Film Festival; and Best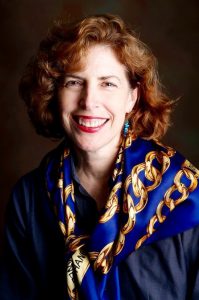 Short Film at the Chautauqua International Film Festival.
Ms. White is co-founder (with husband and fellow artist Roland Ruocco) and president of the New Light Foundation, Inc., a 501(c)3 non-profit public foundation whose mission is to provide cultural outreach through the arts and education. New Light donates a percentage of its art sales and theater ticket sales to its scholarship fund, with the goal of helping young people go to college regardless of their financial circumstances.
Ms. White is committed to utilizing her gifts of painting and writing for the greater good of the world. She continues to foster her dream of international cultural exchanges in order to create a universal bridge of peace between all the countries of the world.
For more information, please visit www.newlightgallery.org.
January 30, 2023.