Audio for Franklin Shops' 'Two Drunks' now live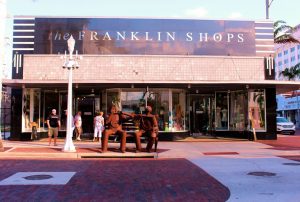 A new outdoor artwork has been added to Otocast, the free mobile app that shares stories about the City's public artworks. It's the rust-colored sculpture that's been placed on the sidewalk outside of the entrance into the Franklin Shops on First called Negacion A Baco or Two Drunks on a Bench.
While you can now read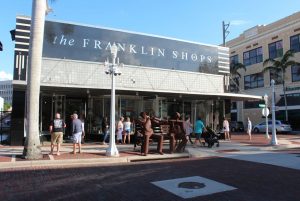 on Otocast what Columbian sculptor Edgardo Carmona hoped to convey with this piece, the audio recounts tales of Fort Myers' historic relationship to alcohol.
Every town has its tales centering around sobriety, temperance and impropriety. Fort Myers is no different. Today, the bars, cafes and restaurants that line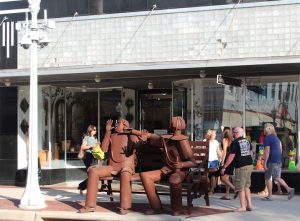 First Street offer a full range of adult beverages. But between 1867 and 1872, there was only one type available, and that was moonshine from the still of Bill Clay … and some of the shenanigans he was involved in following his arrival in 1867 are as hilarious as the later fight for temperance was serious and sober.
When you listen to the audio, you'll hear the new voice of Fort Myers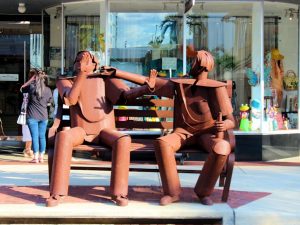 public art, Bill Taylor. A long-standing member of the City of Fort Myers Public Art Committee, Bill Taylor is best known in Southwest Florida as a producer, director, actor and founder of Theatre Conspiracy at the Alliance for the Arts.
Since founding the latter company in 1984, Bill has produced more than 120 shows, directed 40 productions and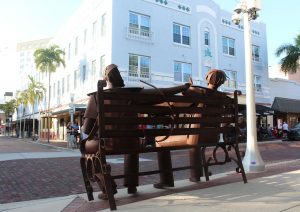 performed in over 50 others including three one-man shows, Sex, Drugs & Rock and Roll, Barrymore and Tru. His favorite shows include A Tuna Christmas, The Katy and Mo Show, and whatever play he is working on currently – like Clown Bar, Adam Szymkowic's cunningly sharp clown noir dramedy (with music and additional lyrics by Adam Overett) that performs in the Foulds Theatre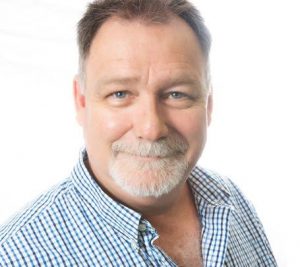 at the Alliance for the Arts through August 28.
Among the many initiatives Taylor has launched at Theatre Conspiracy are its perennial New Play Contest, an emphasis on productions written by female playwrights and providing strong female characters, and programming that provides opportunities for area actors of color and discourse on the Black experience in America (in shows like George C. Wolff's A Colored Museum, Lorraine Hansberry's A Raisin in the Sun,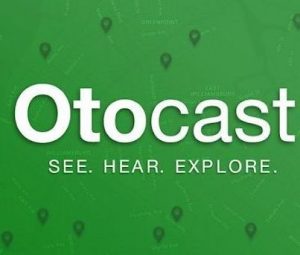 August Wilson's King Hedley II, Joe Wilson's Come and Gone, Seven Guitars and Ma Rainey's Black Bottom, Lydia Diamond's The Bluest Eye and Ntozake Shange's For Colored Girls Who Have Considered Suicide When the Rainbow is Enuf).
If you haven't yet used Otocast yet, pull out your smartphone and go to your app store right now. When you land there, type Otocast in the search bar and then hit download. It's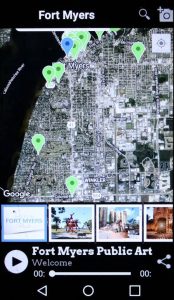 free!
The app works with geo-mapping, which means that when you tap on the green Otocast icon, the app will automatically call up the Fort Myers guide.
Tap on the guide and you'll see an aerial map of Fort Myers that displays a number of green pins. Those pins signify the location of most of the public artworks that are interspersed throughout Fort Myers.
Notice the banner that runs along the bottom of your screen. It contains thumbnail photographs of the particular artworks identified by those green pins. Tap on any one of them and it will take you to written information about the artwork; historic, installation and other photos; and an audio like the one that Bill Taylor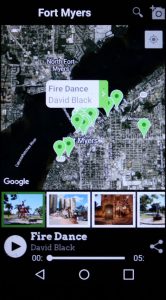 just recorded for Two Drunks on a Bench.
At present, 30 of the City's 41 outdoor public artworks are included in the Fort Myers Guide. Work is under way to not only add the other eleven, but more than 30 historic points of interest located throughout the City.
Don't just use Otocast to learn more about the artworks see about town. Be sure to share Otocast with everyone you know. It's a real conversation starter.
And go here to learn why the City's Public Art Committee chose The Franklin Shops on First as one of its art hub partners.