'Cemetery Club' play dates, times and ticket information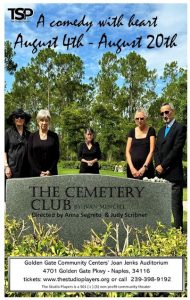 Play:  The Cemetery Club
Playwright: Ivan Menchell
Genre:  Comedy
Synopsis: Three Jewish widows meet once a month for tea before going to visit their husbands' graves. Ida is sweet-tempered and ready to begin a new life. Lucille is a feisty embodiment of the girl who just wants to have fun. Doris is priggish and judgmental, particularly when Sam the butcher enters the scene. Doris and Lucille squash the budding romance between Sam and Ida, but are guilt-stricken when this nearly breaks Ida's heart. This is a heart-warming story of true friendship and the constant struggle for love.
Directors:  Anna Segreto & Judy Scribner
Cast:
Play Dates and Times: August 4-20, with performances at:
7:30 p.m. on August 4, 5, 10, 11, 12, 18 & 19; and
3:00 p.m. matinees on Sunday, August 6, 13 & 20.
Tickets:  Please visit www.thestudioplayers.org or telephone 239-398-9192.
Location:  Joan Jenks Auditorium in Golden Gate Community Center, 4701 Golden Gate Parkway, Naples, FL 34116.
July 31, 2023.