'5 Lesbians' play dates, times and ticket info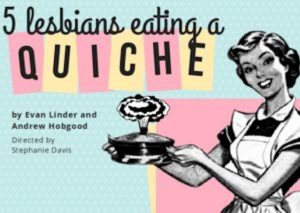 Play: 5 Lesbians Eating a Quiche
Playwrights: Andrew Hobgood and Evan Linder
Synopsis: The play is set in 1956, before the women's movement and during a time when everyone was on edge about the Russians and the threat of nuclear war. The Susan B. Anthony Society for the Sisters of Gertrude Stein are having their annual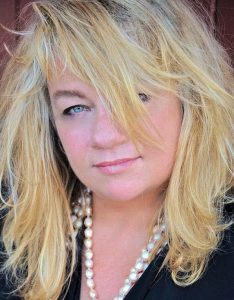 quiche breakfast. As the show unfolds, the ladies extol the glories of the egg (read "ova") while indulging the sapphic allusion to quiche-eating. As the assembled "widows" await the announcement of the society's prize-winning quiche, atomic bomb sirens sound. Has the Communist threat come to pass? How will the "widows" respond as their idyllic town and lifestyle faces attacks?
Director: Stephanie Davis
Cast: Dena Galyean, Karen Goldberg, Lucy Sundby, Anna Grilli and Madison Mitchell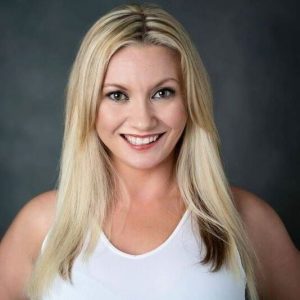 What the Critics Said:
"I wouldn't be surprised if 5 Lesbians Eating a Quiche, like The 39 Steps, becomes a mainstream favorite of theater troupes around the country…skillfully, lovingly, and deliciously prepared." – Chicago Stage Standard
"Expanded from an award-winning sketch, this wonderfully ridiculous scenario delivers what it promises. This ensemble piece is smart, sharp and hysterically funny." – Time Out Chicago
"A delectable portrait of sublimated Sapphism…[5 Lesbians Eating a Quiche] dishes up high-spirited theatrical comfort food with a bit of a saucy kick." – Chicago Tribune
"The bitingly funny story of friendship, pastry and forbidden love has the audience in stitches." – Vancouver Sun
Play Dates and Times: October 24, 25, 26 and 31 and November 1 & 2 at 7:30, with 2:00 p.m. matinees on October 27 and November 3
Tickets: $26 for non-members and $22 for Alliance
members
Place: Foulds Theatre, Alliance for the Arts, 10091 McGregor Boulevard, just south of the intersection with Colonial Boulevard.
October 4, 2019.
RELATED POSTS.