'Radio Golf' play dates, times and cast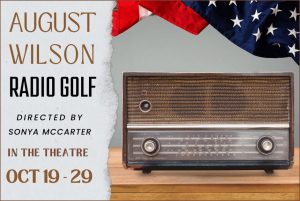 Play:  Radio Golf
Playwright:  August Wilson
Genre:  Drama
Synopsis:  Ambitious real estate developer Harmond Wilks and his partner, Roosevelt Hicks, are on the verge of sealing a deal that will replace a decrepit section of the Hill District with an upscale, mixed-use complex that will include a Whole Foods, Barnes & Noble and Starbucks, simultaneously giving them access to a the kinds of people who can assure their social advancement and support Wilks' run to become Pittsburgh's first black mayor and his wife's appointment as the governor's press secretary. But one man, Elder Joseph Barlow, a disgruntled homeowner in the path of the project, stands in their way. At its heart, Radio Golf indicts gentrification, upward mobility and assimilation into white society at the expense of black history and culture.
Historical Note:  Radio Golf is the last of the ten plays in August Wilson's Century Cycle and the last play he wrote prior to his untimely death in 2005 at age 60 from liver cancer.
Production Note:  This is the sixth of Wilson's Century Cycle plays that Theatre Conspiracy has produced. Previous shows were Joe Turner's Come and Gone, Ma Rainey's Black Bottom, The Piano Lesson, Seven Guitars and King Hedley II. Sonya McCarter directed all five. Cicero McCarter has appeared in all five –  The Piano Lesson (Wining Boy), King Hedley II (Canewell, otherwise known as Stool Pigeon), Joe Turner's Come and Gone (Bynum Walker), Seven Guitars (Hedley) and Ma Rainey's Black Bottom (Slow Drag). Lemec Bernard played Mister in King Hedley II and a brooding, menacing man searching for the wife who abandoned him when he was enslaved for seven years in Joe Turner's Come and Gone. Similarly, Elvis Mortley portrayed the preacher Avery in The Piano Lesson and Toledo in Ma Rainey. Mark Drew played Lymon in The Piano Lesson.
Director:  Sonya McCarter
Cast:
Harmond Wilks –                    Mark Drew
Mame Wilks –                          LaShaun Collier
Roosevelt Hicks-                     Elvis Mortley
Sterling Johnson-                   Lemec Bernard
Elder Joseph Barlow –           Cicero McCarter
Play Dates and Times:  Performances are:
October 19, 20, 21, 26, 27 and 28 at 7:30 p.m.; and
October 29 at 2:00 p.m.
Tickets:  Tickets are $27 for members and $32 for non-members and can be purchased here or by telephoning 239-939-2787.
Location:  Foulds Theatre, Alliance for the Arts, 10091 McGregor Blvd., Fort Myers, FL 33919.
August 28, 2023.