Costumes, set, acting make 'The Country Wife' fine piece of theater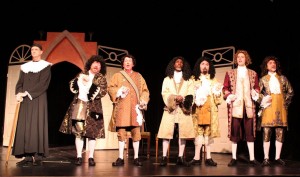 Is it possible for a play written in 1675 to satirize the British royal court and aristocracy to resonate with a contemporary Southwest Florida audience? Theatre Conspiracy's production of William Wycherley's The Country Wife answers this question with a resounding yes.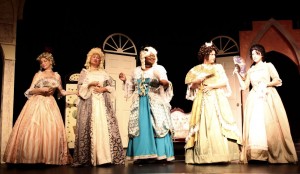 To provide some context, the socio-political satire that Wycherley weaved into the fabric of The Country Wife was so biting and hypercritical that the play was banned from the stage immediately after its opening. The play ridiculed the British people's preoccupation with class. It disparaged the masses' belief that money glosses over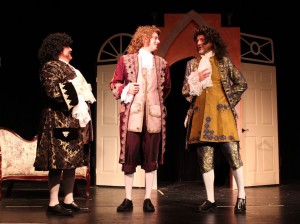 character defects such as dishonesty and immorality. It excoriated their blind acceptance of reputation, even if the face of facts that betray an underlying dark, even Machiavellian reality. And this is why the play speaks to American audiences 341 years later.
Although some recent U.S. productions have converted the script into modern, everyday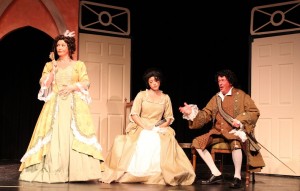 parlance, Director Karen Goldberg decided to retain the flowery arcane linguistics of the British Restoration. Consequently, it is necessary to mine the archaic dialogue for Wycherley's social commentary. But the production's multi-talented cast does a yeoman job of bringing out the play's meaning through a combination of facial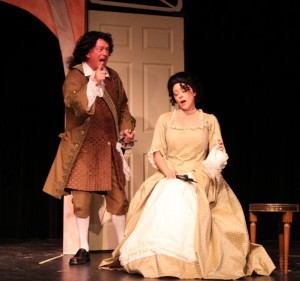 expressions, body language and action, and Goldberg has done a terrific job of making sure they don't rush the dialogue or talk over each other notwithstanding the frenetic, sometimes frantic pace of the play.
Producing Director Bill Taylor's set also facilitates an appreciation of Wycherley's theme that the way people behave in private is much different than how they act in public. An ornate, spired archway flanked by two comfortably outfitted sitting rooms provides a readily-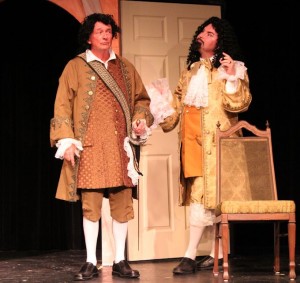 identifiable divide between public and private personas.
Goldberg also decided to attire her cast in period costumes. It was another excellent choice. Costume Director Diana Waldier clothes her fourteen quick-moving actors and actresses in lively, vibrantly colorful Carolean outfits characterized by ribbons, bows, puffs, flounces, feathers, and lace (so much lace) and wigs with spiraling, cascading curls – and that's just the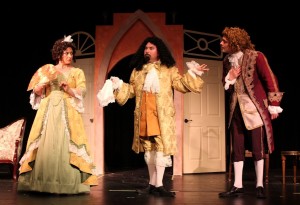 men! True to form, the males in Country Wife wear heels and hose and flaunt white satin handkerchiefs. No wonder that King Charles II, for whom the English Restoration was named, was known as the Merrie Monarch.
But the costumes also advance the story. Take, for example, the foppish uniform of the dandy named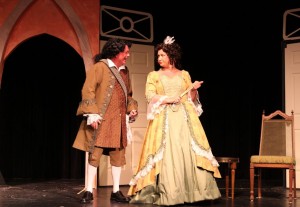 Sparkish, brilliantly played by a giggling Thomas Marsh. The clothes make the man. And they make the women in the play as well. As was true during the Restoration, there's lots of décolletage to be seen or intimated, and the women's slightly disheveled appearances enhance their often wanton, lascivious characters almost as much as their incessant fan waving.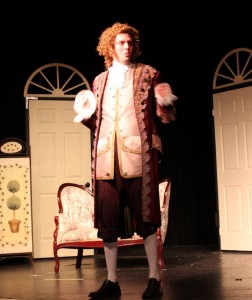 Back in 1675, British audiences demanded bustling, crowded, multi-plot plays, and The Country Wife certainly stands in stark contrast to recent Theatre Conspiracy offerings such as Lauren Gunderson's three-actor comedy The Taming or E.M. Lewis' one-actor drama The Gun Show. But you will enjoy the non-stop action, where one group of actors enters as another group departs the stage. There is always something going on to advance the interrelated storylines in this intricately convoluted play.
But above and beyond all of this, what commends The Country Wife to area audiences is the quality of the acting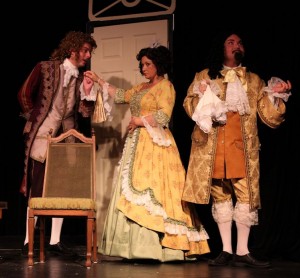 you will see unfold on the Foulds Theatre stage. Jim Yarnes is unquestionably a stand-out as Pinchwife, a reformed rake so obsessed with not being cuckolded by his beautiful, young country wife that he drives her into the bed of an infamous rake who is serially seducing the women of London. At first, Yarnes' Pinchwife comes across as just mean (think Jeff Dunham's Walter), insecure and oppressive. But in Act Two, he's revealed as both verbally and physically abusive, a man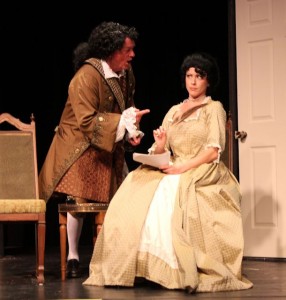 willing to pimp his sister rather than suffer the perceived indignity of having his wife cheat on him. (On top of that, he doesn't much care for oranges either.)
Shelley Sanders follows her triumph in The Taming with yet another scintillating performance in her role as Pinchwife's set-upon country wife, Margery. With her dark lashes fluttering like a hummingbird, she channels her inner Norma Jeane Mortenson to combine childlike innocence with a sultry brand of coquettishness that will have you inching to the edge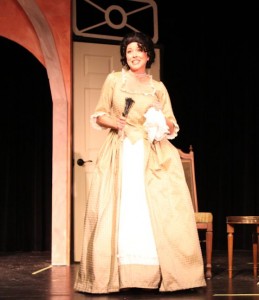 of your seat waiting for her return when she's not on stage – and rooting for her to escape the clutches of her maniacal husband who repeatedly locks her in the bedroom of his sister's London flat for want of a good old-fashioned chastity belt (which, come to think of it, would not be invented for another couple of hundred years).
There is not room enough to single out all of the other terrific performances. Dena Galyean is compelling as Pinchwife's clear-eyed, level-headed sister Alithea. Thomas Marsh is a scene-stealer as the self-important buffoon Sparkish. Tera Nicole Miller is orgasmic as a member of the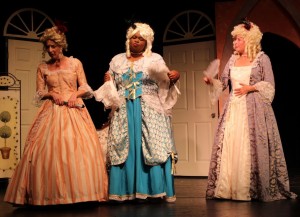 Virtuous Gang headed by Cantrella Canady's lusty Lady Fidget and which is round out by Marianette Torres' blushing and circumspect Dainty. Blissfully ignorant of his wife's voracious sexual appetite and penchant for polishing the china when her husband's away on business, Elvis Mortley is charming as the gleeful Lord Fidget. And Juan Alejandro is as dignified as Harcourt as Mitch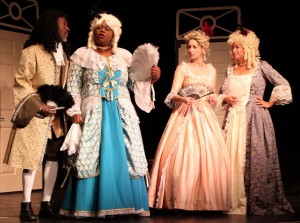 Haley is unprincipled as the cynical sex addict Horner (a pre-cursor to the Charlie Harper of today). Mike Dinko completes the cast as Dorliant.
The Country Wife is a fine piece of theater that demands your attention this holiday season. But don't wait to reserve your seats. Due to illnesses that wreaked havoc with the show's rehearsal schedule, the opening was postponed two days and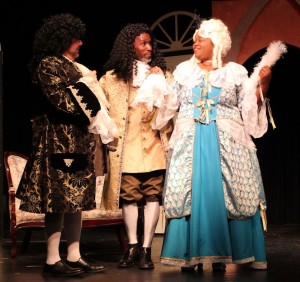 there is (regrettably) no way for Theatre Conspiracy to make up the two lost performance dates. So seating will be at a premium for this unexpectedly timely and predictably hilarious historical Comedy of Manners.
Follow the links provided below for more information about the play, cast and production.
December 3, 2016.
RELATED POSTS