Aricka Shuck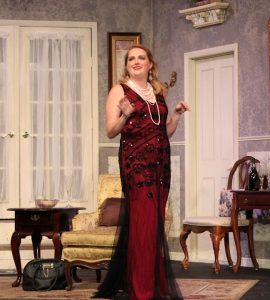 Aricka Shuck is a local actor and aspiring playwright.
Aricka impressed Lab audiences with her memorable portrayal of vain, coquettish Petronella van Daan in The Diary of Anne Frank. But her most chilling role at The Lab was The Woman in Veronica's Room, a nasty little thriller by Rosemary's Baby author Ira Levin that compelled Shuck to plumb the depths of depravity in order to convincingly play the part of a deranged psychopathic serial killer who manipulates the men in her life to be willing participants in her murderous machinations – like a female Charles Manson.
A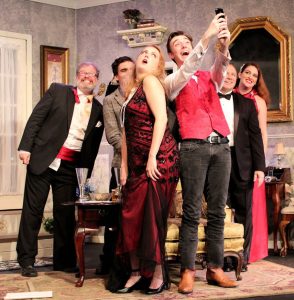 veteran of the stage, she has performed in more than 40 theatrical productions since the age of 6. Some of Aricka's other favorite roles include Virginia Noyes in It's Only a Play, Kay in Father of the Bride, Maggie in The Man Who Came to Dinner, the good witch Glinda in The Wizard of Oz, Maddy Monroe in Tony and Tina's Wedding, Madge in Picnic, Kate Hardcastle in She Stoops to Conquer, Hermione in The Winter's Tale, Libby in Blue Window and Helen in Cripple of Inishmaan. At the Naples Players, she played Dr. Zavalla, ADD waitress and Carolyn in Distracted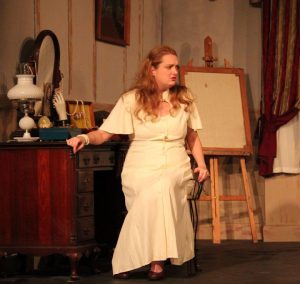 and Electra in Gypsy.
Shuck completed her B.F.A. in Theatre Performance at Oakland University (where she was nominated for the Irene Ryan award), studied improv at The Second City conservatory and also does voiceovers.
Shuck is also exploring theater from the vantage of playwriting. In 2015, she participated in The Lab's 24-Hour Playwriting Project, penning a one-act play titled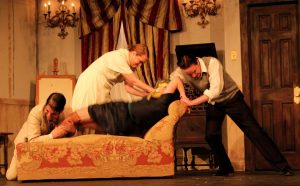 INNdiffernet is a mere matter of hours. She returns to the Playwriting Project in 2019.
Aricka next appears as Doris in Cultural Park Theatre's production of Same Time, Next Year.
November 12, 2019; revised February 2, 2020.
RELATED POSTS.
Spotlight on 'It's Only a Play' actor Aricka Shuck