Frank talk about 'Sex Tips' with playwright Matt Murphy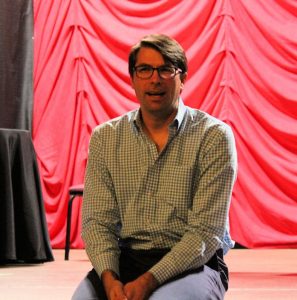 Lab Theater has enjoyed the honor and pleasure of performing the first licensed production of Sex Tips for Straight Women from a Gay Man. Crafted to emulate a university seminar and book talk, the show provides frank and insightful tips and recommendations for the boudoir and beyond that you've always been curious about but a little afraid to discuss in private, never lone in public. And playwright Matt Murphy credits his wife with providing the structure for the play.
"I got the idea to do a faux sex tips seminar to break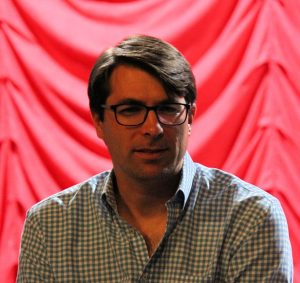 the taboo of talking about sex in a group setting," Murphy relates. "But I had no idea where to come up with the tips. When I shared the idea with my wife, she told me about a book she and her friends has passed around in college called Sex Tips … from a Gay Man. So I googled it and there it was, the best title I'd seen since Menopause the Musical. You can't say it without making people laugh. The title evokes laughter and immediate interest."
In fact, the Uber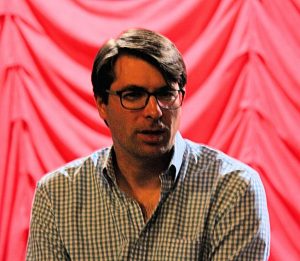 driver had a good laugh on the way to theater from Murphy's hotel.
Matt immediately contacted the book's publisher, who put him in touch with the authors.
"I told them I didn't know what I was going to do, but I wanted to take their title and tips and put them into a show somehow. They were all for it. They had quite a bit of success when the book came out and there had been some interest from both the television and film industries. But nothing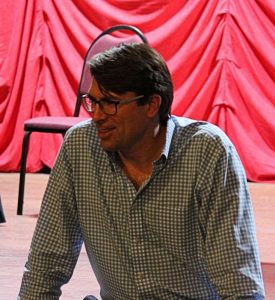 had panned out. So they were happy to see another iteration of the book."
Published by Harper Collins in 1997, the book actually preceded the initial episode of Sex in the City, a rom-con that resonated with female viewers like few shows had before, or after. But unlike Sex in the City, Sex Tips for Straight Women from a Gay Man has stood the test of time. Today, Sex in the City is subject not only to the criticism that it's a story about four cisgender white women blind to their own privilege and sense of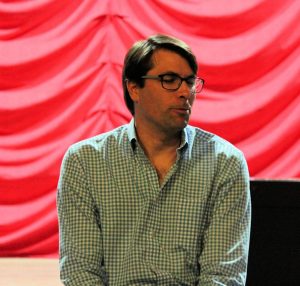 entitlement, it was plagued by disconcerting homophobic and transphobic tropes and slurs.
Sex Tips suffers from none of these infirmities because Matt Murphy kept the emphasis on humor as he explores the pervasive embarrassment experienced by both men and women when the conversation turns to the specific acts that do and don't give them physical pleasure. These are concerns that cross racial, ethnic, demographic and economic divides.
The play deals with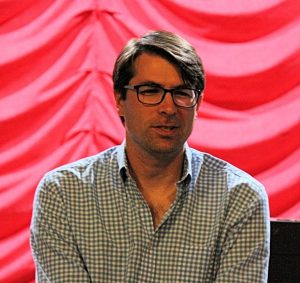 sex in a frank, direct yet charming manner that parallels Murphy's own personality.
"If we're at a dinner party with a new couple, I'll toss out a slightly inappropriate comment – with just enough charm and wit to make sure that it's not lewd – as a way to disarm the room and get us beyond small talk, so we can talk about something that's a little more real. I'm kind of good at reading the room and being able to change the atmosphere for the better. And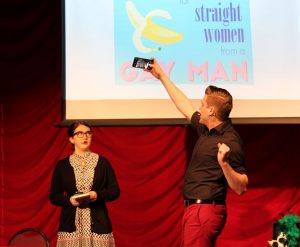 that is what I'm trying to do with Sex Tips in a fun way – to carry everyone along with that energy without making anyone feel too uncomfortable."
The play also resonates because of the characters Murphy creates.
First and foremost, his gay character, Dan Anderson, comes across as authentic, convincing and disarming.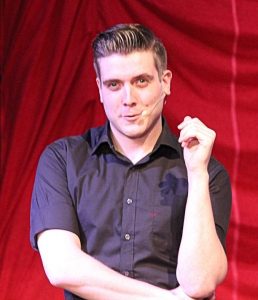 Dan [Anderson] and Maggie [Berman] wrote [their book] in the first person, so my character evolved organically from the tonality in the book. We didn't want to do an exaggerated gay character, a two-dimensional caricature of what a gay man is or is like. We worked very hard to make sure we didn't fall into that trap. And one of the reasons why people relate to the show is because they believe that Dan is a real human being."
And in that context, his understated manner, dry wit and feigned incredulity make him just the kind of guy you'd want to knock back a vodka sodas (whether your preference is Absolut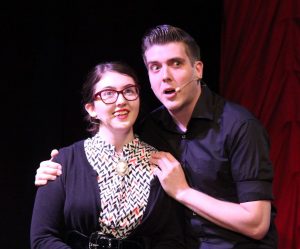 Rainbow, Smirnoff Love Wins or Skyy).
Robyn is a winning character as well.
"To counterbalance Dan, I needed a character who needs to learn something, who needs to change," Murphy explains. "And she's the stand in for the ladies in the audience and makes them comfortable because all the pressure is on Robyn. There may be a little bit of me in her, but not to that extent. She's definitely the fish out of water. I've also known quite a few women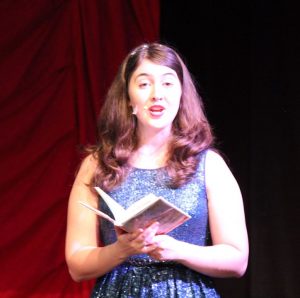 who may not seem quirky or have a great sense of humor, but once you get to know them a lot of zaniness comes out. So I wanted her to have an inner zaniness, an inner sexual tiger that's yearning to be unleashed. Dan quickly sees her inner conflict says, 'Aha, I can use that during tonight's seminar.'"
But Murphy builds another dimension into Robyn's character, implying that she may have a sinister, even malevolent side that belies her very correct, appropriate, proprietous façade. That possibility is foreshadowed early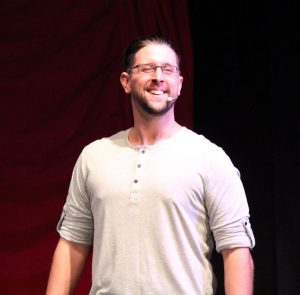 in the play, but it won't be discussed further other than to leave the question open as to whether Robyn really has a dark side or is just messing with the audience in the way that Dan messes with people.
Stefan was Murphy's most difficult and problematic character study.
"Stefan did not come to me until the 4th or 5th draft," Murphy reveals. "My wife says that Stefan is the character I identify with most. Every man wants to be Stefan.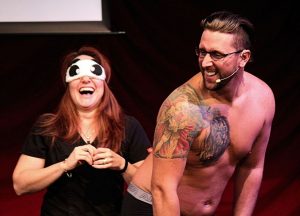 Every man wants to strip. Every man wants everything that he says to somehow sound sexual."
But there's a Norma Jean Mortensen aspect to Stefan – a sweet and innocent little boy that women find irresistible in the same way that men like Jake Kennedy and Joe DiMaggio found so appealing in the character Mortensen created in the guise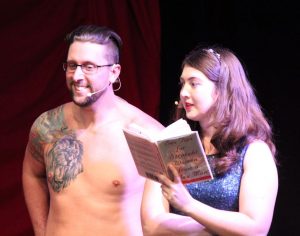 of Marilyn Monroe.
"Dan has this bouncing-off-the-walls energy; Robyn is the exact opposite. She's almost so anxious that it cripples her, rendering her all but invisible," Murphy expounds. "Stefan is a man of few words. He's not sure what he's doing, but he's definitely having an impact on Robyn and the women in the audience. So each character owns a different space within the play and a different way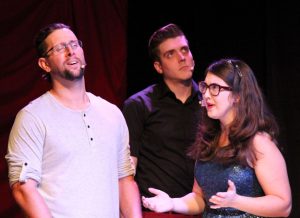 of interacting with the audience."
And like Dan, Stefan has a boatload of self-confidence.
"That's why people like the line at the end where Robyn says, 'I believe in you,' and Stefan replies, 'I believe in me too.'"
Each of Murphy's characters possesses a vitality that contributes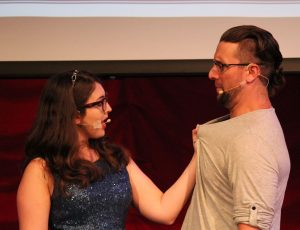 to the play's success and longevity. As does the audience participation component of the show.
"Since I always conceived of the play as a seminar, I anticipated an audience participation component from the outset," Murphy reminds.
The first production that Murphy ever produced was Altar Boys. That play postulated an all-Christian boy band traveling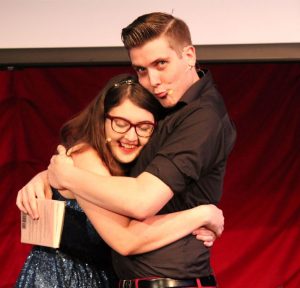 around the country singing songs to save the souls of America. (Their names are Matthew, Mark, Luke and Juan and, representing the Jewish community, Abraham.) The audience plays the role of fans coming to see one of their concerts.
"I liked that device, so I used it here. And so I came up with a reading seminar with a meet the authors evening was an early idea."
Cruise ship lines have come to recognize that in the age of Facebook, Instagram and reality show TV, people relish the opportunity to be center stage and in the limelight for their "15 minutes of fame." To that Murphy adds the observation that we all enjoy a good laugh at someone else's expense. But who doesn't want to be part of an event, occasion or other happening that is truly unique and irreproducible? Audience participation injects an element of uncertainty that ensures that no two Sex Tip performances will ever be exactly alike. And that's yet another reason why this show resonates with the audiences who see it.
There are but four more performances before the show sunsets, at least here in Southwest Florida. So make plans now to attend tomorrow night at 8:00, Friday night at 8:00 or Saturday at 2:00 or 8:00 p.m.
November 13, 2019.
RELATED POSTS.