'Sex Tips for Straight Women' gives couples freedom and courage to talk about what they need and want in the bedroom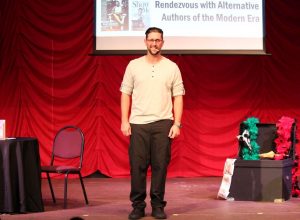 Matt Murphy's Sex Tips for Straight Women from a Gay Man opened this past weekend at Laboratory Theater. Loosely based on Dan Anderson and Maggie Berman's popular sex manual by the same name, the production promises the most fun you'll have outside of the bedroom.
The hype's true.
The premise
is fairly straightforward (yes, pun intended). The Contemporary Literature Department of Laboratory Community College hosts a book forum for its student body called Rendezvous with Alternative Authors of the Modern Era. On this particular night, RAAME (descriptively pronounced "ram me") is featuring a salacious sex manual titled Sex Tips for Straight Women from a Gay Man. The Department Chair is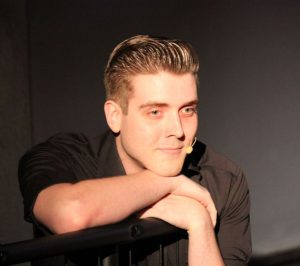 scheduled to interview the book's author, sexpert Dan Anderson, but Professor Marilyn van Wyndenschmear suffers such a severe case of food poisoning prior to the event that she keels over dead, leaving her assistant to take her place. But Robyn not only is a book talk virgin, she has no idea how to go about interviewing Anderson about the material he covers in the book. No worries. In Robyn, Anderson finds the perfect foil. And rather than talk the talk, Dan decides to make over the uptight straight-laced
(I know, I know) bespectacled school marm with the help of the RAAME audience.
Sex Tips has all of the charm and allure of Queer Eye for the Straight Guy – both the groundbreaking 2003-2007 iteration and its 2017-2019 reboot. But instead of Queer Eye's fab five, Matt Murphy gives us a singular culture vulture in the guise of Dan Anderson. While the emphasis is clearly on Anderson's erection directions, he mixes in fashion advice, tried-and-true techniques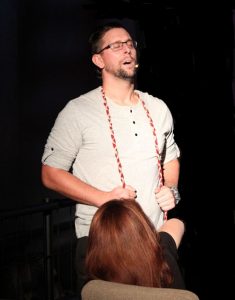 for getting noticed (in a bar or other pick-up venue) and other street smart aphorisms.
There was a time not too terribly long ago when stigma attached to being gay or trans. One of the strengths of Sex Tips is its implicit premise that not only is gay acceptable in today's culture, it's downright cool. And who'd know better what would make a man happy in bed than a gay man?
Right?
Plus, a gay man is such a wonderfully non-threatening source of such insight and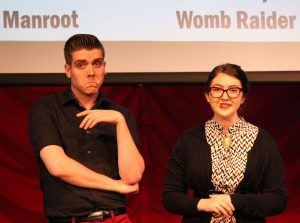 instruction!
Steven Michael Kennedy plays sexpert Dan Anderson. He's perfect in the role. In his hands, Dan is definitively gay, but by no means a queen. He's engaging, animated, personable, patient and good-natured. Much of that's built into the character by Matt Murphy. But still it would have been so easy to overplay the part. Instead, Kennedy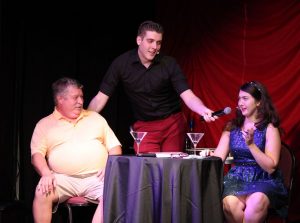 strikes just the right tone. Think Will Truman, not Jack McFarland. Or Mitchell Pritchett, not Cameron Tucker.
It's also Kennedy who's charged with the challenge and responsibility of interacting with the audience members who are recruited for his onstage sexual shenanigans and inducing them to provide the audience with the sight gags and laughs that make this show so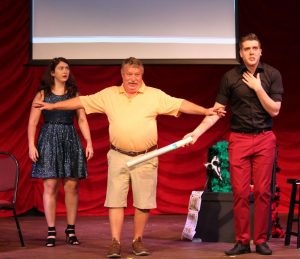 funny and entertaining from start to finish. If you liked Kennedy as Casey in The Legend of Georgia McBride, you'll be even more impressed by his performance in Sex Tips for Straight Women from a Gay Man.
There's more to Sex Tips' appeal than a carefully constructed and beautifully performed gay character. Murphy includes two other ingredients in his recipe for success.
The first is subtlety.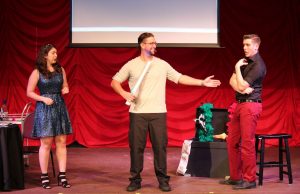 That may sound like an oxymoron when discussing a play that's called Sex Tips for Straight Women from a Gay Man. But Murphy is a wily playwright, and he goes out of his way to avoid putting the audience on the spot. He ascribes to Robyn and her co-worker Stefan all the discomfort, misguided notions and lack of knowledge we
each harbor when it comes to knowing how to satisfy our partner in bed. Since we come to see ourselves to varying degrees in Robyn and Stefan, it's easy for us to accept and alter our own entrenched habits and maladaptive strategies as we watch Robyn and Stefan embrace and practice Dan's suggestions. In fact, it's the key to enabling everyone in the audience to be open-minded and receptive to the topics thrust upon them during the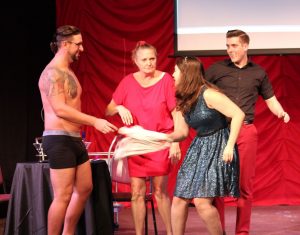 play.
The second device is audience participation. Oh, there have been shows like Tony & Tina's Wedding, to be sure. But in Sex Tips, Murphy takes a page from the cruise ship playbook by including audience members in the demonstrations taking part on stage. In the former case, cruise lines have come to recognize that in the age of Facebook, Instagram and reality show TV,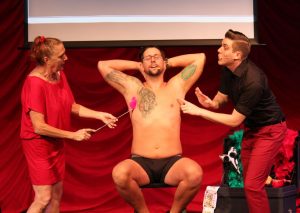 people relish the opportunity to be center stage and in the limelight for their "15 minutes of fame." To that Murphy adds the observation that we all enjoy a good laugh at someone else's expense. By combining these two dynamics, it's possible to include every single audience member in the learning curve traversed by Robyn and her love interest Stefan over the course of the show.
Madelaine Weymouth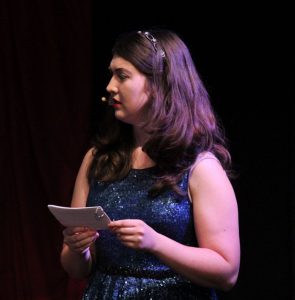 delivers an exceptional performance as the innocent and sexually inexperienced Robyn. In her last role (as Vandy Jordan in Venus in Fur), Weymouth portrayed a saucy, manipulative vamp who turns the tables on an arrogant playwright/director who's casting for an actress to star in his play about sado-masochism. Robyn is the antithesis of Vandy Jordan. She's shocked and embarrassed by the material in Dan Anderson's book, never mind being called upon to demonstrate the sex tips he discusses during the RAAME book talk.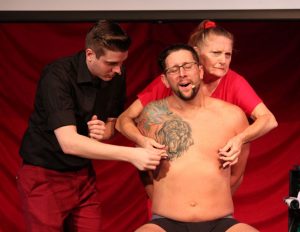 Weymouth doesn't just acquit the part, she gives a veritable clinic in facial expressions and body language. She may not have the same character arc as, say, Janet Weiss in Rocky Horror, but she too morphs by show's end into a liberated, sexually adventurous woman. She's just so much fun to watch.
Michael Andrew portrays Stefan, the venue's technician,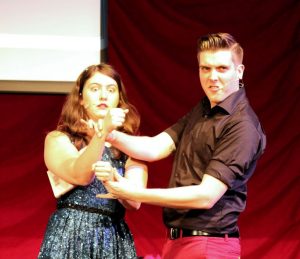 the object to Robyn's repressed desire and the subject of Anderson's interactive sex tip demonstrations. Stefan is presented as one of those good-looking guys who's so self-deprecating that he has no clue just how charming and sexy women find him. Like Weymouth, Andrew uses a combination of facial cues, body language and toe-in-the-sand demeanor to convey his character from vapid astronaut-wannabe to hunky astrophysical stripper. The final scene is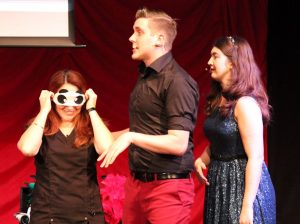 guaranteed to have the ladies in the audience on their feet and searching their purses for spare singles and five dollar bills.
In the end, Sex Tips for Straight Women from a Gay Man is a high-energy, over-the-top laugh fest that's more than just the perfect date-night show. It's a conversation starter that confers on the couples and other folks who attend the show the freedom and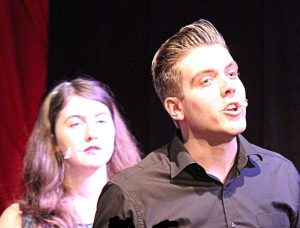 courage to talk candidly with each other about what they want and need between the sheets in order to feel satisfied and fulfilled.
October 27, 2019.
RELATED POSTS.